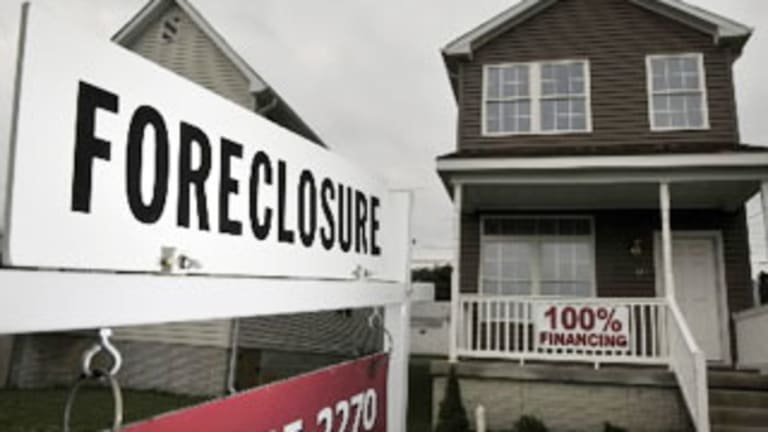 Obama's Refinance Plan Is a Lifeline Everyone Should Grab
President Obama's overhaul of the Home Affordable Refinance Program will benefit hundreds of thousands of 'underwater' borrowers.
NEW YORK (
) -- President Obama's expansion of the Home Affordable Refinance Program, or HARP, is a winner all around, for "underwater" home borrowers looking to refinance at historically low rates, for
Fannie Mae
(FNMA)
and
Freddie Mac
(FMCC)
, who can limit foreclosure losses, and for the president's reelection prospects.
It's easy to go with the knee-jerk reaction and say that the expanded refinance program simply
for Fannie and Freddie -- since the refinanced borrowers will still owe more than their homes are currently worth.
But the expansion of refinancing activity will actually lower the government-sponsored mortgage giants' risk.
Not only will the borrowers qualifying for the refinancing be limited to those who have already demonstrated that they are good credit risks, the program's incentives to steer borrowers into shorter-term mortgages mean that for many of the new loans, principal balances will be repaid faster. It will also be better for the GSEs to look for some recovery in home prices over the next several years, rather than dealing with more foreclosures now, each of which could easily lead to a 50% loss.
HARP is offered to mortgage borrowers who are current on mortgage loans that are guaranteed by Fannie Mae or Freddie Mac, whose home values have dropped so much that the current loan-to-value ratio is over 80%. The program has been extended through December 2013, and is available for loans sold to Fannie or Freddie before May 31, 2009.
Under the expanded HARP, borrowers will be able to refinance for up to 125% of a home's current value, but the 125% loan-to-value cap will be removed during the first quarter of 2012.
With long-term interest rates at historically low levels, this is a wonderful time to refinance a home mortgage, and the federal government is looking to make it much easier for borrowers whose homes have lost so much value that the outstanding loan balance is higher than the home is worth.
The Federal Housing Finance Agency, which regulates Fannie and Freddie, on Monday announced, along with the two mortgage giants, several enhancements to HARP, in order to reduce "risk for Fannie Mae and Freddie Mac and bringing a measure of stability to housing markets," according to FHFA Acting Director Edward J. DeMarco.
The enhancements will apply to the roughly half of all outstanding residential mortgage loan in the U.S. that are guaranteed by Fannie and Freddie. The biggest change is that the current 125% loan-to-value ceiling for refinances under HARP would be removed. Borrowers who refinance will also be encouraged to refinance to shorter terms -- a 15-year fixed-rate loan, for example -- than the more common 30-year mortgage loan, with the waiver of risk-based fees.
"Certain representations and warranties that lenders commit to in making loans owned or guaranteed by Fannie Mae and Freddie Mac" will also be waived, making mortgage putback demands less likely.
Borrowers will get another break, in that new appraisals won't be required in most cases.
As we
recently illustrated in a detailed example
, a borrower with a 30-year fixed-rate mortgage loan with a rate of 6.00% originated in 2006, can save roughly $90,000 in interest by refinancing at a 15-year rate of 3.625%, while paying off the loan much faster and lowering the monthly principal and interest payment significantly. That's a home run for the borrower, and with the expansion to HARP, millions of "underwater" borrowers -- those owing more than their homes are now worth -- and borrowers whose homes are worth less than 20% of their outstanding mortgage loan balances, will qualify.
Bank of America
(BAC)
is still offering a rate as low as 3.625% for a 15-year fixed refinance, depending on your location. On
JPMorgan Chase
(JPM)
through its website has a 15-year fixed quote of 3.75% for a borrower with a FICO score of 675.
Frank Bisignano, CEO of Mortgage Banking at Chase, said in a statement that "We estimate it could lower a family's mortgage payments by an average of $2,500 a year."
Chase also said that for its customers to apply for the expanded HARP, they would need to be current on their loan, allowing for "one late payment on the existing loan in the past 12 months but none in the most recent 6 months," and not be in bankruptcy for foreclosure. Chase also said the refinanced home would need to be a primary residence, and the original mortgage loan could not "be a Pay-Option Adjustable-Rate Mortgage or a subprime loan."
FBR Capital Markets analyst Edward Mills said the expanded HARP "is most beneficial for the balance sheet of Fannie/Freddie as Ed DeMarco continues to exercise his statutory authority to limit their losses," and that "Finance Agency, with Fannie Mae and Freddie Mac (the Enterprises), today announced a series of changes."
While we're still in the "coming attractions" stage, with the FHFA scheduled to announce more details on the expanded HARP on Nov. 15.
--
Written by Philip van Doorn in Jupiter, Fla.
To contact the writer, click here:
.
Readers Also Like:
Best-Performing Stocks Under $5
10 Best-Performing S&P 500 Stocks of 2011
Philip W. van Doorn is a member of TheStreet's banking and finance team, commenting on industry and regulatory trends. He previously served as the senior analyst for TheStreet.com Ratings, responsible for assigning financial strength ratings to banks and savings and loan institutions. Mr. van Doorn previously served as a loan operations officer at Riverside National Bank in Fort Pierce, Fla., and as a credit analyst at the Federal Home Loan Bank of New York, where he monitored banks in New York, New Jersey and Puerto Rico. Mr. van Doorn has additional experience in the mutual fund and computer software industries. He holds a bachelor of science in business administration from Long Island University.