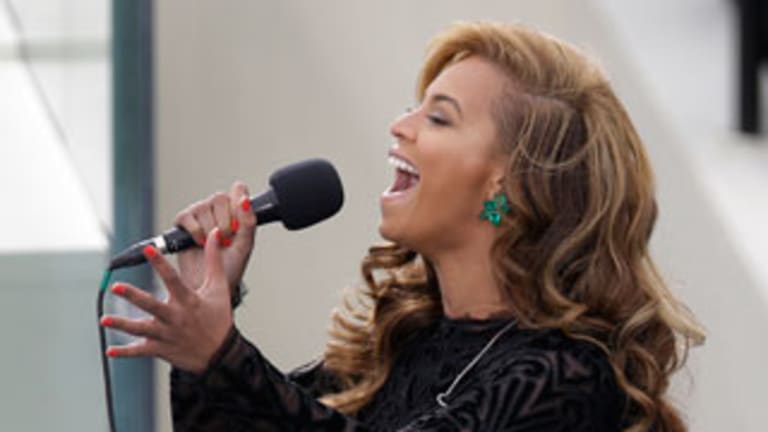 Obama's Hit Parade
As a group, the pop-star line-up represents a buy-in to a highly commercialized view of culture.
NEW YORK (
) -- Beyonce and the Marine Corps Band lip-synched the National Anthem at the presidential inauguration Monday.
Do I care? Not really. My question is, what the hell was she doing there in the first place?
As tacky as lip-synching seems, it's understandable. Nobody wants to flub such an important moment. In fact Yo-Yo Ma and his pals -- all much more highly trained, talented and experienced as performers than Beyonce -- did the same thing during the first Obama inauguration.
Cold weather can do strange things to the voice or the tuning of an instrument. Millions of people watching; the brand new president of the United States standing over your shoulder as you sing the National Anthem; your performance guaranteed to be rebroadcast on TV news and
YouTube
for years. You don't want to leave a moment like that to chance.
So I can overlook the lip-synching. What's more disturbing, what I find harder to forgive, is the programming emphasis on pop music performers, including Beyonce and Kelly Clarkson, at the ceremony and elsewhere.
The parties before and after were saturated with pop acts, anchored, like shopping centers, by some of the top names in music retail: Stevie Wonder, Alicia Keys, Marc Anthony, Usher and -- the topper -- at the private gala for the president and his staff, Lady Gaga. The amateur video clip below is one of many from the private event available on
YouTube
.
Nothing against any of those folks, individually. I don't mind a musician making it big. But as a group, they represent a buy-in to a highly commercialized view of culture that panders to the lowest common denominator, the most sensational and the most popular, a model propagated by the likes of
Universal Music Group
, a unit of
Vivendi
(VIVEF:OTC) and
Sony Music Entertainment
, a division of
Sony Corporation of America
.
Those two companies represent all the artists I've named so far. Companies like that have hundreds of employees that need to be paid; big name acts -- mostly pop stars -- make enough money to do that.
The world of pop music has always revolved around money, the more the better. Money's influence alters not just the way the music is presented, but the way it is created and the expectations of the creators and the audience. Success in this field is a dollar figure.
Classical and jazz don't work that way. The musicians need to get paid, sure, and most aren't above playing weddings or in some ways tailoring their music to suit their audience. Money pressures exist, but they don't dominate the art form. Success here is rooted in technical accomplishment and
in the musical experience itself
.
When a classical artist verges on mass popularity, like Yo-Yo Ma, companies like Sony will maneuver themselves into a position to profit from it. But Ma didn't get where he is by thinking about money -- he got there by being a terrific cellist, and an inquisitive musician, constantly challenging himself, branching into new areas. His success was established long before big money entered the picture and continues largely because he is able to rely on his true artistic nature and ignore the role of money.
Pop musicians sometimes emulate that model, ignoring the financial rewards and following where talent and curiosity lead. Often they find themselves in a better place as a result, connecting more easily and honestly with audiences, developing a longer career trajectory.
They don't let the money get in the way.
All week on TV, money did get in the way, in the form of a parade of money-driven pop culture containing very little artistry.
Kelly Clarkson did a great job belting out "My Country Tis of Thee" (not lip-synching), but I still think a well-trained, young operatic soprano would have served the moment better. Alicia Keys is no slouch as a singer or pianist, but hearing her do a presidential parody of her own top-40 mega-hit at the inaugural ball was just a little too nauseating.
I'm a big Stevie Wonder fan, but he would have looked a lot more dignified in the context of an evening that also included the music of Chopin or Ellington.
Lady Gaga at least understands this distinction. The orchestral instruments in "Born This Way," shown in the video clip I cited earlier, act as a prop, designed to infuse her act with a kitschy air of nobility. In her defense, though, the ensemble arrangement is a bit more nuanced than its role really requires; the conductor
really is conducting
, not just mimicking the role.
In the music of the Monday inaugural ceremony there were some fine non-pop moments, if not quite classical. The light military arrangements of the Marine Corps Band drew from classical music traditions. The singing of the Brooklyn Tabernacle Choir drew from gospel, jazz and classical.
One living composer, David Ludwig, had a choral work performed -- well out of the limelight during the president's morning church service: a setting of the Emma Lazarus poem inscribed on the Statue of Liberty.
As significant as they must have been for Ludwig and the Brooklyn choir, those performances don't really represent a view of music as art, or even entertainment, but as functionary, dangerously close to background music. Similarly, the Eastman String Quartet was hired to play for an hour at an inaugural lobster lunch over the clink of glasses and noise of constant conversation.
As in Lady Gaga's routine -- and she often has her finger on the pulse of cultural trends -- classical music has been relegated to the role of a prop.
Early in his first term, Obama made a commitment to present the U.S. cultural landscape in all its diversity. At that first inauguration, he shared the podium with Ma, Itzhak Perlman, Gabriela Montero and Anthony McGill playing a John Williams variation on the Shaker hymn "Simple Gifts." He followed up on his promise by hosting workshops and concerts in various styles at the White House during the first year or two he was in office.
But at this year's inaugural, that broader cultural perspective seems to have gone missing, narrowed to focus more fully on the most common commercial tendencies, music as a commodity.
I hope it's not an indication of his new administration's attitude toward the arts in general. I like Lady Gaga -- really, I'm not being funny. But we don't need to see her at the White House. We need to see more of those workshops. We need to see some real music.
As he has done in the past, the president needs to show his public support for all the arts and put the damper pedal down on the loud din of commerce ringing through our culture. He needs to help us see that money doesn't have to be part of the equation. He needs to help us set higher expectations for ourselves.
-- Written by Carlton Wilkinson in Asbury Park, N.J.