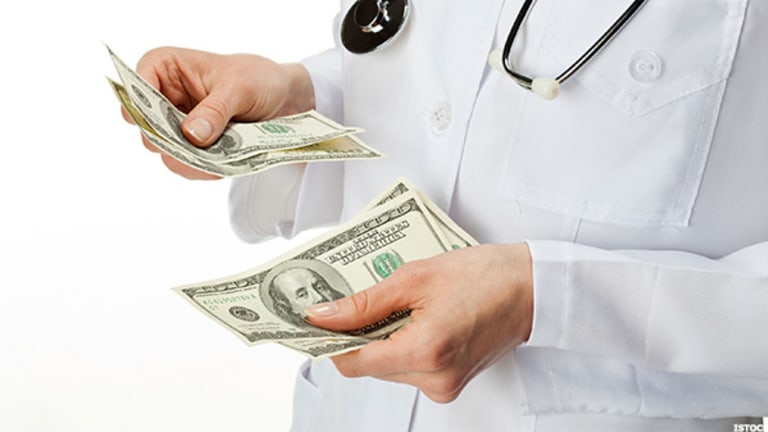 Obamacare Still Sickly, After All These Years
Two new reports show how the U.S. healthcare system is falling short, despite six years of Obamacare. Simon Constable explains what's happening and what it means for investors.
Two new reports show how the U.S. healthcare system is falling short, despite six years of Obamacare. Simon Constable explains what's happening and what it means for investors.
Editors' pick: Originally published Aug. 4.
Six years since it was signed into law, President Obama's signature healthcare program remains somewhat sickly.
The system, dubbed Obamacare for its chief proponent, continues to leave many young people uninsured and could actually be pushing the price of vital pharmaceuticals far higher than they would be otherwise, according to two recently published reports.
"Nearly half struggle to pay for their healthcare," states a study titled Millennial Survey: Young Adults' Healthcare Reality from the Transamerica Center for Health Studies. The report is based on findings from a self-administered online survey of 1,171 millennials conducted from March 14 to April 6. Millennials are the largest U.S. generation and are generally classified as those born between 1980 and 2000, although this survey concentrated on those born between 1980 and 1997.
The results showed that more than one in 10 millennials have no health insurance despite the legal mandate to purchase coverage or pay a fine. 
"Affordability is the most important characteristic of healthcare and an important decision-making factor for millennials," according to the report. "However, nearly half struggle to pay for their healthcare and most have taken some action to avoid or minimize healthcare costs in the past year."
It gets worse. Three in 10 of those surveyed had never received employer-provided health insurance. Such coverage, a so-called 'employee benefit,' had become a staple of employment for years prior to the healthcare law's passage. 
To be fair, the study shows the proportion of millennials without insurance has steadily dropped over the past three years as the economy has recovered. But as insurance companies such as United Health Group (UNH) - Get Report  pull out of unprofitable markets, it looks likely that insurance premiums will rise, aggravating the cost issue. United Health has already indicated that it will pull out of most Obamacare exchanges starting next year.
If, on the other hand, the number of insured people increases, it may augur another problem: higher pharmaceutical prices.
Health insurance coverage allows drugs companies to charge prices "far higher than what they would select if patients had to pay the entire price of their drugs out of pocket," according to a working paper from the National Bureau of Economic Research titled Insurance and the High Prices of Pharmaceuticals.
So one has to wonder how much companies would be able to charge if there were even more people with health insurance. 
Ironically, if consumers themselves had to pay the full price, it might actually cause prices to drop as patients looked for a deal.
But worse than insurance propelling prices of drugs higher, is the idea that the price that's being charged by pharmaceutical companies, such as those in the  SPDR S&P Pharmaceuticals exchange-traded fund (XPH) - Get Report  , "may exceed the value their products create," the study says.
While many people think of human life as priceless, it's not uncommon for economists, like the authors of this paper, to examine the value of an extended life versus the costs of the treatment. When the cost exceeds the value, then economists start questioning whether it is worthwhile.
There are other trends driving pharmaceuticals prices, too. 
"The really big factor is the demand for speciifc drugs that are associated with aging, and they are higher-priced," says Joe Brusuelas, chief economist at professional services firm RSM. "That's something that can't be changed unless the U.S. nationalizes the healthcare industry and sets drug prices."
Simply put, higher prices for medicine may be here to stay and they may just get worse before they get better.
This article is commentary by an independent contributor. At the time of publication, the author held no positions in the stocks mentioned.