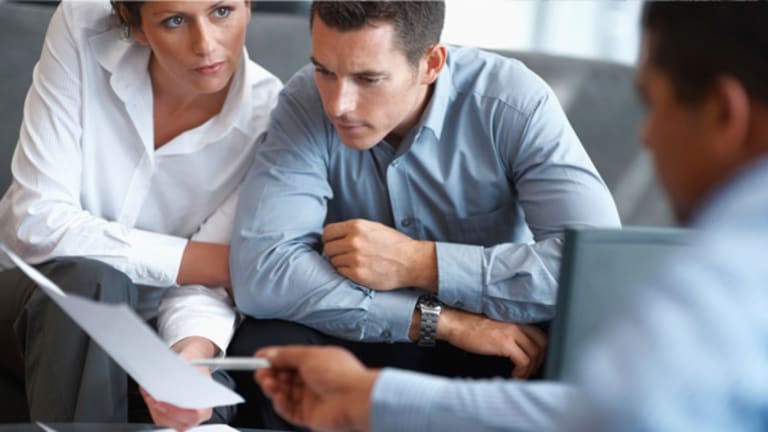 Obama Strikes at Wall Street Like Hitler Marching Into Poland - Weiss
The Obama Administration is taking aim at one of the financial industry's most cherished concepts.
President Obama did everything but quote from Adam Smith in his recent town hall on CNBC. No, he insisted, he's not anti-Wall Street, not anti-hedge fund.
Personally I'm one of the people who feel he actually hasn't done enough to crack down on Wall Street, but that's neither here nor there. What's more important, I think, is that I've found some evidence indicating that
may have had a point when he said "It's like when Hitler invaded Poland in 1939." He was referring to Obama trying to raise taxes on private equity managers -- really makes you think of Hitler, doesn't it? -- but he could have been talking about something that is likely to make the fat cats even more likely to flip their lids.
No, Obama isn't outlawing
tasteless birthday parties.
He hasn't mobilized the National Guard to seize
$35,000 commodes from executive suites.
I'm talking about something more obscure but potentially just as inflammatory. The Obama administration has weighed in on a Supreme Court case that strikes at one of the financial service industry's most cherished concepts. The case can be summed up thusly: Shall investment companies, banks and brokerages be allowed to perpetuate the fiction that there is a dime's worth of difference between mutual fund holding companies and "investment advisors" who actually run the funds?
Yes, friends, it's Hitler marching into Poland, it's Hannibal crossing the Alps, it's Custer at Little Big Horn. It's big. It may be a little arcane, but trust me, this one has tremendous implications for every mutual fund management company -- especially
Janus Capital Group
(JNS)
, which is heroically defending the right of fund management companies to shirk their responsibility for
statements made in the funds' prospectuses.
This case dates back to the "market timing" mutual fund scandals of about seven years ago. Investors filed a class action suit, claiming that Janus prospectuses contained assurances that the funds would not engage in market timing, when there seems to have been plenty of such stuff going on. There was a lot of back-and-forth over technicalities, but the essential issue is set forth in an
appellate court decision that the Supreme Court is currently weighing.
There's the parent company, the publicly held Janus Capital Group, and there's a wholly-owned subsidiary called Janus Capital Management, which actually manages the Janus funds, as its name implies. Most fund customers (as well as everyone else) assume that they're pretty much alter egos. JCM is JCG's primary operating company, and both share the same executive offices, the same Website, the same everything. Any separation between them is therefore a kind of legal nicety. "As a practical matter, JCM runs the Janus family of funds," said one judge quoted in the decision, sort of stating the obvious. But Janus (the parent) was not about to lie down and admit that it is to be held responsible for anything JCM does, especially when somebody is suing.
So, seven years after the fact, we're in court, fighting over whether JCM and JCG are what they appear to be, or actually ships passing in the night. Fine organizations such as the U.S. Chamber of Commerce and the Securities Industry and Financial Markets Association sided with Janus, which maintained that the management company was just a "service provider" to the parent company. You know, sort of like the company it hires to clean its lavatories. Thus JCG wasn't responsible for what some minor player like that does. Enter Hitler marching through Poland --
a brief filed by the Solicitor General
, which basically argues "bunk."
SIFMA feels the stakes are immense. It argued in its brief that the
lower court ruling would actually destroy the stock market
, if allowed to stand. It would "create crippling uncertainty in the securities market," SIFMA's brief maintains, by throwing out years of wonderful precedents and forcing fund companies to settle with aggrieved investors, God forbid.
Whether or not SIFMA is overstating things, there's no question that this case would have wide application throughout the realm of mutual funds, as it exposes the parent to the sins of the corporate child. The mutual fund dynasty of Merrill Lynch, now run by
Bank of America
(BAC) - Get Bank of America Corp Report
, comes immediately to mind. There's also
Franklin Resources
(BEN) - Get Franklin Resources, Inc. Report
,
AllianceBernstein
(ACG)
,
T. Rowe Price Group
(TROW) - Get T. Rowe Price Group Report
,
Legg Mason
(LM) - Get Legg Mason, Inc. Report
.-- the list goes on and on.
Now, I'm not suggesting that any of these companies have done anything wrong, but just merely existing is reason enough to worry about legal liability nowadays.
Personally, I think Wall Street's defenders should back up for a moment, and view their customers not as potential litigators but as customers to be treated fairly. In this instance, Janus essentially admitted that it did screw its customers when it ponied up $225 million in 2004 to
make a market timing case go away.
Now shareholders of the parent are suing, and you can't blame them. If it takes a Blitzkrieg to get that company, and others, to face up to their responsibilities, so be it.
Gary Weiss has covered Wall Street wrongdoing for almost a quarter century. His coverage of stock fraud at BusinessWeek won many awards, and included a cover story, "The Mob on Wall Street," which exposed mob infiltration of brokerages. He uncovered the Salomon Brothers bond-trading scandal, and wrote extensively on the dangers posed by hedge funds, Internet fraud and out-of-control leverage. He was a contributing editor at Conde Nast Porfolio, writing about the people most intimately involved in the financial crisis, from Timothy Geithner to Bernard Madoff. His book "Born to Steal" (Warner Books: 2003), described the Mafia's takeover of brokerage houses in the 1990s. "Wall Street Versus America" (Portfolio: 2006) was an account of investor rip-offs. He blogs at garyweiss.blogspot.com.