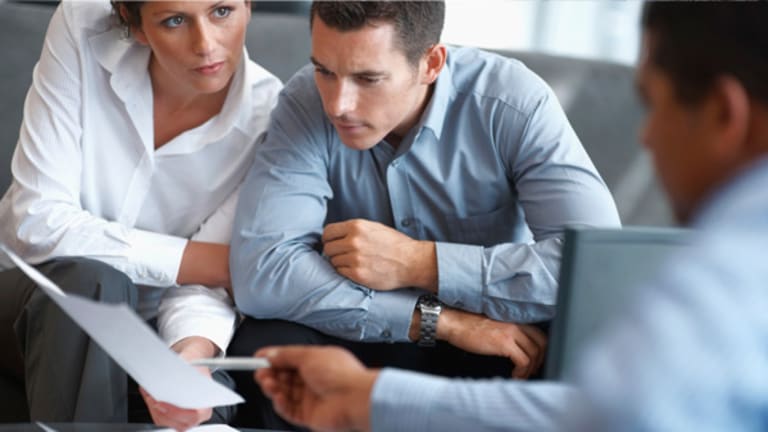 Obama: Chief 'Hypocritical' Officer at LinkedIn Meeting
If the president wanted real feedback from town hall participants, he would make sure the event wasn't scripted.
The following commentary comes from an independent investor or market observer as part of TheStreet's guest contributor program, which is separate from the company's news coverage.
NEW YORK (
) -- President Obama's recent statement that he was tired of politicians acting in short-term political interests was extraordinary -- sadly, for its hypocrisy.
On Monday afternoon the President held a
town hall meeting in Mountain View, California: the heart of Silicon Valley. The meeting -- conducted in cooperation with business social networking company
LinkedIn
-- seemed peculiar.
Half of the people asking questions were red-state residents. What are the chances that they just happened to be in Mountain View and were randomly selected with great jobs plan-type questions for the president?
They were all perfect questions, too. Nothing was left to chance. In this town hall meeting, one might have expected a lively spontaneous Q&A session. Every question but one was pre-screened and the trusty teleprompter was in sight.
The one "spontaneous question" was a plea to the president by an independently wealthy ex-search engine executive to raise his taxes, which drew a round of applause. Then he added that all of his friends felt the same way.
When the president mentioned Warren Buffet's secretary, I thought surely one of those well-read Valley participants, who never shy away from setting the record straight, would advise Obama that his data was incorrect. IRS data show that people with incomes over $1 million paid on average 23.3% tax, while people with incomes between $50,000 and $100,000 paid on average 8.9%. Since the president noted that his team was busy getting rid of unneeded legislation, someone should have asked him if there was really a need to create a piece of legislation just for Warren's secretary.
The president noted again that the jobs bill "has already been paid for." The expected correction, that it could not already be paid for without congressional approval was not forthcoming either.
The president did assure the parents of Silicon Valley's residents that Medicare and Social Security were guaranteed. Lost in the answer was a caveat related to if you already qualify. Then a mention that there would be a few miscellaneous changes, like eliminating the $100,000 limit on which Social Security contributions are paid. This proposed change though was consistent with his repetitive recitation of making sure everyone (the rich) pays their fair share. Again, there was not a word to help the president who must be working with inaccurate data. According to the Congressional Budget Office in 2008, the top 20% of income earners paid 86% of all income taxes, while the lowest 40% not only paid no taxes, many were eligible for a refund through the earned income tax credit.
One other recitation was a need for the country to improve the educational performance of Americans. A new, related announcement, hopefully without forthcoming caveats, is that teachers who don't perform will be given an opportunity to find work elsewhere.
Amen to that. Median income in America has dropped 7% in the last 10 years. The biggest culprit is the rising rates of unskilled workers. The 37.5% of workers with a high school degree or less saw their incomes drop nearly 10%. With knowledgeable teachers who endeavor to motivate students to learn, students won't be searching for the school exit sign and the nation will be on to solving the real problem with low tax receipts.
The president ended the event by saying that he hosts these events because he needs the participants' voices to be heard in the halls of Congress. But, Mr. President, the event was scripted. Obama gets an A for a perfectly hypocritical event. I know he can do better than that.