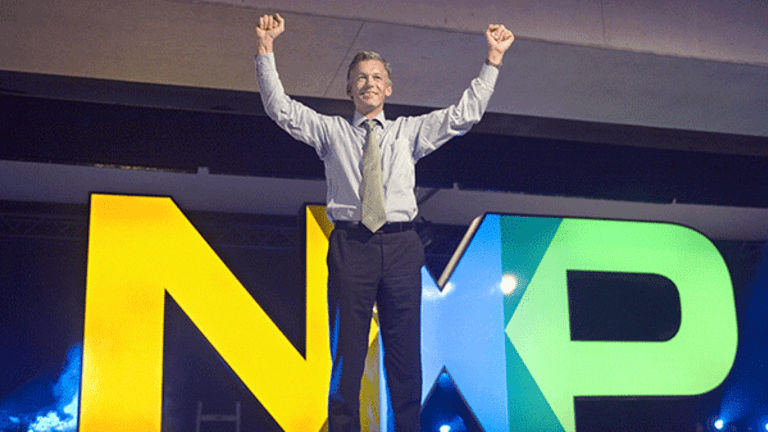 NXP Screams for a New Bid; Talks of Goldman Shake-Up Greatly Exaggerated -- ICYMI Wednesday
Here's what you need to know now.
We are all caught up in earnings and rightfully so, as many of us watch for a crack in the armor of this current market. Meanwhile, we are all closely attuned to the Fed and any signs that the economy isn't all that its been made out to be. Well, on Wednesday we didn't get any of that and stocks roared higher, with the three major U.S. indexes closing at records.
It wasn't just about the numbers being released today, of course, it was also about read-throughs for some of the companies that have yet to report their second-quarter financials.
It may be time, for instance, for Qualcomm Inc. (QCOM) - Get Qualcomm Inc Report  to consider upping its $110 per share bid for NXP Semiconductors NV (NXPI) - Get NXP Semiconductors NV Report according to Jim Cramer. The high flying chip company, which reports earnings in August, is currently trading just 10 cents short of Qualcomm's bid price and could be headed even higher. That assumption comes after Texas Instruments Inc. (TXN) - Get Texas Instruments Incorporated Report  beat on earnings per share and revenue expectations for the second quarter on Wednesday.
NXP is a lot like Texas Instruments, said Cramer who holds NXP in his Action Alerts PLUS charitable trust portfolio, and has plenty of exposure to the auto industry where autonomous driving is becoming a huge area of focus.
And still others deserve mention, such as McDonald's Corp. (AMD) - Get Advanced Micro Devices, Inc. Report , Coca-Cola Co. (KO) - Get Coca-Cola Company Report  and Ford Inc. (F) - Get Ford Motor Company Report  , as there were some interesting angles coming out of the second quarter that may even be presenting buying opportunities for investors. We'll likely get to any Facebook Inc. (FB) - Get Meta Platforms Inc. Class A Report news tomorrow, though they beat handily.
But some of the most interesting stories on Wall Street weren't happening on earnings calls or from a conference room of a general counsel.
TheStreet took a closer look at Amazon (AMZN) - Get Amazon.com, Inc. Report  and what the current Trump administration could really do to impede the sprawling internet company's growth, while we also took a closer look behind the scenes at Goldman Sachs & Co. (GS) - Get Goldman Sachs Group, Inc. Report  and why a call by some Wall Street analysts for the replacement of CEO Lloyd Blankfein may be much ado about nothing.
This is an excerpt from "In Case You Missed It," a daily newsletter brought to you by TheStreet. Sign up here.

Photo of the day: I want my HGTV!
You soon may see MTV and Food Network (as well as HGTV and DIY Network) under one roof, as rumors continue to swirl that Viacom Inc. (VIAB) - Get Viacom Inc. Class B Report , or potentially Discovery Communications Inc. (DISCA) - Get Discovery, Inc. Class A Report , is gearing up to make a play for Scripps Networks Interactive Inc. (SNI) . A deal would bring Viacom's iconic media properties like MTV, VH1 and Nickelodeon together with a home improvement and cooking programs that have perforated all age groups. With properties such as Food Network and Cooking Channel and stars including Bobby Flay and Giada De Laurentiis, Scripps may be just the jolt a struggling Viacom needs to help spark growth. But with a mountain of debt and a $12 billion-plus price tag it may be a while before Viacom is commissioning the members of Dire Straits to sing 'I want my HGTV' when they perform "Money for Nothing" at their next reunion show.
Read more from "In Case You Missed It." Sign up here.