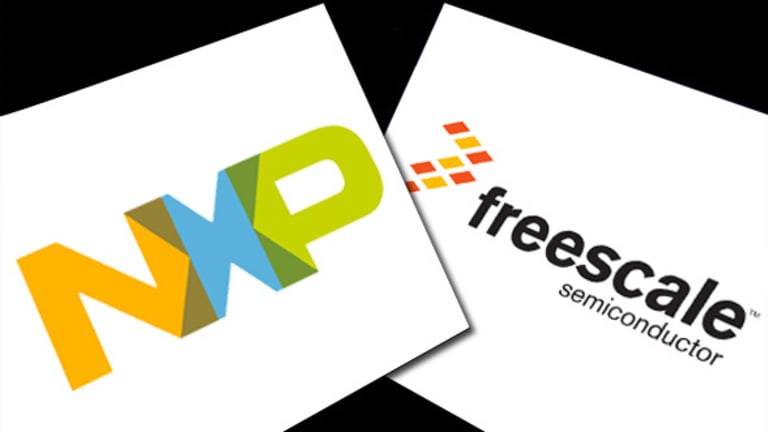 NXP Beats on Revenue, Meets on Earnings as Acquisition Pays Off
The chipmaker warned that demand for chips should remain weak throughout the year but remained optimistic.
Nasdaq-listed Dutch chipmaker NXP Semiconductors (NXPI) - Get Report late Wednesday met analyst expectations for its second-quarter earnings but cautioned that strong competition and soft demand for chips would likely continue through the year.
Eindhoven, Netherlands-based NXP said second quarter adjusted earnings per share slipped 3.5% over the second quarter of 2015 to $1.39 as sales rose 57% to $2.365 billion. Adjusted to exclude the effects of M&A activity, sales were 8% lower than in the same period a year earlier but still at the high end of analyst expectations.
Analysts were looking for earnings of between $1.19 and $1.43 a share and revenue as high as $2.36 billion.
"Persistently strong adoption of tablets and smartphones, automotive electronics and the emergence of a new category of wearables boosted the demand for processing and sensing devices that run them," wrote Zacks analysts ahead of the release.
For the third quarter, NXP expects revenue of between $2.415 billion and $2.515 billion with adjusted operating profit of between $653 million and $705 million.
"While we anticipate many of the headwinds experienced in the second half of 2015 should begin to generally subside in the coming quarters, the overall demand environment currently continues to be subdued," said CEO Richard Clemmer in a statement.
NXP is rearranging its activities to better position itself as more devices and cars become connected over the Internet. In December the company completed its $16.7 billion acquisition of Austin's Freescale Semiconductor to fill in holes in its automotive and device chip businesses.
And, last month, it agreed to sell its Standard Products unit to China's state-owned Beijing Jianguang Asset Management, or JAC Capital, for $2.75 billion. NXP said it no longer needs the unit after buying Freescale.
In unadjusted figures, the company slipped to a per-share loss of 4 cents in the second quarter after profit of $1.23 in the second quarter of 2015, which it blamed on "merger-related accounting."
"During the quarter, we repaid $100 million of debt and we returned cash to shareholders, by repurchasing $365 million or approximately 4.3 million shares of our stock," CEO Clemmer said.
The executive said he still hopes to close the sale of the Standard Products unit by the first quarter of next year.
NXP shares closed 6 cents higher in extended trading Wednesday at $87.50.