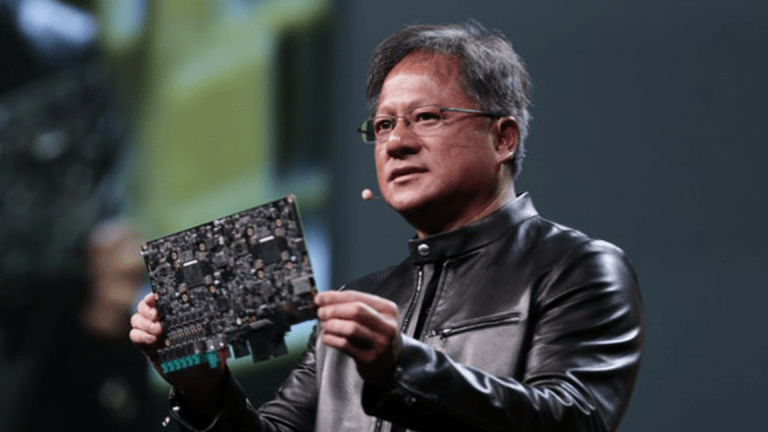 Publish date:
Nvidia Slides After Issuing Light Guidance: 5 Key Takeaways
Though plunging demand from cryptocurrency miners is weighing on sales for now, things look better for other parts of Nvidia's business.
Though plunging demand from cryptocurrency miners is weighing on sales for now, things look better for other parts of Nvidia's business.
Nvidia's (NVDA) - Get NVIDIA Corporation Report nosediving sales to the cryptocurrency mining market are, for now, overshadowing healthier server and gaming GPU trends.
After the bell on Thursday, Nvidia reported July quarter (fiscal second quarter) revenue of $3.12 billion and GAAP EPS of $1.76. Revenue rose 40% annually and slightly topped a $3.11 billion consensus; EPS, benefiting from a lower-than-expected 7% tax rate, beat a $1.67 consensus. Non-GAAP EPS was $1.94, above a $1.85 consensus.
However, citing a collapse in crypto demand, Nvidia also guided for October quarter revenue of $3.25 billion, plus or minus 2%. The outlook implies 23% growth at the midpoint, and is below a $3.34 billion consensus.
Shares fell 4.5% Friday. They had gone into earnings up 33% on the year -- a large portion of those gains were in January -- and 56% over the prior 12 months.
Here are some takeaways from Nvidia's earnings report and call:
1) Crypto Sales Have Collapsed, and Can't Fall Much Farther
Nvidia, which in May forecast its sales of products meant specifically for crypto miners would fall by about two-thirds sequentially in the July quarter from an April quarter level of $289 million, ended up doing just $18 million in such sales last quarter. That led revenue for Nvidia's OEM & IP reporting segment, which also covers sales of non-gaming PC GPUs and patent licensing revenue, to drop 54% annually to $116 million, easily missing a $188 million consensus.
What's more, Nvidia said it's "projecting no contributions" from crypto-specific products going forward. If the company manages to see a modest amount of demand from the space in the coming months, it would drive upside to estimates.
Separately, CEO Jensen Huang downplayed concerns that the graphics card aftermarket will (as was the case a few years ago) get flooded with cards from disillusioned crypto miners. "The existing [mining] capacity is still being used," he insisted, while adding that new GPU launches (more on them shortly) will also prop up broader graphics card demand. It's worth noting that AMD (AMD) - Get Advanced Micro Devices, Inc. Report , Taiwan Semiconductor  (TSM) - Get Taiwan Semiconductor Manufacturing Co., Ltd. Sponsored ADR Report and others have also reported seeing major drops in crypto-related demand.
2) Datacenter Segment Sales are Still Soaring
Nvidia's Datacenter segment revenue, which covers server GPUs and related products, rose 83% to $760 million, topping a $744 million consensus. Giant investments in AI training systems -- often powered by Nvidia's Tesla V100 GPUs -- among tech giants running hyperscale data centers remain a key growth driver for the segment. But there are also a few others.
On the call, CFO Colette Kress noted the annual revenue run rate for Nvidia's DGX AI training systems, which contain Tesla GPUs and are typically sold to traditional enterprises, has reached "the hundreds of millions of dollars" ahead of an expected October quarter ramp for a second-gen system (the DGX-2). She also indicated demand was healthy from the traditional high-performance computing (HPC) market, noting over half the computing power added to the latest TOP500 supercomputer list involved Nvidia-powered systems.
And though this business is for now a lot smaller than training, where it remains dominant, Nvidia says its traction in the more competitive AI inference market continues growing. Kress and Huang each noted Nvidia's recently-launched TensorRT 4 inference optimizer/runtime software for its server GPUs supports a much wider set of inference use cases than prior versions of TensorRT.
3) Gaming Demand is Holding Up Well
Though there were some concerns that Nvidia's Gaming segment revenue (still accounts for over half of total revenue) would be stung by lower demand from crypto miners who had been buying gaming-optimized GPUs, it rose 52% last quarter to $1.81 billion, topping a $1.75 billion consensus.
Kress stated Nvidia's gaming-related sales to the desktop, notebook and console markets all rose by "strong double-digit percentages." And though high-end gaming GPU sales have historically skewed towards desktops, she mentioned notebooks "were a standout" during the quarter, as adoption of Nvidia's Max-Q platform (it allows powerful GPUs to be placed within thin-and-light notebooks) keeps rising.
The remarks came ahead of the expected unveiling of the first gaming GPU(s) based on Nvidia's new Turing architecture at an August 20th event. Though some gamers looking to buy a new GPU could hold off until Turing cards are available, Nvidia still expects its Gaming segment revenue to rise sequentially. With reports suggesting Nvidia will launch a flagship desktop GPU (possibly called the RTX 2080) next week, the company could still rely on its older Pascal architecture in the near-term to service the notebook market and more cost-sensitive desktop buyers.
4) Nvidia is Very Upbeat About Turing's Potential
On Monday, Nvidia officially unveiled Turing, along with three Quadro workstation GPUs that represent its first products based on the architecture. After declaring at the time that Turing's ability to enable real-time ray tracing -- and with it, the creation of photorealistic graphics for games and other apps -- is a game-changer, management did nothing to cool expectations on the earnings call.
"Turing is set to revolutionize the work of 50 million designers and artists, enabling them to render photorealistic scenes in real-time and add new AI-based capabilities," said Kress while discussing the new Quadro GPUs. Huang, meanwhile, claimed that Turing's ray-tracing abilities, enabled in part by specialized processing cores known as RT cores, would yield huge improvements in game imagery. "When you see the images created by Turing, you're going to have a really hard time wanting to see the images of the past," he declared.
And with Turing, like the Volta architecture that powers the V100, also featuring AI-focused processing cores known as Tensor cores, Huang claimed Turing will offer 10 times the inference performance of Pascal, which is used for Nvidia's existing gaming and inference products. The remarks come a week after Intel (INTC) - Get Intel Corporation (INTC) Report , which between its server CPUs and programmable chips (FPGAs) claims much of the inference market, promised its next-gen Xeon server CPUs would deliver much better inference performance than its current Xeon lineup.
5) Spending Continues Growing Rapidly
Nvidia's GAAP operating expenses grew 33% annually to $818 million, topping guidance by $8 million. Non-GAAP opex rose 30% to $692 million, topping guidance by $12 million. And in the October quarter, Nvidia expects GAAP and non-GAAP opex to grow to $870 million and $730 million, respectively.
Large R&D investments in gaming, data center AI and autonomous driving solutions have much to do with all this growth. On a GAAP basis, R&D spend rose 40% to $581 million.
TheStreet's Eric Jhonsa previously covered Nvidia's earnings report and call through a live blog.