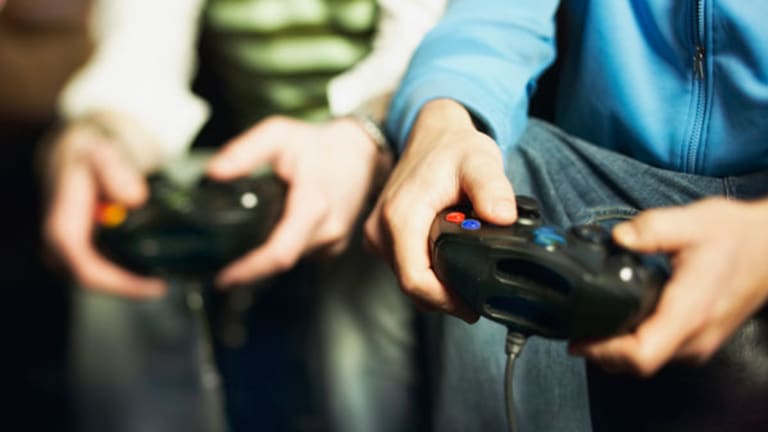 Nvidia Games the System With Graphics Driving Growth and Margins
Watch Nvidia bulls win the profits game.
NEW YORK (TheStreet) -- What's moving Nvidia's (NVDA) - Get NVIDIA Corporation Report stock and plumping up its margins? Its graphics business, which is the tech company's biggest segment and an important driver of revenue.
The graphic processor unit (GPU) segment has always been big for Nvidia, with the segment generating 84% of the total revenue in fiscal-year 2014. Nvidia has been leveraging its leadership position in the graphics market to capitalize on the market demand, thereby adding significant value to the overall top line.
Nvidia is starting its fiscal-year 2015 with 64% share of the PC discrete graphics market and 81% share of workstation graphics units, while Nvidia's Tesla GPUs are being deployed in pilot projects at 44% of all HPC sites globally. Its shares currently trade around $18, up 14% for the year to date.
Nvidia has established a strong presence in PC games thanks to its high-performance GeForce series GPUs and its strategy of not going after the bottom 70% of the entire computing market.
By concentrating on what it considers the most important area of the computer world, Nvidia reported a robust 50% year over year growth in GeForce, GTX, and GPU sales in the fourth quarter of fiscal year 2014. This strong growth had helped the company in registering 14% year over year growth in GPU segment revenue for the same period.
Continuing with its GPU strategy, the company recently released its update to "Kepler architecture" with the launch of "Maxwell" graphics architecture. This new graphic architecture will be used in the new Nvidia GeForce GTX? 750 Ti and GTX 750 GPUs. Maxwell architecture is the most efficient GPU architecture ever built, with a 2x Performance/watt increase along with 50% reduction in power consumption compared to its predecessor Kepler architecture.
The company has adopted a different approach in these new GPUs as it is providing the experience of the new Maxwell architecture in the mid-price range. These GPUs thus form the low end of Nvidia's 700 GPU series. The first Maxwell-based GPUs are modestly priced with GeForce GTX 750 available at a retail price of $119, 1GB GeForce GTX 750 Ti available at retail price of $139, and a 2GB GTX 750 Ti available at retail price of $149. 

Both these GPUs will help Nvidia regain lost market share from Advanced Micro Devices' (AMD) - Get Advanced Micro Devices, Inc. Report new R7 and R9 series Hawaii GPUs, which were added last year. The R7 and R9 series are based on AMD's graphics core next architecture and apply a top-to-bottom approach, with R9 targeting performance gamers and R7 targeting lower-budget value and mainstream customers. These new GPUs has helped AMD gain a presence in the PC graphics market as rival Nvidia was at that time still updating to Maxwell architecture. 
Nvidia had primary targeted its new Maxwell GPUs against AMD's R7 260X, but the recent introduction of AMD's R7 265 2GB graphics card at $149 and a reduction in price of R7 260X has heated up the competition. In comparison, NVIDIA GeForce GTX 750 Ti provides best-in-class performance along with lower power consumption than AMD Radeon R7 260X.
Nvidia's has just released its first series of GPUs on Maxwell architecture, and more products based on this graphics architecture can be expected soon. Despite the PC market's downward trend, PC gaming is expected to grow at a CAGR of 14.3% from 2012 to 2015.
In addition, other segments of the graphics market like high-performance computing (Tesla), workstation (Quadro), and newly introduced cloud gaming service, GRID, are also major growth drivers. Nvidia's Tesla GPUs have been dominant in the HPC with the company showcasing the world fastest graphics accelerator for supercomputing, the Tesla K40.
The company reported 20% year-over-year growth in sales of Tesla GPUs in the fourth quarter of fiscal-year 2014. Along with its partner and market leader in high-performance computing hardware, IBM , Nvidia's prospects in HPC look strong.
Apart from Tesla, Nvidia's GRID trials continue to grow at a robust rate of 46% quarter over quarter in the fourth quarter of fiscal-year 2014, and will start being reflected in the company's income statement soon.
At the time of publication, the author held no positions in any of the stocks mentioned.
This article represents the opinion of a contributor and not necessarily that of TheStreet or its editorial staff.