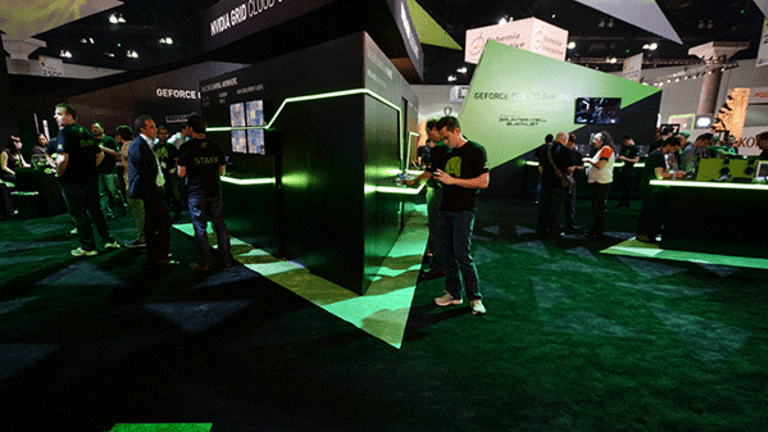 Nvidia Battles for AI Supremacy; Apple's Creative Direction Called Into Question -- ICYMI Wednesday
Here's what you need to know now.
It was another blockbuster day for Wall Street on Wednesday as the three major indexes all closed higher driven by gains in tech, industrials and media.
But while most investors were concentrated on two American institutions on the decline (Goldman Sachs & Co. (GS) - Get Report  and IBM Corp. (IBM) - Get Report  were laggards), three favorites of the new school were in focus as Facebook Inc. (FB) - Get Report  and Alphabet Inc. (GOOGL) - Get Report  battled over news feeds and Nvidia (NVDA) - Get Report  faced new competition in the way of artificial intelligence.
Alphabet's Google unit on Wednesday said it had introduced an overhaul of its search app on mobile phones to include a tailored feed of articles and videos on news, sports, weather and other topics. Though Google says it's not trying to go after Facebook's News Feed, the feature could cut into users using Facebook to get their news. Publishers, rejoice... I think.
Nvidia, meanwhile, is looking down the barrel of a cluttered AI chip market as the likes of Intel Corp. (INTC) - Get Report  , Advanced Micro Devices Inc. (AMD) - Get Report  , Fujitsu and the aforementioned Google are prepping to join the fray.
TheStreet also managed to sit down with an ex-Apple Inc. (AAPL) - Get Report  executive who explained why the company never really replaced its iconic founder Steve Jobs and what impact that has had on the Cupertino, Calif.-based consumer tech giant. For one, he said, the company has really lost its creative direction, something that can be seen in the company's recent product offerings, but that wasn't all.
And, just to be sure, we couldn't get through another day without talking about my favorite topic: M&A.
From McCormick & Co.'s (MCK) - Get Report  $4.2 billion acquisition of Reckitt Benckiser Group plc's food business (French's Mustard and Frank's Red Hot, included) to rumors that both Discovery Communications Inc. (DISCA) - Get Report  and Viacom Inc. (VIAB) - Get Report  have begun takeover conversations with Scripps Networks Interactive Inc. (SNI)  , deal chatter was all the rage Wednesday.
While the deals have their own specific motives, there is a common thread among them that is really telling about the current state of both television and consumer products: fear of irrelevance.
This is an excerpt from "In Case You Missed It," a daily newsletter brought to you by TheStreet. Sign up here.

Photo of the day: A look back at Big Blue
Shares of IBM Corp. (IBM) - Get Report fell about 4.4% to $147.53 on Wednesday, after the company reported its 21st consecutive quarter of year-over-year revenue declines. IBM's roots date back to the 1880s and the company has always been known as a pioneer in the information technology world. Not so in today's landscape as companies such as Amazon.com Inc. (AMZN) and Alphabet Inc. (GOOGL) are eating into the company's bread and butter. Still, the company has come a long way since its first counting machines. Above is a photo from 1964 depicting the IBM-360 supercomputer. At the time of its release the machine was the most compact computer on the market. Only one room needed.
Read more from "In Case You Missed It." Sign up here.