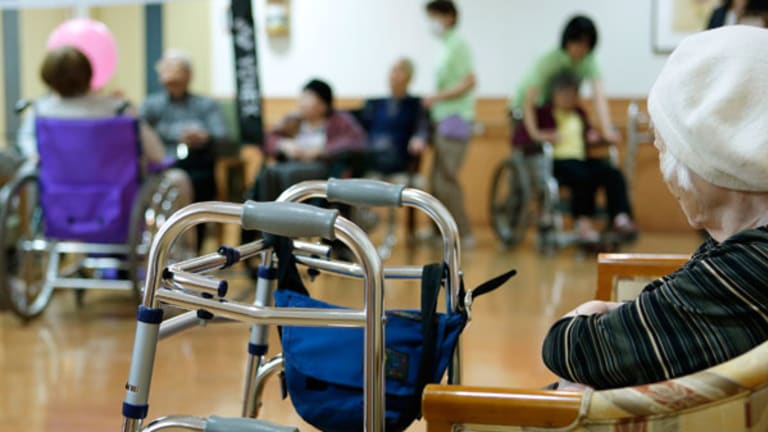 Nursing Homes Cry All the Way to the Bank
Nursing home companies are very profitable, which is small comfort to their customers.
Nursing home companies are very profitable, which is small comfort to their customers.
NEW YORK (
) -- My mom turned 90 yesterday, so I'm in California celebrating the fact instead of being in my Georgia office. (The picture below was taken in January, when my nephew became an Eagle Scout.)
Mom's been lucky. She still lives in the home she bought with my dad 40 years ago. My brother rebuilt it in the last decade so it's better than ever, and she's gotten to watch her grandchildren grow up in it.
While she has had brief stays in rehabilitation facilities over the last years, she has stayed out of nursing homes, and I consider this the greatest blessing of all.
Nursing home companies like nothing better than bemoaning their fate. Many have been converted into real estate investment trusts, or REIT, in the last few years, under names like
Ventas
(VTR) - Get Report
,
Senior Housing Properties Trust
(SNH) - Get Report
and, the largest of them all,
Health Care REIT
(HCN)
, which closed on the acquisition of Sunrise Senior Living early this year.
The new style of ownership seems to suit them. Senior housing is up 16% in the last year and yields 5.81% in dividends. HCN is up 11% this year and yields 4.51% in dividends. Ventas is up 9% and yields 3.78%.
Despite this,
The Wall Street Journal wrote in May
that other health care companies are shunning the group fearing steeper cuts to Medicare which, this time, might actually cut into profits.
Families for Better Care, a patient's advocacy group, calls the sector's profits
despite Medicare cuts that, in 2011, had the industry "reeling" and preparing to "cut expenses,"
according to National Real Estate Investor.
My good friend Martin Bayne, who has been in nursing care since 2002 due to Parkinson's, now runs the
from a facility near Allentown, Pa., and has lived the nightmare of nursing care.
After being interviewed by Terry Gross of
, Martin
early this year that new residents need a "welcoming committee" that will get them to reveal their passion, and jobs in the facility, even if it's just welcoming others, that return them a measure of dignity.
In the journal
, Martin has written that nursing home companies have "a top-down management team whose initial goal seems to be to strip us of our autonomy," noting that most of his neighbors enter care after a terrible trauma, the loss of a spouse, a terrible disease or the onset of full-scale dementia.
What these people need is emotional care and caring, but most facilities prefer they put up a wall -- a calm, even peaceful veneer that can be shown their relatives when they visit. "But beneath the surface, all of us are susceptible to the ambient despair that is a permanent component of life in assisted living," he writes.
Martin is fortunate in that his family finally found him a good facility near relatives, and because his mastery of technology has given him new life as a writer of fiction and as an advocate for others in care. The vast majority of people aren't so fortunate.
My mom has been even more fortunate. My brother and his family are very good to her. When her health gets precarious my older sister, who lives in San Jose, steps in as her advocate. She even came out to Georgia last year, where I got to show her the "antebellum" she's been bugging me to see for decades, in Charleston and Savannah.
Death is the final destination for all of us, a nursing home usually the last stop on the way. You can look at it as just an investment, as in
about
Kindred Healthcare
(KND)
, or, for the sake of my mom and my good friend, take a few moments to think about it more deeply.
At the time of publication the author had no position in any of the stocks mentioned.
This article is commentary by an independent contributor, separate from TheStreet's regular news coverage.
Dana Blankenhorn has been a business journalist since 1978, and a tech reporter since 1982. His specialty has been getting to the future ahead of the crowd, then leaving before success arrived. That meant covering the Internet in 1985, e-commerce in 1994, the Internet of Things in 2005, open source in 2005 and, since 2010, renewable energy. He has written for every medium from newspapers and magazines to Web sites, from books to blogs. He still seeks tomorrow from his Craftsman home in Atlanta.