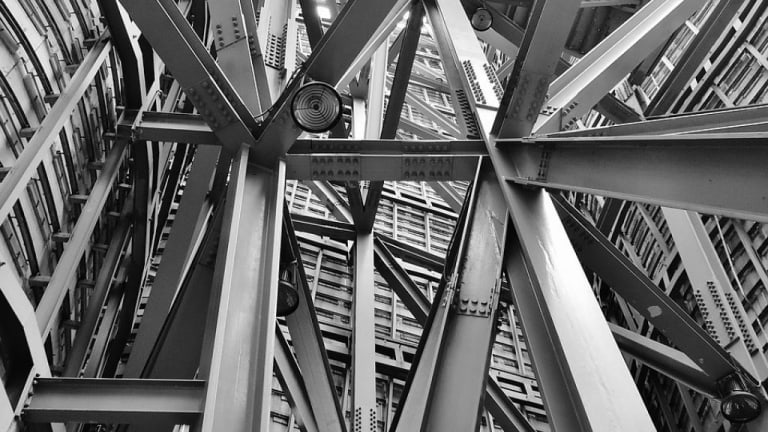 Nucor vs. U.S. Steel: Which Is the Market's Top Steel Stock?
Steel no longer dominates the economy, but here's one company to buy, and one to sell.
Steel no longer dominates the economy, but here's one company to buy, and one to sell.
NEW YORK (TheStreet) -- Fifty years ago the steel industry was dominated by enormous companies accounted for a substantial chunk of the industrial sector. Those days are gone, but through new technology and smarter management, a few U.S. steel makers are generating strong profits in this industry that's now off the radar of many investors.
But which companies are best in class? 
The best stock in this sector is Nucor (NUE) - Get Report , based in Charlotte, North Carolina. It is the largest steel company in the U.S.
data by
Nucor made a profit of $124.8 million, or 39 cents a share, in the second quarter of 2015. While this was a big increase over the $67.8 million the company earned in the first quarter, it was down from $147 million profit posted in the second quarter of 2014.
The last year has been a rocky one for the company. As a result, the stock is currently trading at around $41, which is toward the lower end of its 52-week range ($36.76 to $55.31). But analysts think Nucor is ready for a comeback. While earnings this year are estimated to be just $1.59 a share, they're expected to rise to $2.88 a share next year. Based on those earnings, next year's price-to-earnings ratio is a cheap 14.2, making Nucor stock a bargain at today's price.
On Monday, Deutsche Bank analyst Jorge Beristain upgraded Nucor to a "buy," saying the company will benefit from falling scrap prices. Beristain said the price could go as high as $52 -- an increase of more than 25% from its current level.
Nucor's Steel Products segment -- the heart of its business -- saw its pre-tax profit margins improve by 8% in the second quarter of 2015. And while total product shipments fell by 3% year-over-year in the period, average steel prices have been quite stable.
The management expects its Steel Products segment's performance to further improve in the third quarter of 2015, in part because the company's order backlog has increased.
The stock also yields a dividend of 3.7%, making it for a good choice for both growth and income. Also, the dividend is stable, and has a record of continuously, if modestly, rising since taking a step back during the financial crash seven years ago.
The company's third-quarter outlook is bullish based on a few other factors, such as an improved commercial construction market across the U.S., and stronger revenues from its downstream products business. Buy Nucor up to $45.
One stock to avoid in this area is U.S. Steel (X) - Get Report. You may be seeing some positive headlines about the firm right now, as the stock jumped more than 4% on Wednesday after it announced it is considering a consolidation that will cut costs. But this is a short-term gain and the company, once a top Fortune 500 company, continues to have long-term problems.
data by
The company's debt-to-equity ratio of 1.00 is relatively high when compared with the industry average, suggesting a need for better debt management. The gross profit margin is only 3.72%, a noticeable decline from the same quarter of 2014 (6.21%).
Even with the recent gain, the stock price is still around $12, far down from its 52-week high of $42. That drop is substantially bigger than the S&P 500's during the same period,
If you do own this stock, now is as good a time to cut your losses and sell. 
If you want to see a list of the absolute worst stocks you can own right now, take a look at this report called 29 Dangerous Stocks:Sell Now!. Inside, you'll see a list of the market's most overvalued stocks, and learn the process you can use to keep avoiding them in the future.
This article is commentary by an independent contributor. At the time of publication, the author held no positions in the stocks mentioned.