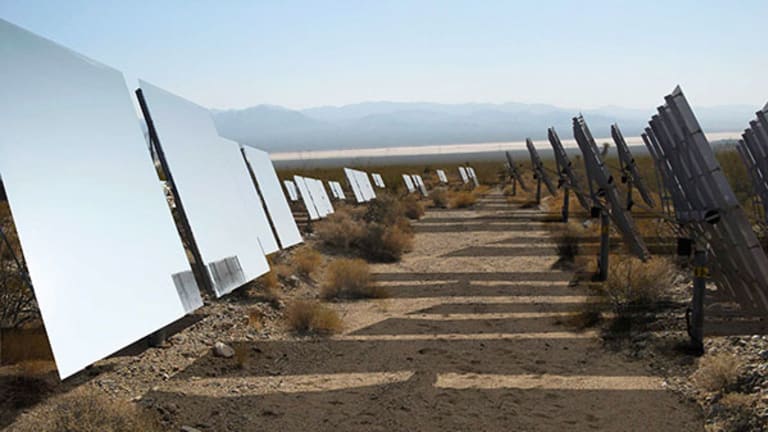 NRG Energy's Embrace of Change a Likely Path to Industry-Leading Position
The utility business model is drastically changing and that presents compelling opportunities for industry players like this one and their customers.
NEW YORK ( TheStreet) -- Today's utility industry is challenged by technology that can lead to more efficient, resilient delivery of electric power. The utilities that will succeed will embrace and facilitate change. NRG Energy (NRG)   epitomizes the modern energy distribution company.
NRG is the largest independent power producer in the U.S. with capacity of 53,000 megawatts (that's enough power to support 42 million homes). Along with offering traditional fossil fuel power access, NRG has focused on the transition to a sustainable, low carbon society. How? The company is building a diverse clean energy fleet that includes fossil fuels (coal, oil, natural gas), combined heat and power (CHP), and nuclear and renewables such as solar, thermal and wind. Renewables account for 5.5% of the company's total U.S. megawatt output; however, that number should grow significantly, especially since NRG is is commited to sustainable energy and reducing CO2 emissions 50% by 2030 and 90% by 2050. To see a map of the company's power portfolio click here.
The company believes distributed energy resources will drive future revenue growth. This is why NRG is developing distributed solar, efficient co-generation and further access to electric vehicle (EV) charging infrastructure through eVgo. It is also working to bring to market carbon capture technology that can turn carbon waste emitted from coal plants through its $1 billion Petra Nova Carbon Capture Project, a joint venture with JX Nippon Oil & Gas of Japan. This latter opportunity, along with existing oil well production through CO2 based enhanced oil recovery (EOR) technology, will likely find increasing local and state support following President Obama's renewed interest in cutting CO2 levels and fighting global warming. That means NRG is in a new sweet-spot, relying on innovation like never before to generate revenue.
Utilities can no longer simply wait for technology to come to them. Instead, they need to seek out new technologies with staying power. In an era where distributed power is growing rapidly, incremental and more sweeping changes can help utilities like NRG become more relevant and increasingly needed to maintain new services for consumers.
It is a refreshing surprise to see NRG view consumers as partners. This is why the company will thrive as an energy gatekeeper for a more modern power grid that must prepare for growing demand for electricity and the impacts of global warming.
NRG is a forward thinking utility company that will leave an increasingly strong impression in its industry. That's because the energy landscape is changing like never before. The need for clean energy is no longer a myth since climate change is real and at the forefront of political debate globally.
The transition of energy resources to a more sustainable, lower carbon society, will make NRG's power product suite more attractive than that of larger cap competitors who are fearful of change and focused primarily on fossil fuels. NRG looks primed to become an industry leader that investors should not ignore.
Follow John Licata on Twitter @bluephoenixinc
This article is commentary by an independent contributor. At the time of publication, the author held no positions in the stocks mentioned.