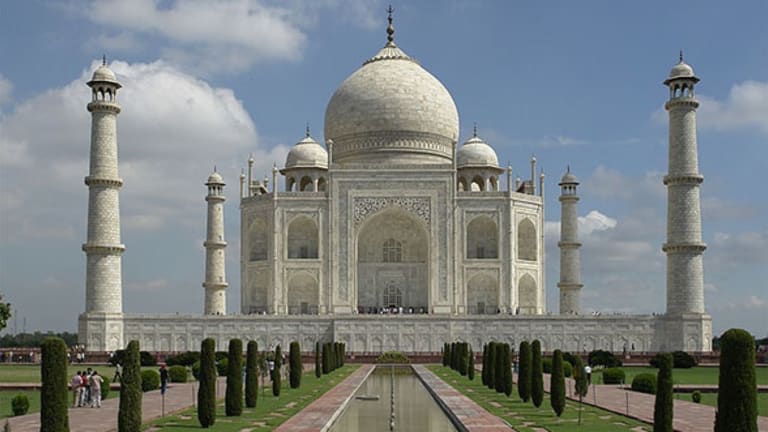 Now Is the Time to Buy Shares of India's ICICI Bank
Shares of India's largest, private sector bank have fallen almost 25% year-to-date, but the company is making changes and presents a good long-range investment opportunity.
NEW YORK (TheStreet) -- Shares of ICICI Bank (IBN), India's largest private sector bank have fallen nearly 25% year-to-date. But the decline may offer an opportunity for investors.
The bank is on sound financial footing as it has increased revenue and net income three years running. Moreover, it is making a concerted effort to reduce its exposure to bad loans and adopt a less risky overall strategy. 
Investors have been understandably nervous about its loan strategy in recent years but management has acknowledged those concerns in changing direction. A company's first steps are often the most important in addressing challenges. ICICI shows good long-range value. 

ICICI Bank is India's largest private bank in terms of assets, which stood at $103 billion at the end of fiscal year 2015 (ending March 31). ICICI Bank was established soon after the opening of the banking sector for private players by the Reserve Bank of India in 1994.
ICICI Bank became the first Indian company and the first bank from non-Japan Asia to be listed on the New York Stock Exchange in 1999. The sponsored American Depository Receipts (ADR) of ICICI Bank trade on the NYSE in the ratio of 1:2. ADRs offer a hassle- free way to hold foreign stocks, as they are traded on U.S. exchanges and require no currency conversion.
The company reported revenue of $14.43 billion for fiscal year 2015, an increase of 8.5% vis-à-vis the revenue for the previous fiscal year. The net income was $1.96 billion for fiscal 2015, an increase of 5.96% as compared to fiscal 2014.
| | | | | |
| --- | --- | --- | --- | --- |
| ($ Billions) | FY15 | FY14 | FY13 | FY12 |
| Revenue | 14.43 | 13.30 | 13.64 | 13.10 |
| Net Income | 1.96 | 1.85 | 1.77 | 1.50 |

During the first quarter for fiscal year 2016, ICICI Bank reported a year-on-year increase of 14% in its consolidated profit after tax, which touched $508 million during first quarter of fiscal year 2016. That represented an increase from $445 million. The bank's stand-alone profit after tax was up 12% to $468 million for the first quarter of the current fiscal.
ICICI's shares have been sliding since the beginning of the current year, losing 24.69% year-to-date. That's more than S&P Sensex and S&P 500, which are down 2.60% and 3.49% each, so far in 2015.

According to ICICI Bank's Earning Report, "the net non-performing assets at June 30, 2015 were $1,006 million as compared to $994 million on March 31, 2015. The net non-performing asset ratio was 1.40% on June 30, 2015, the same level as at March 31, 2015. The net NPA ratio increased from 0.82% on March 31, 2014 to 1.40% on March 31, 2015. Net loans to companies whose facilities have been restructured were $2 billion on June 30, 2015, compared to $1.7 billion at March 31, 2015.
The primary reason for the downslide of share prices of ICICI has been the rising number of bad loans making investors nervous about the financial health of the bank. Many reports suggest that the rise in bad loans is not limited to ICICI, as many state-owned banks are dealing with the issue of bad loans, as well. However, ICICI's exposure to riskier projects and rising figures of bad loans is a concern for its top management, who are working out ways to recover the loans. ICICI Bank, which has traditionally concentrated on corporate borrowing, is also slowly shifting its focus and looking at growing its retail loan segment faster to make its lending more balanced.
Should You Buy?
The table below shows the returns of ICICI bank Limited vis-à-vis S&P 500 and S&P Sensex during the past five calendar years.
| | | | |
| --- | --- | --- | --- |
|   | IBN | S&P Sensex | S&P 500 |
| 2010 | 30.68% | 17.43% | 15.06% |
| 2011 | -48.34% | -24.64% | 2.11% |
| 2012 | 54.92% | 25.70% | 16.00% |
| 2013 | -18.35% | 8.98% | 32.39% |
| 2014 | 60.42% | 29.89% | 13.69% |
Despite the presence of a large number of state-owned and private banks within the banking sector, India offers great room for growth and expansion as the penetration of banks is far from at optimal levels. According to a report by Bank of India, 41% of India's population is unbanked -- 40% in urban areas and 61% in rural areas. ICICI Bank is actively participating in the government of India's financial inclusion program, Pradhan Mantri Jan Dhan Yojana, which aims at ensuring a bank account for all households.
On Aug. 31, 2015, the Reserve Bank of India announced the State Bank of India and ICICI Bank Limited as Domestic Systemically Important Banks (D-SIBs). According to the framework issued by the Reserve Bank of India, "SIBs are perceived as banks that are Too Big To Fail (TBTF). This perception of TBTF creates an expectation of government support for these banks at the time of distress. This is an important event that supports the financial strength of ICICI Bank Limited.
Overall, the growth prospects, sound financials in previous years and status of a"systemically important bank" presents a case in favor of ICICI Bank Limited, despite the financial stress it's going through. In short, the present situation is an opportunity to buy shares of one of India's leading private sector bank at reasonable valuations. Keep the long-term in view!
This article is commentary by an independent contributor. At the time of publication, the author held no positions in the stocks mentioned.