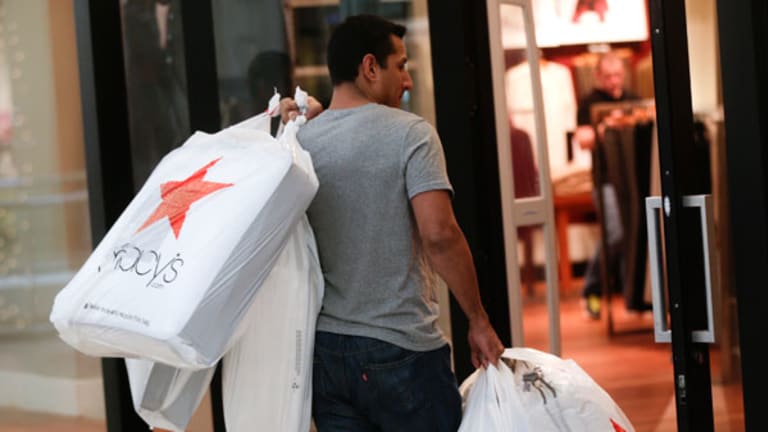 Now Is the Time for All Good Men to Come to the Aid of the Economy
Black Friday, and Cyber Monday, are the keys to a successful Christmas selling season. It's time to do your bit.
NEW YORK (TheStreet) -- Now is the time for all good men, and women, to come to the aid of the economy.
Today is Black Friday, the busiest shopping day of the year, which actually started yesterday.
The start of next week is Cyber Monday, when we're expected to do it all again, but from our desks, when the boss isn't looking.
Both holidays -- in fact, this whole shopping frenzy -- owe much to Franklin D. Roosevelt, who signed the bill making the fourth Thursday in each month Thanksgiving in 1941. But he'd made his intent clear two years before, when he tried to move the day back a week, to the third Thursday, in order to extend the Christmas shopping season.
Black Friday is now expanding beyond retailing. Hotels are offering special deals. Some want you to spend the night by the mall. Others want to take your Christmas season travel money early.
Some of the plushest hotels in the country are jumping on this train, aiming to fill rooms that often go empty during January and February at prices as low as $199 a night.
Politics may have given us Black Friday, but it was market research that created Cyber Monday.
The term dates back to only 2005, and comes from Shop.org, the National Retail Federation's digital division, based on analysis of 2004 shopping patterns showing many people used broadband at work for Christmas shopping during the first week of December.
Now it's measured rigorously by comScore, as a measurement of online shopping strength. In 2006 it was estimated that $610 million was spent on Cyber Monday. The official estimate for this year is $1.8 billion, which would mark a double-digit increase from 2012.
All this is putting extra pressure on e-commerce systems, with merchants fearing they'll become known as "the HealthCare.gov of (whatever I'm selling)" if their sites go down.
While Wal-Mart (WMT) - Get Walmart Inc. Report is the lead dog of Black Friday, Amazon.com (AMZN) - Get Amazon.com, Inc. Report is the lead dog of Cyber Monday and will feature new deals every 10 minutes in a special Cyber Monday section of the site. 
Cyber Monday sounds like a win-win-win, but there are losers. Candy companies such as Hershey (HSY) - Get Hershey Company (HSY) Report and snack companies such as Mondelez (MDLZ) - Get Mondelez International, Inc. Class A (MDLZ) Report feel like big losers, because cybershoppers don't make those impulse buys they normally do at physical checkouts. Even if you throw candy into an online shopping bag, it's going to be a big order, with lower profits.
Just as shoppers are warned to hide their goods in the car trunk on Black Friday, to park only in well-lit spaces, and to be on guard for crooks, so online shoppers this year are getting similar warnings about Cyber Monday.
These include reminders to patch your security software, maintain strong WiFi passwords, and use a Virtual Private Network like Hotspot Shield if you're in a public WiFi hotspot to encrypt your traffic. Using a credit card you know will quickly flag possible fraud is also recommended.
It's not just shoppers who need to be on alert. Hotspot says 64% of online merchants report increased efforts at fraud or cyberattacks on their sites during Cyber Monday, but less than one-third report taking any special precautions to protect their sites on that day.
And there's one more very special security alert all Cyber Monday shoppers. If your boss doesn't like lost productivity, keep an eye out for him. Or do your shopping from home.
At the time of publication, Blankenhorn had no positions in stocks mentioned.
This article is commentary by an independent contributor, separate from TheStreet's regular news coverage.