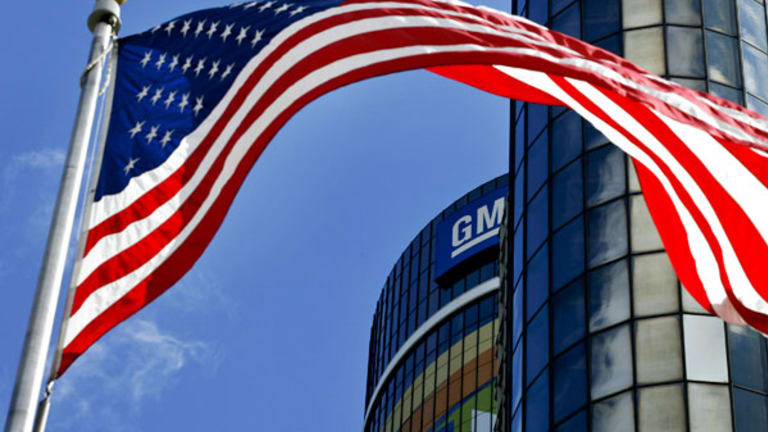 Publish date:
Note to Michigan Gov. Rick Snyder: If It Ain't Broke, Don't Fix It
Michigan Gov. Rick Snyder doesn't help his state or the auto industry when he ignites a war among his constituents.
Michigan Gov. Rick Snyder doesn't help his state or the auto industry when he ignites a war among his constituents.
DETROIT (
) -- Add it all up and
GM
(GM) - Get General Motors Company (GM) Report
had a good year, capped by the government's decision to exit the business after fixing it.
Yes, the government takes a loss of about $15 billion on fixing GM and
Chrysler
. But the loss would have been multiplied many times over if the two automakers had failed.
So far this year, GM has made $4 billion,
Ford
(F) - Get Ford Motor Company Report
has made $4 billion, and Chrysler has made $1 billion. The Detroit Three employ thousands of people, including 34,000 added in Michigan since 2009, and investors with good timing have gotten rich. Ford shares rose 334% in 2009. This year, Ford is up 7% while GM is up 31%.
The GM makeover extends, of course, to products. In January, the Automotive Press Association is likely to select the Cadillac ATS as the 2013 North American car of the year at the Detroit Auto Show.
"This is the first time anybody has eclipsed the BMW 3 Series" in ride and handling," said Karl Brauer, CEO of Total Car Score and a press association member. "No one would ever have imagined that a GM car could overcome a BMW car." In 2010, GM introduced the Cruze and showed it can also compete in the compact market. This year, Cruze is the ninth best-selling U.S. car.
GM, like many companies, has problems in Europe. But it prints money in the U.S. and its future seems positive thanks to the bailout, assuming that it seeks continuous improvement and doesn't fall back into its old ways. Hopefully, Dan Akerson, a press-shy CEO in an intensely followed business, can assure that, even if he refuses to talk to reporters about it.
This brings us to the subject of Michigan Gov. Rick Snyder and the state's Republican legislators, who recently rushed to approve surprise right-to-work legislation in a lame duck session. Right-to-work legislation is mean-spirited. It enables workers who don't pay union dues to have union protections.
Michigan still has a high unemployment rate of 9.7%. The rate is declining but remains two points above the national average. Nevertheless, Detroit has staged a miraculous comeback, the Detroit Three are doing well in the U.S., if not quite as well as
Toyota
(TM) - Get Toyota Motor Corp. Sponsored ADR Report
, and the mood at the Detroit Auto Show will be upbeat.
The United Auto Workers union bears some -- not all -- of the responsibility for the decline of GM and the industry that led to the 2008 collapse. But the union also gets some of the credit for the industry's resurgence since then. It showed that unions and companies can work together to salvage their joint future.
Last year in Wisconsin, Gov. Scott Walker eliminated many public workers' union rights, basically giving up on any meaningful projects for the state in order to fight a war with half of his constituents. Evidently he inspired Snyder. Of course Walker, unlike Snyder, could say he was pursuing the goal of reducing state spending. This goal is widely shared. Snyder's goal seems more along the lines of helping the national Republican party to undermine a source of Democratic support. That goal is shared only by other Republicans.
The strange thing is that many companies and governments have realized that the best way to deal with unions is to negotiate with them, not pass laws to attempt to destroy them. This is what
Boeing
(BA) - Get Boeing Company Report
did in 2011. While South Carolina politicians were trying to dismantle labor laws that have existed since 1935, thinking that was how they could protect Boeing's Charleston 787 plant, Boeing sat down for serious negotiations with the International Association of Machinists and signed a deal in six weeks. Then everybody
"We were approached with a deal you couldn't really turn down," Mark Blondin, aerospace coordinator for the International Association of Machinists, said at the time.
By the way, whenever Boeing competes with
Airbus
for contracts, the IAM is among its most
.
On Wednesday, the first poll of Snyder's approval rating since he signed the right-to-work legislation showed a sharp drop. The poll by a Democratic firm, Public Policy Polling, said Snyder's approval rating is 38%, down 28 points from a poll in early November.
The message seems clear, Gov. Snyder: Many voters don't want a governor who is more interested in fighting than leading, who puts national politics above state interests, and who chooses to spend his political capital to fix what is not broken.
-- Written by Ted Reed in Charlotte, N.C.
>To contact the writer of this article, click here:
Ted Reed