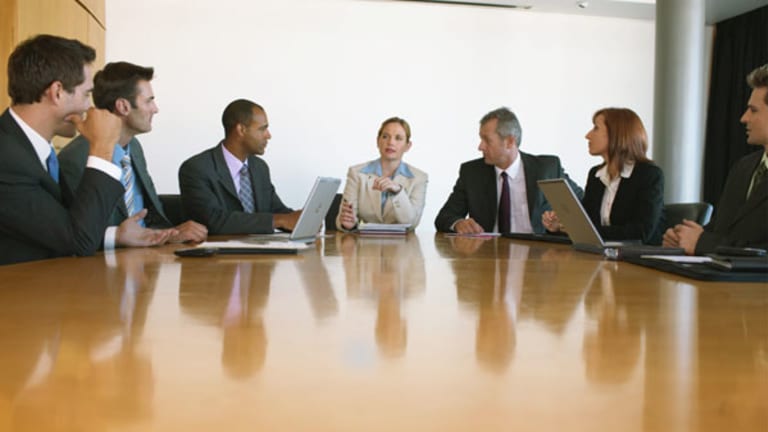 Note to GM: Why Hide When You Have a Good Story To Tell?
GM came back from the dead, but it keeps quiet because of ugly politics in the U.S. and a reticent CEO.
DETROIT -- (
) -- This is worth a chuckle:
GM
(GM)
has decided it does not want to be an issue in the 2012 presidential campaign.
The automaker, "saved by federal loans a few years ago, desperately wants to avoid becoming the centerpiece of campaign rhetoric,"
The Detroit Free Press
reported recently. "So it has banned candidates from its plants at least until after Election Day, Nov. 6." If only life were so simple.
GM, like many institutions, has been dragged into a dysfunctional political system which requires, during the presidential campaign, that Mitt Romney and Paul Ryan disingenuously oppose an auto industry bailout that obviously succeeded. This forces the pair, despite its auto industry affiliations, to pick nits with the methodology. But banning candidates from GM plants isn't going to make the auto bailout any less of a contentious issue.
In fact, as demeaning as it is to be anywhere near our dysfunctional Congress -- where members proudly pledge never to compromise and a "sequestration" wastes the time of all who participate -- GM has bigger problems. One is its share price, which has fallen 35% since the November 2010 initial public offering. Another is having one of the world's most visible businesses led by a reclusive CEO, when what is needed is a cheerleader.
"Because of the bailout situation, GM is under a microscope like no other brand," said Edmunds.com analyst Ivan Drury. "Even when GM does something right, everybody questions it."
You probably wouldn't guess it, but GM has made money for 10 consecutive quarters. It has reported $17 billion in profits since emerging from bankruptcy in 2009. It has plans to redesign or replace 70% of its U.S. models in 2012 and 2013, which is likely to further stimulate profits. And it is good to be No. 1 in China.
GM's share price decline from a $33 IPO to $21.30 today is viewed as a blemish on the company, even though during the same period shares in much-admired Ford fell 44% while
Toyota
(TM)
gained 4% and
Honda
(GM)
lost 13%.
Like many auto industry analysts, S&P Capital IQ's Efraim Levy has a buy on GM with a price target of $25. Levy recently reduced his full-year estimate to $3.57, reflecting "near-term macroeconomic concerns especially stemming from (Europe)." However, he wrote, "We remain positive about GM's upcoming product renewal program and our expectations about U.S. and global automotive sales growth."
Then there is the question of the CEO's star power. It is probably not enough to have a competent CEO, when Ford is led by rock star CEO Alan Mulally and
Chrysler
CEO Sergio Marchionne is nearly as revered. These two charismatic leaders regularly engage the media, and both are widely credited with taking sinking ships and making them float.
GM's Dan Akerson, by contrast, allows his image to be shaped by others.
In July, Akerson dismissed Joel Ewanick as GM's chief marketing officer because Ewanick violated company policy when he used various corporate accounts to gather $559 million for a marketing deal with the Manchester United soccer team. We know this because of media reports. And we know Akerson's reaction because
The Detroit News
reported remarks he made to GM employees. On the call, Akerson criticized leaks about Ewanick's dismissal and about GM finances, saying, "If you don't want to play by the rules, then you ought to work somewhere else.
In fact, Akerson called leaks "an act of treason." He spoke frankly about business conditions throughout the world. And he seemed to concede that GM failed, despite a bankruptcy purge of executives considered too insular, to centralize its management. "We're a global company that operates as small, little fiefdoms," Akerson said. "That's got to stop."
Here we have a tough-talking Navy veteran whose first auto industry job was as CEO of GM. It is hard to think that someone is not isolated when he starts at the top, rarely talks to reporters and compares leaks to treason.
No doubt Akerson finds it difficult to accept that a generally successful company, having recently completed the initial steps of a monumental turnaround, is regarded as a poor investment and a political football.
The truth is that reporters can be difficult, markets are irrational and U.S. politics are ugly getting uglier. Unfortunately, there really isn't any place to hide.
>To contact the writer of this article, click here:
Ted Reed