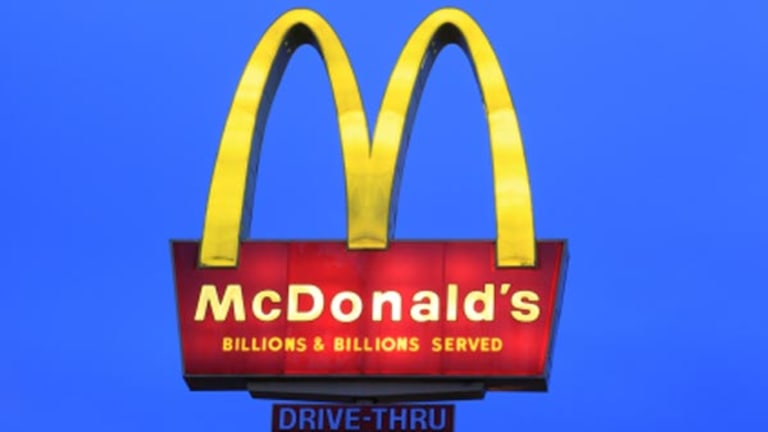 Not so Fast (Food): Workers to Protest at McDonald's, Burger King, KFC
Fast-food workers across the country plan to go on strike next week as they seek higher wages.
NEW YORK (TheStreet) -- It may be difficult to get a Big Mac or Classic Whopper next Thursday when fast-food workers across the country will go on strike.
Fast Food Forward, a group that represents U.S. fast-food workers, announced the planned strike on Wednesday outside a McDonald's (MCD) - Get McDonald's Corporation Report restaurant in Manhattan.
The strike is expected to include workers from McDonald's, Burger King  (BKW)  and Yum Brands' (YUM) - Get Yum! Brands, Inc. Report KFC.
Employees will be protesting for higher pay and workers' rights.
McDonald's employees delivered a letter of their intentions to the company's executives at Wednesday's event, according to the Wall Street Journal.
"We call on you to respect the internationally recognized right to freedom of association as a human right and enter in good faith negotiations with workers' representatives to raise wages for its workers and respect workers' rights," the letter stated.
The fate of fast-food workers is causing debate among people outside the industry.
In a tweet, President Barack Obama backed the workers' push.
Although Obama is not advocating for an increase of minimum wage to $15 an hour as the fast-food groups are, he has called on Congress to raise the national minimum wage from to $10.10 an hour from $7.25.
Earlier this year, he signed an executive order to raise the minimum wage to $10.10 for individuals working on new federal service contracts.
In response, McDonald's said,"This is an important discussion that needs to take into account the highly competitive nature of the industries that employ minimum wage workers, as well as consumers and the thousands of small businesses which own and operate the vast majority of McDonald's restaurants."
McDonald's is a franchise made up of small businesses. The fight to unionize to receive higher wages and benefits may not be possible considering the differences in local and business-specific conditions.
It is unclear what the results of the strike next Thursday will bring, but it is a safe bet that consumers should look elsewhere for breakfast and lunch on that day.
>>Read More: McDonald's Seasone Fries: It's About Time!
>>Read More: Puma Wins Big at NFL Draft With Jadeveon Clowney
At the time of publication, the author had no position in any of the stocks mentioned.
Follow @macroinsights
This article represents the opinion of a contributor and not necessarily that of TheStreet or its editorial staff.