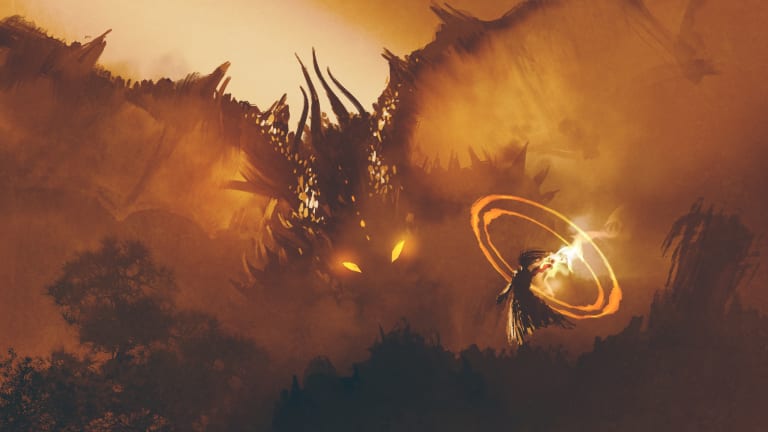 The Stock Market Probably Won't Be Spooked on Friday the 13th: Market Recon
Ever walk up to a hornet's nest with a badminton racket in one hand, and a wiffle ball bat in the other?
"Don't worry about the world coming to an end today. It is already tomorrow in Australia." -- Charles M. Schulz
What Could Possibly Go Wrong?
Hot on the heels of quarterly earnings releases by fan favorites JP Morgan (JPM) - Get JPMorgan Chase & Co. Report and Citigroup (C) - Get Citigroup Inc. Report , Friday brings an avalanche of data from the financial space. As we said here in this column on Thursday, despite numbers that were on the surface rather impressive, trading revenue was a weakness in the banks' releases, and investors took the hatchet to the industry's two leaders. The problem for me, as a kid who wades into the markets every morning with an intent of returning home with dinner for a family of four, was that neither of these two fell to the point where I would initiate (in the case of JPM), or add (C).
Actually, the positives were a lot broader for the dynamic duo than merely just dressing up the surface. When it comes to U.S. banks, which is an area that I traditionally focus on, I always look at book value. In both cases, book value grew by 5% to 6%, which I took as a positive, although one must consider that the market prices for the shares have grown faster than that. After Thursday's selloff, Citigroup -- which is a holding in the Action Alerts PLUS portfolio that Jim Cramer co-manages -- is actually now trading at a mere 5.6% premium to tangible book value, and at a discount to standard book value. How interesting is that? Should there be follow-through on the selling seen Thursday, I would be likely to add to this long by Tuesday afternoon, just based on the "three-day rule". The three-day rule may or may not be as pertinent to the trader as was prior to the market factor we now refer to as the 24-hour news cycle, but like in the case of Sasquatch, I prefer to respect the legend, as would rather miss out on these prices than get hit in the teeth with a second wave of selling as the public reacts to yesterday's news. By the way, JPM still trades at 77% premium to tangible book, so bear that in mind when making your own decisions. The $95 level is critical support there.
Know who reports on Friday? Bank of America (BAC) - Get Bank of America Corp Report , Wells Fargo (WFC) - Get Wells Fargo & Company Report , PNC Financial (PNC) - Get PNC Financial Services Group, Inc. Report , and First Horizon National (FHN) - Get First Horizon Corporation Report , that's who. Now, I am admittedly not knowledgeable enough of the business models of PNC of FHN to openly opine there. That said, WFC will not interest me for a while, but BAC is a horse of a different color. I have successfully traded this name in the past, and have been looking at this one as the vehicle to expand my exposure to the domestic banking space, should the FOMC get aggressive in the fourth quarter of this year or the first quarter of next year. Retail banking was a strength in Thursday's data. That bodes well for BAC. We'll find out today, if BAC's sale of its credit card business late in the second quarter resulted as a hit or a miss. I would like to initiate on BAC with a purchase around $24.75, but selfishly, I really want to pay closer to $24.25. Let's see how Friday develops. It is the 13th. What could possibly go wrong?
The Ugliness Afoot
Is it all over for retail? We've discussed this before. We have probably come to differing conclusions every time we have gone there. The group continues to melt down. I have told you repeatedly that am long three names in the space, and have stayed long those three. I gave Walmart (WMT) - Get Walmart Inc. Report way before it was cool. That position has camouflaged my P/L for the better when I have made some errors this year, thank goodness. Walmart has gone from the bully in the neighborhood to the kid who stood up to the bully (Amazon (AMZN) - Get Amazon.com, Inc. Report ) in under a decade. It's as if Amazon has run through the hallways of the local high school raising heck and scaring the students, while Walmart waits outside by the flagpole, quietly pounding its fists. This fight gives me goosebumps. You can turn a profit with both of those tough kids.
The other two that I have stayed long are The Home Depot (HD) - Get Home Depot, Inc. Report and Kohl's (KSS) - Get Kohl's Corporation Report . Now, HD is somewhat immune from AMZN, because many sales there are made on the day of use. Water in the basement? Not going to a website to buy a sump pump. Need a tool to finish a project? Not going to a website. Feel like planting flowers or shrubs today? Not going to a website. KSS is different, and on far shakier ground. That firm pays a nice dividend. It has to. The service in the stores has decayed. The aisles are a mess. Those are negatives. The positives are the long-ago made plans to lease out space to troubled retailers within the stores, and the deal to, in a way, become return centers for Amazon itself that I believe will kick off in Chicago, and Los Angeles. If you can't beat them, join them? Maybe. AMZN is at a critical point of resistance here, gang. Watch the behemoth's performance under $1010. That spot breaks to the upside, you will likely see the momentum gang take this stock above $1050. Just an Irish kid from Queens, NY with an opinion.
Somebody Stirred the Nest
Ever walk up to a hornet's nest with a badminton racket in one hand, and a wiffle ball bat in the other, and whack the nest off its perch? I must admit that in the interest of entertaining my children when they were toddlers, I have done this more than once. The joy on the faces of those kids in the windows as you free their swing set from tyranny is well worth the swarm that ensues. If one is not allergic, stings of that kind only hurt for a couple of hours, before you think I'm crazy. Just wear a bandanna over your face, so you don't inhale the darned things.
Well, I think someone took a wiffle bat to the Federal Reserve. No less than five Fed speakers will swarm out of their hive on Friday and over the weekend. Today, you'll hear from Boston's Eric Rosengren, Chicago's Charles Evans, and Robert Kaplan of Dallas. Don't get too fired up about those three, even though Evans and Kaplan are currently voting members of the FOMC.
At 1pm ET this afternoon, Jerome Powell will speak from Boston, on both regulation and policy. As a governor, Powell holds a permanent seat at the FOMC table. On top of that, his star has emerged as a leading candidate to replace Janet Yellen as the Chair at the Fed should she not be selected by the president to continue on at her post. Powell has a couple of things going for him: He is a Republican, which does make him a minority among his peers, and he is considered rather dovish to boot, which the president has made no secret of his preference for. Yellen speaks on Sunday on the global economy from Washington. That shindig will include leadership types from the PBOC, BOJ, and ECB, so that get-together could impact trading when the futures markets open on Sunday night.
Sarge's Trading Levels
These are my levels to watch today for where I think that the S&P 500, and the Russell 2000 might either pause or turn.
SPX: 2571, 2562, 2555, 2548, 2541, 2535
RUT: 1521, 1515, 1509, 1500, 1491, 1484
Today's Earnings Highlights (Consensus EPS Expectations)
Before the Open: BAC ($0.46), (CBSH) - Get Commerce Bancshares, Inc. Report ($0.74), (FHN) - Get First Horizon Corporation Report ($0.30), (FRC) - Get First Republic Bank Report ($1.16), (JBHT) - Get J.B. Hunt Transport Services, Inc. Report ($0.99), PNC ($2.13), WFC ($1.03)
__________________________________
Join Jim Cramer, CNBC's Jon Najarian and Other Experts Oct. 28 in New York
Jim Cramer will host CNBC's Jon Najarian, TD Ameritrade's JJ Kinahan, famed analytics expert Marc Chaikin and other market mavens on Oct. 28 in New York City to share successful strategies for active investors.
You can join them as they discuss how smart investors can make the most of options trading, futures contracts, fundamental and quantitative analysis and great ETFs to buy right now. Participants will also get a chance to meet Jim and other panelists and take photos.
When: Saturday, Oct. 28, 8 a.m.-3 p.m.
Where: The Harvard Club of New York, 35 West 44th St., New York, N.Y.
Cost: Special early bird price: $150 per person. (Normal price: $250)
Click here for the full conference agenda or to reserve your seat now.
At the time of publication, Stephen Guilfoyle was long C, WMT, HD, KSS, although positions may change at any time.