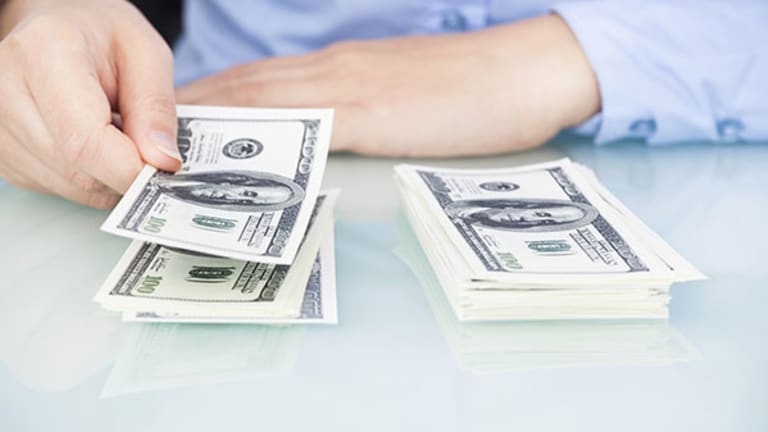 Not Every Company Is Getting Hurt by the Strong U.S. Dollar
Many blue chip shares got slammed this week as the dollar's strength hit sales and profits. Here are some firms that are less vulnerable to currency moves.
Many blue chip shares got slammed this week as the dollar's strength hit sales and profits. Here are some firms that are less vulnerable to currency moves.
NEW YORK (TheStreet) -- The U.S. dollar's continuing strength has been taking a major bite out of the sales and earnings of many big U.S. companies that do lots of business abroad. But not all companies are as vulnerable to the dollar's moves.
Microsoft (MSFT) - Get Report , United Technologies , Dupont (DD) - Get Report, and Procter & Gamble (PG) - Get Report  were all among those blue chips whose stocks got slammed this week on weaker quarterly earnings and projections because of the impact of the dollar. Even Apple said the dollar's appreciation cut four percentage points off revenue growth in its most recent quarter amidst otherwise blowout results. 
A strong dollar reduces revenue from other countries when it's converted into dollars, and also makes a company's products more expensive, and thereby less appealing, to international customers. 
As a result, it's "very possible" market leadership could shift from large cap companies now to smaller cap companies that have greater exposure to the domestic market, said Brad McMillan, chief investment officer of Commonwealth Financial Network. 
"When you're looking at large cap companies, at global companies, they are going to face a headwind in actual sales because they're going to be less competitive, but also because of the currency translation effects, whereas smaller companies are going to be proportionately more exposed to the domestic consumer, which is still looking to be great, McMillan said.
Investors looking to cash in on this trend should consider small cap holdings such as the iShares Russell 2000 ETF (IWM) - Get Report , the SPDR S&P 600 Small Cap ETF (SLY) - Get Report and the iShares Core S&P Small-Cap ETF (IJR) - Get Report . In addition to small caps, companies in sectors including utilities, transportation, and housing, all of which derive most of their revenue here at home, should benefit.
Which companies are most at risk? Ken Roberts with Universal Value Advisors said that U.S. commodities stocks will be hurt the most, as their products are priced in dollars, followed by emerging markets firms and companies that generate most of their revenue overseas. That final category includes names like Johnson & Johnson (JNJ) - Get Report , 3M (MMM) - Get Report , and McDonald's (MCD) - Get Report , in addition to some of the other names that have already reported troubles.
More to come
Either way, the ride likely isn't over yet, said David Kotok, chairman and chief investment officer of Cumberland Advisors in Sarasota, Fla.
"Strong dollar cycles last for years," he said. "The last two went from 52% bottom to top when trade-weighted, and from 57% [bottom to top]. This one so far is only up about 24-25%, which means in my thinking we're only halfway through this strong dollar cycle. We have years ahead of us."
As a result, Kotok is long the dollar and doesn't expect to change his strategic view at any point through the rest of the decade.
"We know that the eurozone and Europe are at a zero interest rate more or less for several more years," he said. "The European Central Bank is now in a QE that's going to go for two years, and it may have a second round... The largest world reserve currency is the dollar; it has a bias to strengthen and a positive interest rate over several years. That almost assures you of dollar strength as a long-term trend."
Risk is muted
It's not all bad news, however. Far from it.
Truth is, a stronger dollar means more purchasing power for U.S. consumers looking to buy goods from around the world. That, and a better overall domestic economy as a result will likely help businesses here at home more than currency shocks hurt them overseas. The long-term view for the U.S. economy looks positive, despite any short-term currency risks for specific companies and sectors.
"In my view, the strong dollar isn't just a response to other countries, Japan and Europe, launching QE programs," McMillan said. "I think it's a fundamental response to the strength of the U.S. economy. And as such, when we've seen this in the past, when we've seen this sort of dollar strengthening for the right reasons, it's actually part of the virtuous circle that comes up and actually acts as a headwind. So on balance I think this might actually be more positive than negative."
Further, explains Roberts, a strong U.S. dollar also tends to drive foreign investment dollars to the U.S. market, which helps to hold up the domestic markets in general.
"In general, a strong dollar is a market positive." Kotok added, "Markets perform better in dollar bull markets."
This article is commentary by an independent contributor. At the time of publication, the author held no positions in the stocks mentioned.