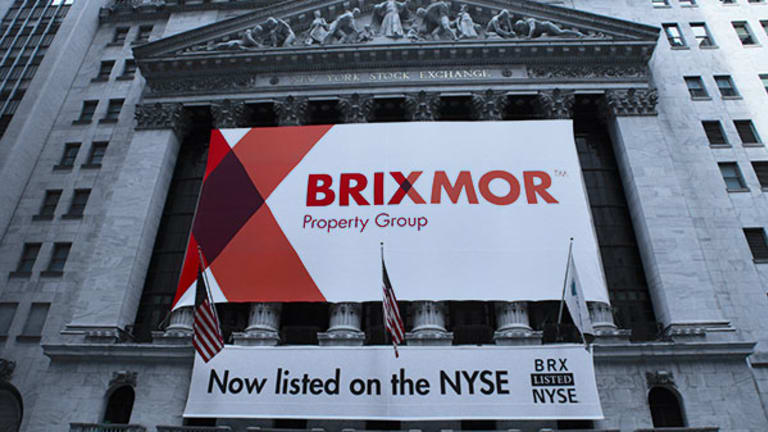 Not Adding Brixmor IPO to My Shopping Cart
It's a whale of an IPO, but Brixmor has a boat load of risks that cause that sinking feeling.
NEW YORK (TheStreet) -- Wednesday Brixmor Property Group (BRX) - Get Brixmor Property Group Inc. Report lists 37.5 million shares priced at $20 a share on the New York Stock Exchange, but I'm not buying it. It's a whale of an IPO, but Brixmor has a boat load of risks that cause that sinking feeling.
The massive offering of 37.5 million shares could allow the shopping center REIT to reel in around $800 million in equity and provide investors with a highly diversified portfolio of 522 shopping centers totaling around 87 million square feet.
It's expected that the Brixmor IPO capitalization will be one of the biggest equity raises this year and the newfound liquidity will push the equity REIT into an enviable first-place lead as the largest shopping-center REIT in the nation (based on GLA) and the third-largest shopping center REIT based on market capitalization (expected to be around $6 billion) -- behind
Kimco Realty
(KIM) - Get Kimco Realty Corporation Report
and
Federal Realty
(FRT) - Get Federal Realty Investment Trust Report
.
Blackstone Group
(BX) - Get Blackstone Inc. Report
, one of the world's largest asset managers, is the current ownership sponsor and the private-equity fund hopes to create a well-timed liquidity event that could lead to other large-scale IPOs including Hilton Worldwide (later this year) and Blackstone's dominating single-family rental platform, Invitation Homes (30,000 homes nationwide).
The Brixmor deal was orchestrated via a series of distressed acquisitions including the purchase of assets from Australian-based Centro Properties. Many of the Brixmor (formerly Centro) centers are located in secondary markets where occupancy rates are lower than many of its peers. In an improving economy, that could fuel organic growth. However, there is still considerable pressure in the smaller-town model and it could take years for occupancy rates to improve.
Read: Snapchat Worth $3.6B, Twitter IPO Preview
Brixmor's anchor tenants appear solid as the top four tenants include
The Kroger Company
(KR) - Get Kroger Company (The) Report
,
TJX
(TJX) - Get TJX Companies Inc. (The) Report
,
Publix Super Markets
and
Wal-Mart Stores
(WMT) - Get Walmart Inc. Report
. The diverse portfolio of retail stores should provide a sustainable revenue platform comparable to direct peers, Kimco Realty and Federal Realty.
In addition to lower occupancy risk, Brixmor also has debt-related risks. The mortgage expirations and repayments are lumpy and the debt distribution (over a billion in debt that comes due in 2015 and 2016) is sizable for a REIT this size.
The valuation range ($19 to $21) appears justified and the projected dividend yield (of around 4%) appears to be in-line with market-based expectations. According to filings, Brixmor is expected to payout 20 cents per share (80 cents annualized) and I have estimated that there will be around 97.6% of cash available to cover the dividend.
The dividend consumes close to 100% of the funds available for distribution and one wrong move could force a dividend cut. I also see that Brixmor did not obtain independent third-party appraisals, valuations or fairness opinions or conduct arms-length negotiations with the sponsor with respect to the terms of the IPO property transfers.
Read: American Realty Capital Properties Becomes a 'Category Killer'
The bottom line is that Brixmor must manage risk and that means that investors should wait to see how Mr. Market responds. This REIT is not a small fish, it's a whale. I believe there are better opportunities in the space and favor the smaller-cap REITs that are able to move the needle and provide both internal and external growth.
My favorite Shopping Center REITs include
Retail Opportunity Investment Corporation
(ROIC) - Get Retail Opportunity Investments Corp. Report
,
Excel Trust
(EXL)
,
DDR Corporation
(DDR)
and
Inland Real Estate
(IRC)
.
For less glamour and more safety, I like Federal Realty Realty, Kimco Realty, and
Weingarten Realty
(WRI) - Get Weingarten Realty Investors Report
.
Owning Brixmor today is not what I consider to be a "sleep well at night" REIT. With a 98% dividend payout, the distributions are under pressure and unless the occupancy rate can be increased, the shares are exposed to moderate risk. The company's debt profile also needs to be smoothed and the management team must provide a few quarters of performance. In summary, Brixmor is not in my shopping cart. I'll wait for the blue light special.
Check out my monthly REIT newsletter,
.
At the time of publication, Thomas was long ROIC, O, ARCP, STAG, CSG, UMH, DLR, HTA, VTR and GPT, although positions can change at any time.
Follow @swan_investor