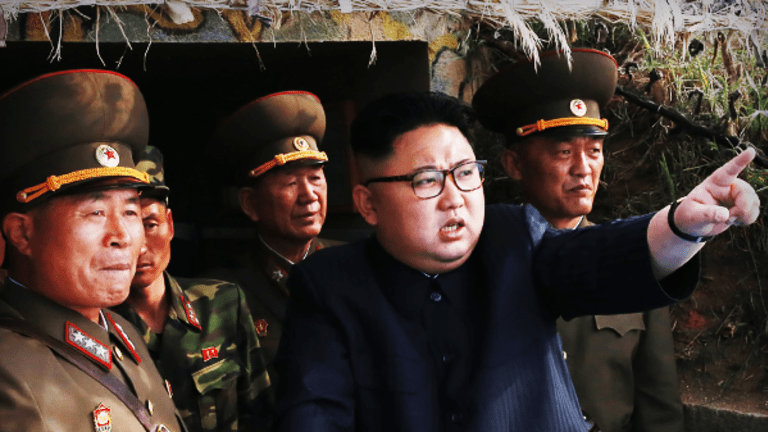 Here's What Stocks You Want to Own in the Event of a War With North Korea
North Korea is at it again, dropping its latest on the world stage. With the stock market possibly coming under some pressure, here is some top guidance from TheStreet's Jim Cramer.
North Korea has fired off its latest threat to the U.S.
In light of theis development (and many others of late), the below piece from TheStreet's founder and Action Alerts PLUS portfolio manager Jim Cramer should be top of mind. It was originally published on Aug. 11 on TheStreet's sister publication RealMoney.
Here's What Stocks You Want to Own in the Event of a War With North Korea
Trying to "play" North Korea is pretty much a fool's game. A nuclear North Korea is a truly existential crisis because this is the first time a regime has threatened to launch missiles at us without any real provocation.
We have had nukes pointed at us before when Russia decided to turn Cuba into a nuclear launching pad back in October 1962. Our country came so close to a nuclear war back then that it's pretty scary. I lived next to a naval air base at the time and the sky was black with planes. If you want to know what happened, the denouement so to speak, I heartily recommend Graham Allison's Essence of Decision because it showed you how Jack Kennedy dealt with a nuclear power that did seem to want to be able to wipe us out. The Russians backed down, though, because they did care about wiping out their country, which would have been the end result.
Now we have a regime that seems to be asking to be wiped out. I have no doubt that Kennedy would not have appeased the North Koreans, I think he would have declared war and bombed them back to the Stone Age ahead of when they could launch. I know that when I was growing up, our nuclear submarines could hit Yankee Stadium from the Diego Garcia in the Indian Ocean -- not that you would necessarily want to do that, even if you are a Red Sox fan. Now we can hit home plate, so I think we could certainly take out our nemesis, Kim Jong-un, and do it in a way that makes it so this wicked witch is killed and the rest of the North Koreans lay down their weapons and join the South, in a replay of The Wizard of Oz.
As North Korea Provokes, Here Are 30 of the Most Powerful Military Innovations
But that's just one man's opinion, and while my opinion has some historical antecedents, I am not the go-to guy.
I am the go-to guy, though, on what you should do with your portfolio in the event of thermonuclear war.
Have cash. Have gold. Have Velveeta. OK, the last one is a nod to the existential crisis if negotiations fail and we bring about fire and fury. Don't go all in on explosive tech stocks.
First, I believe you should always have some cash, maybe between 10% and 20% right now. Own some gold for the possibility of some sort of calamity, even as I still believe this trauma will stop short of a nuclear war. I prefer bullion as a method of buying gold. Keep it in the bank, not in your home. If you want to, you can buy the SPDR Gold Shares (GLD) . I also like Randgold (GOLD) , which reported a stupendous quarter and can go much higher with this kind of tension.
I have been recommending the defense stocks for ages and, even after Lockheed Martin's (LMT) run, I think you can still buy its shares. The second-best is Raytheon (RTN) because of its strong missile franchise. Northrop Grumman (NOC) and General Dynamics (GD) simply aren't as good plus, I didn't really care for that last General Dynamics quarter.
With that level of cash and gold, I still think your participation will be just fine if it works out, as I think it will -- or maybe hope it will -- a peaceful acquiescence by a criminal regime that should be destroyed by the South Koreans, not us, and should have been done years ago before the endless, and now revealed as ridiculous, appeasement process began.
Watch: This is your Playbook After Trump's 'Fire and Fury' Warning on North Korea
Don't miss these top stories on TheStreet: