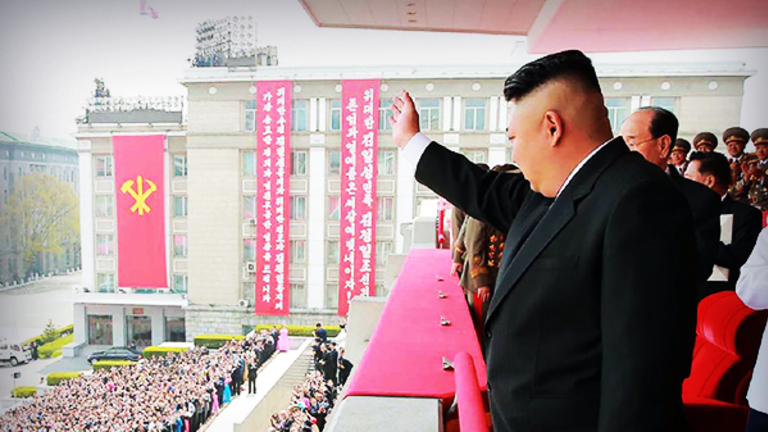 North Korea Leader Kim Jong Un Warrants Your Attention, Silly Investor
North Korea fires its latest missive toward Donald Trump. It's now time to wonder if the stock market will react more harshly than its response to recent tense exchanges between the two countries.
If you'd like to receive the free "Morning Jolt" newsletter, please register here.
Full disclosure: I had to look up "dotard" in my digital dictionary Thursday night. 
That was but one word within yet another new, well-crafted message from North Korea to U.S. President Donald Trump. The stock market is barely reacting to the latest war of words between the two countries. Interestingly, that seems to be how the market is taking this increasingly disturbing situation -- it just doesn't give a damn. In the minds of investors, they only see a few things: (1) cash-rich companies willing to plow it all back into stock buybacks even at inflated valuations; (2) rising prospects of semi-Democrat Trump securing tax reform within the next 12 months; and (3) a desire by companies (see latest news from Hewlett Packard Enterprise Co.  (HPE) - Get Free Report ) to chop costs right down to the bone to save a few pennies. Smooth sailing in the mind of the market, until it isn't. 
What you are witnessing right now are blind, and maybe dumb, investors. Geopolitical risks are real risks to global companies, it's not just something put in a possibly hacked SEC document. In this type of unsettling backdrop, it's worth it to consider whether a hot tech stock valued at 100 times earnings is still worthy of being owned after a 90% gain in the past year. Reassess now, or risk losing your shirt at the drop of a dime (or bomb).  
What's Smoking Hot
Procter & Gamble Is a Newsmaker 
Not a day seems to go by now without Procter & Gamble (PG) - Get Free Report being in the news.
But Twitter feeds aren't necessarily lighting up with a discussion on an innovative new P&G product, it's people commenting on storied P&G's increasingly ugly battle with activist investor Nelson Peltz.
Peltz has pushed for a seat on the P&G board and proposed broad changes including a company restructuring into three global business units in a months-long proxy battle. Earlier this month, Peltz released a 93-page white paper outlining his argument against P&G's "insular" culture that has failed to acquire small-, mid-sized and local brands that could serve to boost P&G market share.
To be sure, well-regarded P&G CEO David Taylor has a completely different take on P&G. He has been vocal against giving Peltz a board seat, questioning what he would bring to the table. 
Under Taylor's leadership, P&G closed on a $15 billion deal in late 2016 to slice off 40 underperforming beauty brands that subsequently merged with Coty (COTY) - Get Free Report . With the closing of the beauty divestiture, P&G completed its massive portfolio overhaul announced more than two years ago targeted toward cutting 100 non-core brands and with it, massive amounts of costs. Since then, Taylor has sought to inject faster decision-making into P&G that leads to more product innovation.
TheStreet will talk with Taylor at 2 p.m. EST. So I encourage you to come back to the site around that time. 
Domino's Does AI
Domino's Pizza Inc.  (DPZ) - Get Free Report CEO Patrick Doyle is bullish on self-driving cars.
The company recently announced a link-up with Ford Motor Co.  (F) - Get Free Report to test self-driving pizza delivery vehicles, a technology Doyle expects in action within 10 years.
"Transportation is going to change," he said in an interview with TheStreet's Scott Gamm, adding that the self-driving car hype is not getting out of hand. "I think 10 years from now, it's going to be the majority of transportation."
Doyle said it's still unclear how people will interact with the technology. "What do you do if there's no parking outside of the building," he asked, referring to the pizza delivery process. "That's what we're testing -- that last 50 feet."
Watch full interview with Doyle here. 
Don't miss these top stories on TheStreet: