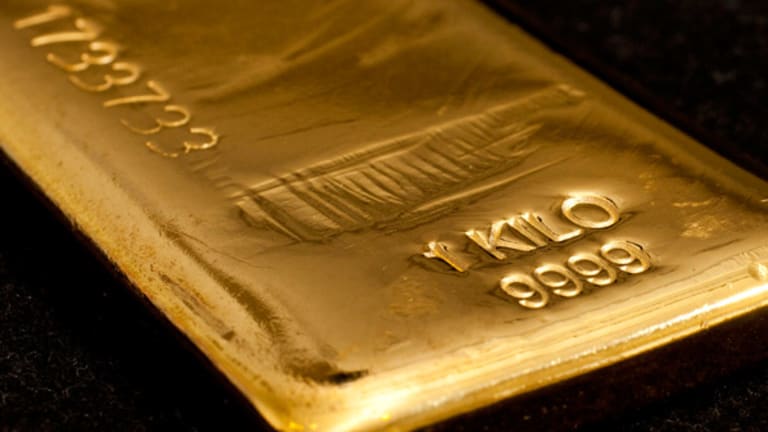 Non-Farm Payroll May Cool Down the Gold and Silver Market
Friday's non-farm payroll report could keep dragging down gold and silver prices.
NEW YORK (TheStreet) -- The gold and silver market didn't do well in the past couple of weeks. These metals' weakness also adversely impacted leading precious metals exchange-traded funds including SPDR Gold Trust (GLD) - Get SPDR Gold Shares Report, iShares Gold Trust (IAU) - Get iShares Gold Trust Report and iShares Silver Trust (SLV) - Get iShares Silver Trust Report.
Shares of SPDR Gold Trust lost 2.5% of their value during July and reached $124.83; iShares Gold also fell by a similar rate and settled at $12.57 per share; iShares Silver Trust slipped by 47 cents during the month to $19.78. But the upcoming non-farm payroll could drag further down bullion prices. Let's see why and start with the recent U.S. second-quarter GDP news.
The U.S. economy expanded by 4% during the second quarter, according to the latest update from the Bureau of Economic Analysis. This news may have contributed to the recent decline of gold and silver, which are considered safe haven investments when the economy isn't picking up. The recovery of the U.S. economy is impressive considering the GDP contracted by 2.1% in the first quarter.
READ MORE:Warren Buffett's 25 Favorite Stocks
Another factor that could impact the direction of gold and silver is the upcoming release of the non-farm payroll, which estimates the progress of the U.S. labor market. In the past several months, the U.S. labor market added over 200 thousand jobs on a monthly basis. For July, the current expectations are that 218,000 jobs were added. If the report shows a higher figure, it could steer investors towards equities and thus may pull down precious metals.
Source: FOMC and CME
As you can see, the past couple of non-farm payroll reports, which were better than expected, led to a decline in gold prices.
READ MORE: 10 Questions to Ask Before You Buy a Stock
The non-farm payroll and GDP reports are tied with the latest FOMC meeting, in which the Fed didn't surprise the market and tapered its asset purchase program by another $10 billion. But the recovery in the labor and GDP could push FOMC members a bit closer towards taking a hawkish move such as announcing a rate hike. Such a decision could reduce the fear of inflation and thus push investors away from the yellow metal. 
At the time of publication, the author held no positions in any of the stocks mentioned, although positions may change at any time.
This article represents the opinion of a contributor and not necessarily that of TheStreet or its editorial staff.
READ MORE: Here's What It Looks Like Inside Tesla's Massive Factory
For more see: