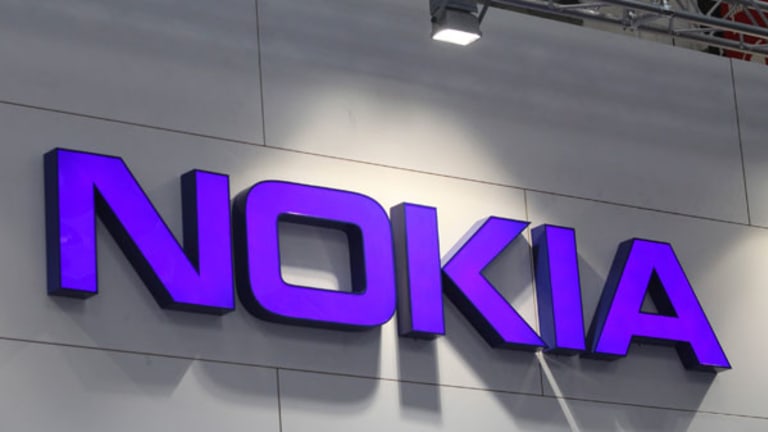 Publish date:
Nokia Is Handset-Free and Moving In Other Directions Now
Nokia's deal with Microsoft has allowed it to enhance its other businesses across mobile broadband, managed services and patent development.
Nokia's deal with Microsoft has allowed it to enhance its other businesses across mobile broadband, managed services and patent development.
NEW YORK (TheStreet) -- Selling its handset business to Microsoft (MSFT) - Get Report has freed Nokia (NOK) - Get Report to move into other promising areas, an action that could be appealing to tech investors who wish to get adventurous with their stock portfolios.
Jefferies has already upgraded Nokia's rating to buy from hold and bumped up its target stock price to $10.31 a share from $2.99, citing potential returns for the Finnish company's patents portfolio. Nokia shares closed Friday at $7.75, down 4.4% for the year to date.
"There's a great deal of potential in Nokia's intellectual property rights business and intriguing prospects for Nokia to extend beyond patents, partly because it has divested its handsets business -- a move that has re-injected equity into its balance sheets," Lee Simpson, managing director and the head of European Technology Hardware Research at Jefferies, told TheStreet.
Simpson emphasized the $7.2 billion handset deal with Microsoft allows Nokia to work in other areas including developing its own tablets.
Nokia currently sees a market opportunity of $95 billion (EUR 70 billion) in the mobile broadband market, according to a confidential internal document on the company's business strategy for the year ahead. The document also reveals the Finnish telecom has set its sights on gaining mindshare as a mobile broadband specialist by 2016 through its key Networks business division, Nokia Solutions and Networks, or NSN.
NSN already accounts for nearly 90% of the company's group sales while its mapping business, HERE, and its Technologies division constitute close to 8% and 5%, respectively, of overall sales.
Nokia has started reaping dividends from its efforts to strengthen its capabilities across all its non-handsets businesses -- a strategy that first evolved amid its painstaking attempts at a two-year turnaround that officially came to fruition earlier this year.
In spite of a net sales decline of 15% to $3.68 billion (EUR 2.7 billion) in the first quarter of 2014 from the year before, the telecom giant posted a year-on-year increase of 20% in its operating profits. The growth in its operating profits positions the company for long-term success as it reflects a strong focus on its mobile broadband, patents portfolio and managed services businesses as core business operations.

Another industry trend that Nokia is leveraging is the burgeoning demand for data among users. Over the next five years, data traffic is expected to increase by more than 1000 times its levels in 2010.
"By 2020, we're expecting the equivalent of 15,000 years of HD video traffic across US networks every single day," a Nokia spokesperson said. "We are also targeting partnerships where we can create new value together."
The $31 billion market-cap company hit a 52-week high this week and is up more than 114% for the past 52 weeks, in part on the announcement of its stock buyback program involving special dividends of 35 cents (EUR 0.26) per share in addition to regular dividends of 15 cents (EUR 0.11) per share in 2013. These share buybacks are scheduled to take effect after the release of Nokia's second-quarter earnings on July 24.
Nokia's stock price has been gaining momentum since the Microsoft deal, under which Microsoft will rebrand Nokia's hardware division as Microsoft Mobile Oy, according to a memo issued by Nokia to its business suppliers.
The Nokia spokesperson said the company had been facing business threats to its outsourcing-oriented services business because the managed services culture is now turning back toward insourcing among telecom operators. The spokesperson, not authorized to comment on the matter, spoke on condition of anonymity.
To ward off those challenges, Nokia has been driving cutting-edge customer experience management solutions for operators, a move it hopes will expand the market share of its managed services business, which accounts for over half the sales of its key revenue driver, NSN.
The Nokia-Microsoft deal, which was originally announced in September 2013, closed in April after government run-ins and regulatory backlashes in key markets across Asia, including a freeze on the assets of Nokia's manufacturing facility in India as the result of legal proceedings where Nokia was accused of tax evasion. 
However, Nokia and Microsoft were able to work out a revised arrangement that involved readjusting the scope of assets that Microsoft had originally planned to take on. This process involved excluding Nokia's manufacturing facilities in high-focus markets India and Korea, where the telecom giant had faced similar local constraints.
Speaking to shareholders at the firm's annual meeting in Helsinki earlier this week, Nokia's new  CEO  Rajeev Suri said that the company's long decline was now a thing of the past.
At the time of publication the author had no position in any of the stocks mentioned.
This article represents the opinion of a contributor and not necessarily that of TheStreet or its editorial staff.
>>Beware, Apple Investors: The Stock Has Moved Up Too Far, Too Fast