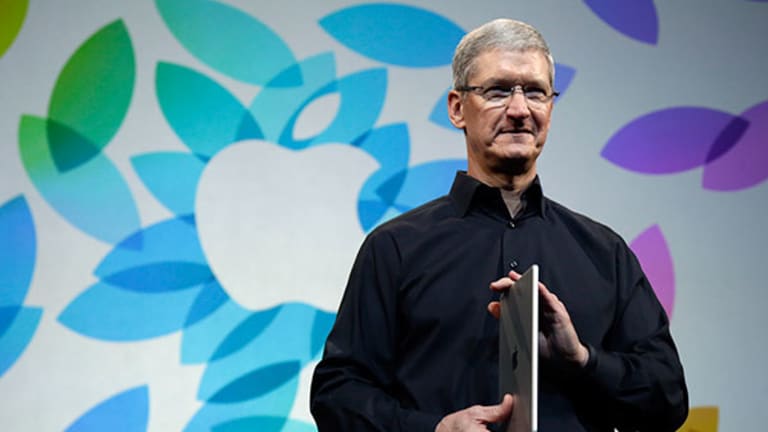 No Tablet War: Apple Stock Will Soar in 2014
Consumers will choose quality during the holiday shopping season, pushing AAPL over the top on Q4 results.
NEW YORK (TheStreet) -- Buy an iPad Air. Use it for a week. You'll walk away with renewed confidence in Apple (AAPL) - Get Apple Inc. Report and Timothy D. Cook.
Not only can the company produce a holiday tear with the best of them ...
It can still bring product.
To that end, a Real Money article by Eric Jackson of TheStreet speaks to what I convey here. (Jackson's insights alone make a Real Money subscription more than worth the nominal cost).
In any event, Jackson argues that for AAPL to reach $700 in 2014, it needs to not only execute its anticipated product pipeline but ...
come up with some exciting new product that suddenly is a "must have" product for all Apple users. I can't say what such a product will be but I'm sure that Apple is capable of creating it. If they could come up with another iPad-like revenue stream from nothing, Wall Street would once again come rushing from the sidelines to own this stock.
That's a logical point of view. In fact, it's one I shared for a quite a while. To a certain extent, I still do. My Dec. 9, 2013, article, Apple Will Disrupt and Destroy When It's Ready, fleshes out my thinking along those lines.
But I think one thing Jackson is missing as a major catalyst for AAPL stock in 2014 is the forthcoming holiday quarter (this October-November-December) conference call to be held in late January. On that call, Apple will, once again -- though definitively this time -- separate men from boys. We will see that iPad, particularly iPad Mini w/ Retina Display and iPad Air, ruled the holiday season.

There's not enough talk about how truly disruptive and superior iPad Air is to its predecessor, let alone the rest of the embarrassing tablet market, populated by confused others selling already-failed hybrid, convertible, two-in-one and all-in-one strategies.
For goodness sake, which is it!?
I have made it a point to compare the iPad Air I received a few weeks back with other devices, spanning categories, across markets. Everything from the corner-cutting Chromebooks to Microsoft's (MSFT) - Get Microsoft Corporation Report Surface tablet. There's just no comparing iPad Air with anything. Nothing. Can't be done. Should not be attempted. 
As I was considering ways to describe the discrepancy, I came across an excellent piece from my new hero, Nathaniel Mott at pandodaily.
Writing about his Chromebook experience in, Why the HP Chromebook 11's Exploding Charger Is Its Best Feature, Mott managed to sum up the scenario that best illustrates the iPad vs. everything else divide:
But the fact that (a recall of Chromebook 11) was even necessary -- that a decades-old manufacturer and a leading tech company were unable to ship a charger that wouldn't overheat and explode -- shows just how little attention was paid to this product.
It would be crazy to expect much from the HP Chromebook 11. It's a cheap laptop, and it's never pretended to be anything else. But its inability to so much as load Google's homepage without stuttering when its entire purpose is to provide a decent browsing experience is a slap in the face to any poor sap foolish enough to purchase the device after this charger debacle.
Booyah. And bold emphasis added.
Also see: That $279 Apple-Killing HP Laptop Didn't Fare Too Well.
Shame on Google (GOOG) - Get Alphabet Inc. Report because it should know better than to embark on today's common trajectory of insulting the consumers' intelligence. And to hell with Hewlett-Packard (HPQ) - Get HP Inc. Report because that company's dead, despite the best efforts of one of tech's most overrated CEOs, Meg Whitman.
We can use the Chromebook blowup as vignette to explain the larger issue I raise.
While it'll hardly be the first time we've learned the lesson, the browsing, touching, feeling, using and buying we do over the holidays will drive home the notion that quality wins out over the long (and even short) run. Apple doesn't rush things to market. But when Apple products hit the shelves -- particularly hardware -- they're more than ready for primetime. They're leaps and bounds better than lamely thought out, reactionary market share grabs and poor excuses for salvos at Apple.
This sentiment, which will be expressed in Internet buzz, metrics from the folks who keep track of retail traffic (online and off) and actual sales, will bare itself out in the Q4 numbers. These numbers, coupled with renewed confidence in Apple and new confidence in Tim Cook, will reflect the realization that iPad Air ended up being more of a game-changing product than most people gave it credit for upon its release.
This is the recipe Wall Street needs to drive AAPL stock higher. To, finally, bring it closer to its more highly valued and confidence-inspiring peers. The funny thing is the driver for this next level of upside, quite possibly to $700, sits right in front of us, weighing in at roughly one pound; it's not some elusive next "big thing" that Apple will unveil not a moment too soon (i.e., when it's ready). 
--Written by Rocco Pendola in Santa Monica, Calif.
Rocco Pendola is a columnist for
TheStreet
. Pendola makes frequent appearances on national television networks such as
CNN
and
CNBC
as well as
TheStreet TV
. Whenever possible, Pendola uses hockey, Springsteen or Southern California references in his work. He lives in Santa Monica.