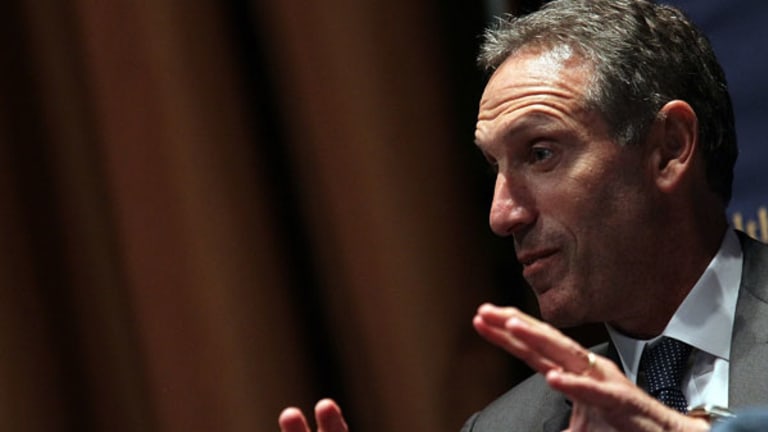 No Foam: Starbucks Dominates
Not even pure tech players come close to Starbucks' mobile/digital platforms.
NEW YORK (TheStreet) -- It's instructive to study what Starbucks (SBUX) - Get Starbucks Corporation Report has already accomplished as a player not only in retail, but the broad tech space. This exercise makes it easier to have confidence in the efficacy of its future (secret) plans in mobile and digital.
The following figures come from Starbucks' Q1 FY14 Webcast:
2 million new Starbucks card activations per day and $1.4 billion of Starbucks card loads globally in Q1.
10 million customers actively using the Starbucks mobile payment app.
5 million mobile transactions taking place in Starbucks stores each week.
Mobile and Starbucks card payments represent over 30% of total U.S. payment.
Mind blowing. 
And I think once again the Starbucks card platform and the Starbucks mobile card -- mobile transaction platform is still in its nascent stage. And we believe there is an opportunity to extend that value to our customers in ways that we have not yet shared with you.
--Howard Schultz
That's the key -- "that we have not yet shared with you."
I keep an open line with Adam Brotman, Starbucks' Chief Digital Officer. While we have fantastic and informative conversations, he keeps a pretty tight lip on the future innovation we'll see on Starbucks' mobile and digital platforms. 
But I can tell you this -- what Starbucks is doing from a tech standpoint is in the early innings. The way Brotman and his team intend to further personalize the Starbucks experience will, at least I reckon, blow your mind even more than it's already blown. There's so much I can tell he's just not at liberty to say. I feel confident using Brotman and his team's past performance as a primary reason to have confidence in their future results. 
Do not -- I stress -- DO NOT bet against these guys.
Consider a bit of history ...
In November 2012, I published Starbucks: The World's No. 1 Tech Company.
Since that article, Starbucks stock is up roughly 49%.
In August 2013, I published Tech's Untold, Underrated and Most Extraordinary Story.
Despite touching fresh highs since that piece hit, Starbucks stock has been pretty much flat over the last six months.
I'll outright brag and say, those articles, particularly the one from 2012, were nothing short of ahead of their time. Today, everybody's talking about the amazing things Starbucks has accomplished and continues to accomplish in mobile and digital.
Few others in tech, let alone any area of retail, compare to Starbucks dominance in the area.
I point out the 2012 article and such not only to stroke my own ego (that's certainly part of it), but also to say, I'm not merely regurgitating what has already happened. There's utility in doing that (see, e.g., the bullet points in this article); however, it's worthless on its own. It must accompany the type of homework that provides insight into what will be.
I'm still doing that homework.
And the takeaways remain the same ...
If you are a long-term investor -- somebody who doesn't care much about the last six months, but focuses his or her sights years out -- there might not be a better core name to hold and incrementally add to than SBUX.
If you admire innovation, there might not be a better company to study and observe than Starbucks.
The directions Starbucks will go in -- the stuff the company keeps "off the record" -- will send others in retail scurrying to copycat (feebly) just as they already have with respect to Amazon.com's (AMZN) - Get Amazon.com, Inc. Report innovations.
In the coming weeks, I will vision, with specifics, where Starbucks will take its leading mobile/digital franchise. This will include pushing the company for precise details. And, in 2016, we'll likely look back fondly on 2014's labor. 
--Written by Rocco Pendola in Santa Monica, Calif.
Disclosure: TheStreet's editorial policy prohibits staff editors, reporters and analysts from holding positions in any individual stocks. Rocco Pendola is a columnist for
TheStreet
. Whenever possible, Pendola uses hockey, Springsteen or Southern California references in his work. He lives in Santa Monica.