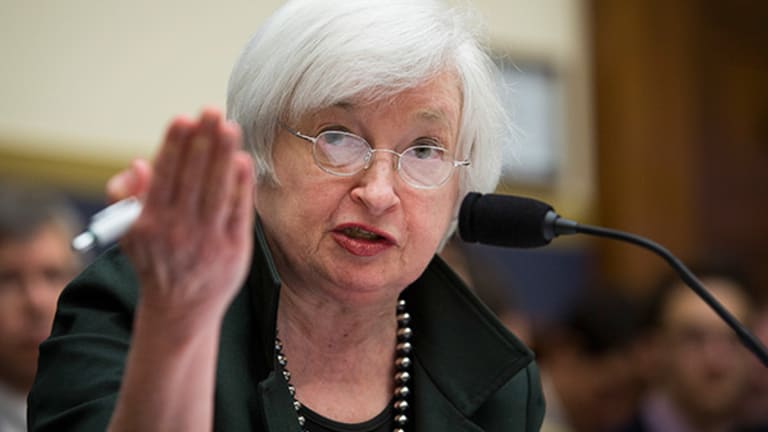 No Debate: It's Time for President, Congress to Do More for Economic Growth
The Federal Reserve has done all it could to create an economic stimulus. Now government leaders need to do more to spur GDP and job growth.
All market eyes today will be on the FOMC statement and signs of how Janet Yellen and team plan to "normalize" monetary policy in the coming months.
But the long-term money should be looking beyond the ongoing interest rate watch to the smoke signals coming from the presidential debate this evening.
The fact is that the Fed has pulled all the levers it can to try and push U.S. GDP growth above the middling 2% range. At this point, the Fed is looking to see if it can get interest rates off the zero-lower-bound before we're too far into 2016.
There shouldn't be any major policy changes this week, but the potential of the first interest rate hike since mid-2006 creates a lot of questions about how the economy will respond.
The future of GDP growth will partly depend on whether the U.S. can create policies that spur job growth. At the moment, those types of policies are on hold, with Congress and the President just barely agreeing on a budget to keep government going this week.
That's why the Presidential debates and Congressional moves, including Paul Ryan's pending House Speaker appointment, could trump the Fed in terms of how our economy fares in the long-run.
There's a lot of uncertainty in Washington around a host of issues that impact the labor market, including corporate tax reform, immigration, and how to handle crippling student loan debt. If the next president and congressional leaders are serious about getting our economy back to pre-recession levels, it's going to take action.
Despite what could be a relatively strong job picture, companies have been hesitant to raise wages, and in turn, many workers have stayed on the sidelines. What's more, while third-quarter earnings haven't been horrendous, a number of companies -- particularly those in energy and industrial businesses -- are announcing cutbacks, a move more typical in a recession than a period of growth.
This signals that, by the time Washington is up and running again, there may be a need for more serious fiscal measures than are being discussed now. Hopefully they will be up to the challenge.
Part of the reason the Fed has had to keep interest rates low for what is now nearing a decade is that there was austerity and uncertainty coming from the fiscal side.
The Fed has done a remarkable job supporting our economy. It's now time for government leaders to do their part.
When the Fed's busy day is done, they'll likely be watching the debates, as well.
The next Republican Presidential debate starts at 8 p.m. ET this Wednesday, 10/28, but TheStreet.com is covering it all week! Tune in for stories, videos, and more, and make sure to follow us at @TheStreet on Twitter for live commentary during the debate.
This article is commentary by an independent contributor.