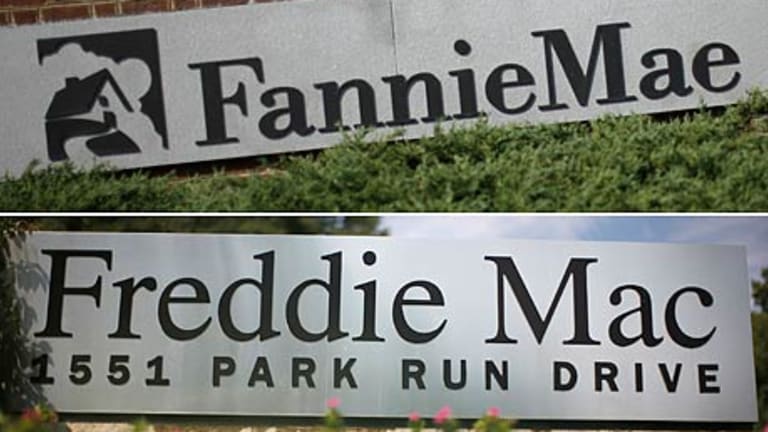 No Capital at Fannie and Freddie is Bad for Taxpayers, Markets and America's Families
Taxpayers may be on the hook again to finance the government-sponsored enterprises.
It has been nearly eight years since the housing market buckled and plunged the country into a financial crisis that is still embedded in our national psyche.
Yet practically nothing has been done to resolve the fate of two institutions at the center of the crisis, Fannie Mae (FNMA) and Freddie Mac (FMCC) , the housing finance giants. And this, in turn, has implications for taxpayers, capital markets and working families.
During the crisis, the two government-sponsored enterprises were placed into conservatorship under the Federal Housing Finance Agency amid concern that they could be brought down by the widening financial collapse as they were so interconnected with the housing market, and that is where they remain. What's more, each quarter, the Treasury Department vacuums up their profits, leaving them with no capital base for a rainy day.
Mel Watt, the former Congressman who now heads the FHFA, reiterated last week that a day of reckoning is coming in 2018 when the capital buffers of both Fannie and Freddie are expected to completely dry up.
And at that point, taxpayers may be on the hook for providing an infusion of cash to help protect Fannie and Freddie from the fluctuations of the market. Or the two housing giants may no longer be able to fully perform their historic and extraordinarily important role of making capital available for working families that want to buy homes.
Underscoring the stakes involved, particularly for working families, a number of civil rights groups seized on Watt's comments to issue their own calls for shoring up Fannie and Freddie.
Wade Henderson, president and chief executive of the Leadership Conference on Civil and Human Rights, was quick to praise Watt for sounding the alarm.
"The administration should heed Director Watt's warning and examine the path toward rebuilding the capital reserves of Fannie Mae and Freddie Mac to ensure the home ownership dreams of low-income Americans for generations to come," Henderson said.
League of United Latin American Citizens Executive Director Brent A. Wilkes echoed the sentiment, warning, " ... the protracted conservatorship will make it harder for them to carry out their mission and possibly place our economy at risk."
Last fall, LULAC was part of a coalition of civil rights groups backed recapitalizing Fannie and Freddie.
One reason that there are public policies to bolster home ownership is that a home is often a basis of wealth than can be passed down from one generation to the next. The financial crisis undermined this phenomenon, particularly for low-income Americans and those in minority communities.
The latest government data show that people in low- or moderate-income and minority communities are lagging disproportionately to their representation in the population in securing financing for home ownership and access to affordable housing.
So long as Fannie and Freddie are undercapitalized, there will be less certainty about their contributions to trust funds that the government maintains to help working families achieve home ownership. In that context, it is astounding that Fannie and Freddie's statutory duty to improve access to affordable housing is being undermined by our own government, in this case, the Treasury Department's determination to siphon capital from the two institutions.
It is also astounding that there is even talk of taxpayer support for the mortgage giants.
With fourth-quarter earnings posted last week, to date, Fannie and Freddie have sent $245.8 billion into the general revenue stream, more than $50 billion more than the $187.5 billion in taxpayer funds the enterprises received in 2008 during the financial crisis. Given this reality, ask anyone running for office this year how receptive voters would be to the idea of another bailout.
Fannie and Freddie's undercapitalization is also raising some concerns in Congress.
Two Republican Representatives, Stephen Lee Fincher of Tennessee and Nick Mulvaney of South Carolina, recently wrote to Watt and Treasury Secretary Jack Lew and asked them to explain by March 1 the implications for letting Fannie and Freddie remain without capital. In addition, Mulvaney has introduced legislation that would require the enterprises to begin building a capital base.
Capital markets should also be mindful of the situation.
Fannie and Freddie both have public charters, but they are private companies. Together they back some $5 trillion in mortgage debt.
That puts them in the same league as the nation's largest banks.
In fact, by definition, the companies should be treated as systemically important financial institutions under the Dodd-Frank Act. Designating Fannie and Freddie as SIFIs would require the companies to retain adequate capital levels and would protect taxpayers from future draws on Treasury funds.
There can and should be meaningful reforms of Fannie and Freddie that reflect the broad support for scaling back their role and bringing more private capital into the system.
Whether one regards Fannie and Freddie as the chief causes of the 2008 financial crisis or merely colossal reflections of deeply ingrained distortions in the housing market, leaving them with an inadequate level of capital isn't the basis for constructing a better system. It is instead a blueprint for more taxpayer bailouts, market uncertainty and fewer opportunities for the communities that public policy is supposed to serve.
This article is commentary by an independent contributor. At the time of publication, the author held no positions in the stocks mentioned.
Follow John Burnett on Facebook,Twitter and YouTube.