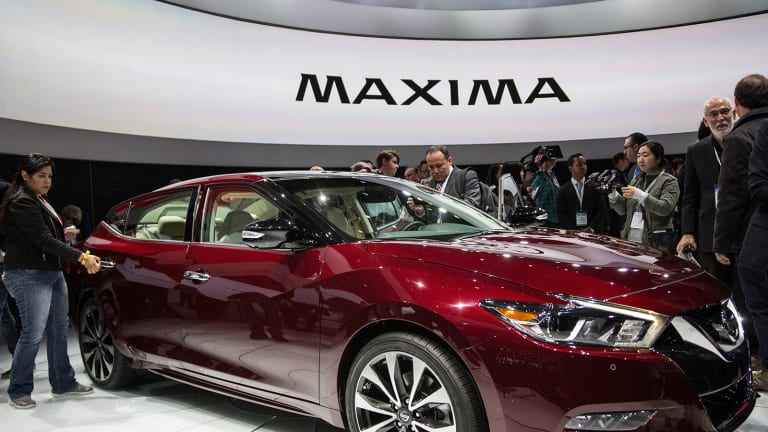 Nissan Unveils New Maxima Design, Outpaces Honda in U.S. Sales
Nissan sets a goal of 10% market share in the U.S.
Nissan sets a goal of 10% market share in the U.S.
NEW YORK (TheStreet) -- Nissan (NSANY) unveiled its new Maxima large sedan at the New York Auto Show last week, and the car's highly stylized exterior is in keeping with a wave of new vehicle models designed to be eye-catching.
As cars converge with one another in terms of fuel efficiency, price, technological features and quality ratings, exterior design has gained standing as an important difference. Striking is in, bland is out. For example, Honda's (HMC) - Get Report introduced a concept of its Civic sedan last week that also drew gasps and praise for its highly expressive exterior.
As for the Maxima, the side panels are creased, one seam ascending and one descending, an increasingly popular design cue found on some of the latest models such as the new Mercedes S Class and the Chevrolet Malibu.
Nissan CEO Carlos Ghosn said the new Maxima "will build on the success that Nissan has achieved in North America. We are expecting it to do great things for us."
Maxima belongs to the large-sedan segment of the market, which has been shrinking in terms of unit sales in the U.S. Consumers have been choosing lighter, smaller and more fuel-efficient models, especially crossovers. Crossovers, which typically are built on car architectures, are sometimes regarded as sport-utility vehicles because of their cargo space.
Unit sales of full-size cars fell 9.8% last year in a U.S. market that gained 5.9% overall. Midsized crossovers gained 12.3% as a segment.
Ghosn has been pushing Nissan's U.S. operations to reach 10% market share from 8.4% at the end of last year and said that more factory capacity might be necessary to reach that goal. "First, we will find ways to bring in vehicles from overseas," he said.
He cited the example of the shortage of Nissan Rogue crossovers in the U.S., which will be imported from a Nissan factory in South Korea. Most Rogues sold in the U.S. are built in the U.S.
Ghosn has set a target of 8% pre-tax profit margin for the Renault-Nissan Alliance by 2017 and of 8% worldwide market share.
During the past year, Nissan Motor shares have gained 30% on the Tokyo exchange, slightly outpacing the Nikkei 225 Index.
Ghosn and other Nissan executives haven't hidden their objective to catch and outpace Honda's sales in the U.S. Nissan has claimed the lead for the first three months of the year, with sales of 367,600 cars, about 34,000 more than Honda.
This article is commentary by an independent contributor. At the time of publication, the author held no positions in the stocks mentioned.