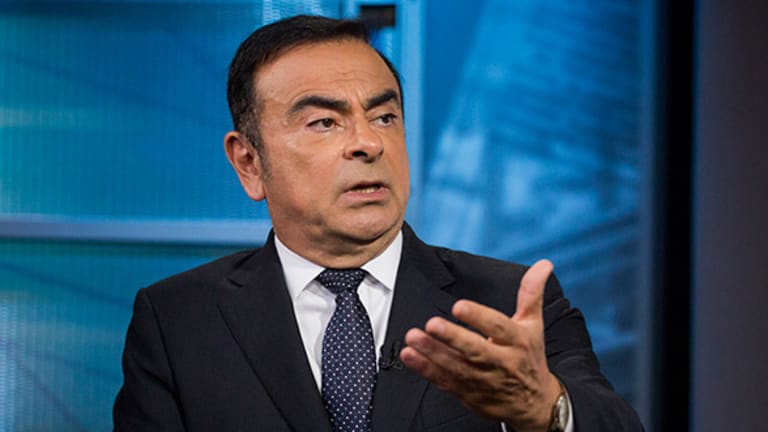 Publish date:
Nissan's Ghosn Shows the Way on Consolidation With Mitsubishi Alliance
The head of the Renault Nissan alliance adds another notch to his belt. Can Fiat Chrysler CEO Marchionne find the same magic?
The head of the Renault Nissan alliance adds another notch to his belt. Can Fiat Chrysler CEO Marchionne find the same magic?
As Carlos Ghosn and the Renault Nissan alliance prepare to take control of Japan's Mitsubishi Motors, it's worth recalling how one global automotive chief executive preached the benefits of industry consolidation and actually was able to achieve them.
Ghosn, chief executive of Renault and Nissan  (NSANY) , can today legitimately declare victory. The same can't be said -- at least not yet -- for Sergio Marchionne, chief executive of Fiat Chrysler Automobiles (FCAU) - Get Report . He was the one in April 2015 who wrote "Confessions of a Capital Junkie: An insider perspective on the cure for the industry's value-destroying addiction to capital."
Marchionne grabbed center stage by publicly bemoaning the auto industry's profit-killing over-investment in new models and technology. FCA searched unsuccessfully for a merger or joint venture partner with which to share the costly burden of investing in new models and technology. General Motors (GM) - Get Report was among those who passed.
Mitsubishi, oddly, had twice been a Chrysler partner from the pre-Marchionne era, once as an affiliate of the doomed DaimlerChrysler. Mitsubishi, Daimler and Chrysler executives of yesteryear failed to realize the potential efficiencies, eventually proving the rule that most business combinations wind up as disasters.
Ghosn, by dint of extraordinary leadership, has endured as one of the industry's most resilient, creative and longest-lasting CEOs, the alliance his singular achievement. Ghosn's innovation was principle that automakers should avoid buying one another outright; instead, they should work together to share what they do well and cement the relationship with mutual investment in one another's stock.
Starting with Renault's daring rescue of Nissan in 1999, the alliance has continued to grow. Now, with Nissan's purchase of a 34% controlling stake in troubled Mitsubishi, it solidifies its position in the global top tier of automakers, a league that inclues GM, Volkswagen (VLKAY) and (TM) - Get Report, in terms of vehicles sold.
By sharing vehicle architectures and technologies, the alliance is able to rationalize major capital investments required to develop new vehicle models. Ghosn's job is to ensure that none of the partners is reinventing the wheel, cooperating whenever possible and competing as individual companies the rest of the time. None of it could have happened without his leadership.
Marchionne has a bit more than two years to go before he retires, a commitment he made in 2014. Instead of mergers, he's concentrating on improving FCA's performance as much as possible in the time he has left. That's meant dropping two slow-selling Chrysler car models, skimping on investment in alternative fuels and batteries, and placing more emphasis on the Jeep brand and Ram pickup trucks. 
The FCA chief didn't yet find a merger partner. But he's a creative force, too, having accomplished quite a bit just keeping Fiat and Chrysler out of liquidation. He still could pull a rabbit out of his hat. FCA is building a hundred minivans to be used for Alphabet's Google self-driving car project. Who knows where the supply relationship may lead?
Doron Levin is the host of "In the Driver Seat," broadcast on SiriusXM Insight 121, Saturday at noon, encore Sunday at 9 a.m.
This article is commentary by an independent contributor. At the time of publication, the author held no positions in the stocks mentioned.