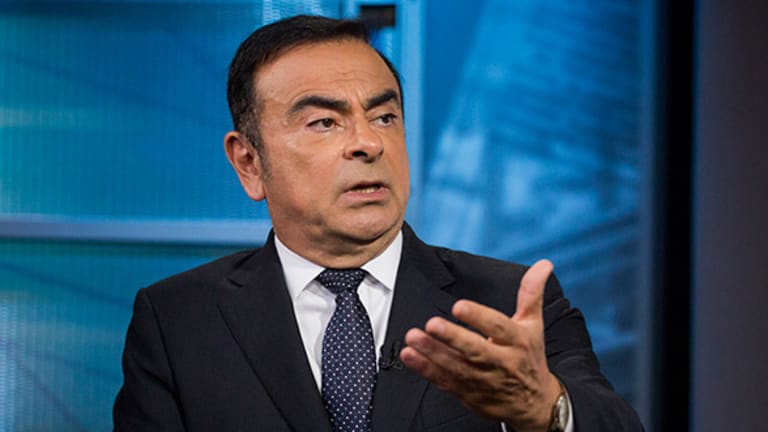 Publish date:
Nissan's Buyback Should Soothe Its Ruffled Alliance With Renault
The Japanese-French partnership looks to ease strains as Nissan becomes the stronger of the two partners.
The Japanese-French partnership looks to ease strains as Nissan becomes the stronger of the two partners.
Nissan (NSANY) shareholders bid the stock 5.5% higher on Monday, displaying their enthusiasm for the automaker's plan to spend up to $3.5 billion of cash buying back 300 million shares through year's end. 
Shareholders of Renault, the French automaker that owns a 43.4% voting stake in Nissan, also cheered the buyback. Renault shares also climbed 5% before retreating on news of the share buyback. 
Besides increasing the market capitalization of both companies, Nissan's buyback could soothe rising tensions among stakeholders in France and in Nissan's home base in Japan. Since the partnership was formed in 1999, it has become one of the unlikely success stories of the global auto industry. 
Last fall, the French socialist government of Francois Hollande moved to increase the government's stake in Renault and was thought to be exploring a takeover of Nissan. The Japanese government and Nissan management were alarmed. Finally, the French stood down, relieving the pressure. 
But Nissan's stock, instead of gaining strength, unexpectedly has dropped more than 24% year to date, in part due to the strengthening yen, which hurts Japanese exporters. 
Nissan, whose near financial collapse prompted Renault's rescue so many years ago, no longer fits the role of junior partner. It has passed Honda in terms of North American sales and is a major force in China. France, meanwhile, remains the only market where Renault remains dominant. Renault is the world's 11th-largest automaker; Nissan is sixth; together, they form the fourth-largest maker of vehicles. 
The alliance, which encourages the two automakers to share designs, factories and other resources when mutually beneficial, has worked to the benefit of both parties, giving the global scale to compete with giants like General Motors and Volkswagen.
Automotive stocks in the U.S. lately have performed poorly because some analysts have suggested that U.S. profits will be hurt by discounting as pent-up demand from the global recession of 2008-2009 inevitably runs out, leading to lower sales. 
Nikkie Lu, an analyst for Bloomberg Intelligence, said Nissan isn't bracing for a global recession, which some analysts have predicted. "You buy back your shares when you think they are hugely undervalued," she said. "The automotive industry is cyclical, but it's not as bad as people think." 
Carlos Ghosn, who serves as CEO of Renault and Nissan, has been pushing closer integration of the two. He also has forged a smaller, significant partnership with Daimler, the German maker of Mercedes-Benz cars and Freightliner trucks.
Ghosn also has pushed Nissan to be a leader in battery-powered electric vehicles. The Nissan Leaf so far has yet to sell briskly in the U.S., China or elsewhere, though that could be about to change as new-generation batteries become lighter, cheaper and more powerful, endowing EVs with more range.
Doron Levin is the host of "In the Driver Seat," broadcast on SiriusXM Insight 121, Saturday at noon, encore Sunday at 9 a.m.
This article is commentary by an independent contributor. At the time of publication, the author held no positions in the stocks mentioned.