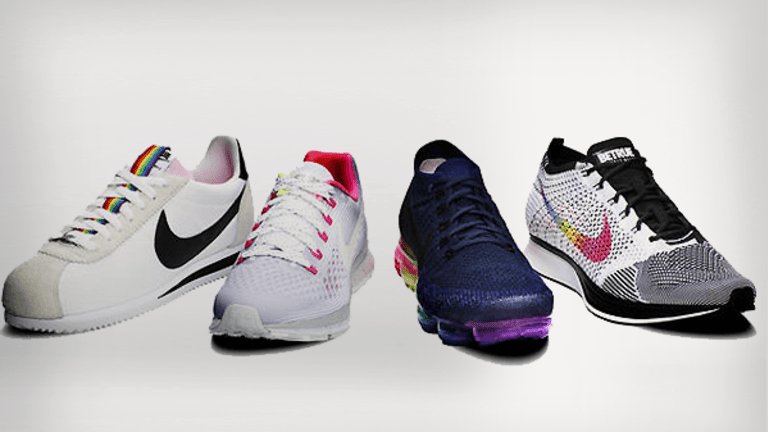 Nike Up Over 10%; Stocks Mixed -- ICYMI Friday
Here's what you need to know now.
Who would have thought the media story we'd be following ahead of the 4th of July weekend would have to do with the president of the United States, a cable morning show and a tabloid?
After a bouncy week, stocks ended the day Friday mixed. The Dow Jones Industrial Average climbed 0.29% and the S&P 500 was up 0.15% while the Nasdaq fell by 0.06%. Oil rallied 2.87% to $46.22 after weekly rig count data from Baker Hughes showed the first decline in activity in 24 weeks.
Nike (NKE) - Get Report was the big stock story of the day, closing Friday up by more than 10% after earnings topped Wall Street forecasts. The company also confirmed an agreement with Amazon (AMZN) - Get Report to sell its sneakers on its website.
The steel industry weighed reports the Trump administration might slap a 20% tax on imports. Shares of Nucor (NUE) - Get Report and U.S. Steel (X) - Get Report ended the day slightly down, while Steel Dynamics (STLD) - Get Report made gains. Truth be told, the U.S. steel industry has issues with or without tariffs -- imposing them could spark a trade war, skipping them would kill the investor optimism that boosted them in the first place.
Exclusively at TheStreet, tech reporter Annie Palmer spoke with top Google (GOOGL) - Get Report scientist Peter Norvig. The subject of discussion: artificial intelligence.
And so we've arrived at the final day of the second quarter of 2017. Enjoy your holiday weekend, and see you for a market half-day on Monday.

This is an excerpt from "In Case You Missed It," a daily newsletter brought to you by TheStreet. Sign up here.
Photo of the day: National Enquirer
Before National Enquirer was going after "Morning Joe" co-hosts Mika Brzezinski and Joe Scarborough, it had another target: Hillary Clinton. The former secretary of state has been a tabloid favorite over the years, including during the 2016 election, when the Enquirer claimed to have dirt on her declining health. (The mag at the very least had quite a lot of fun with Photoshop.) Enquirer chairman and CEO David Pecker is reportedly considering a bid to take over Time Inc. Rafael Cruz conspiracy theories on the cover of Sports Illustrated, anyone.
Read more from "In Case You Missed It." Sign up here.