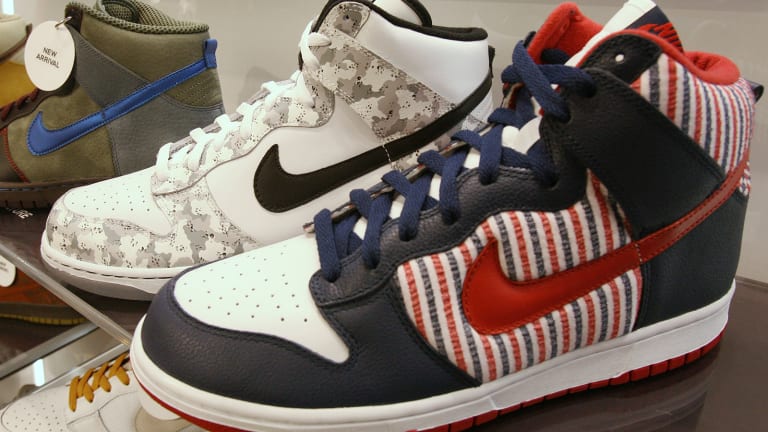 Nike's Beaten-Down Stock Price Presents a Big Buying Opportunity
For investors looking for a company that can tap into the mysterious millennials' pockets and keep them coming back for more, the athletic-apparel king is just the ticket.
Nike (NKE) - Get NIKE, Inc. Class B Report has been the athletic-apparel king since the 1990s when Michael Jordan and Spike Lee starred in commercials for the company with Bugs Bunny.
And Nike has pretty much owned the athletic-apparel market after spinning off the Jordan brand into its own subsidiary, despite Adidas,Reebok and relative newcomer Under Armour trying their best to steal some of Nike's market share.
So why did Nike take a huge hit and fall as much as 6% on Wednesday, a day after its latest earnings call?
Nike reported fiscal third-quarter earnings of 55 cents a share, which beat the average analysts' earnings expectation of 48 cents a share. The company also reported a 13% sales increase in North America and a 23% sales increase in China.
But though Nike increased revenue by about 8% to $8 billion, that did fall short of analysts' expectations of $8.2 billion.
The fact that the market punished the stock could be a good thing for loyal Nike fans who love what the innovative brand brings to the table. The stock's pullback, after an increase of more than 20% in the past 12 months, represents an opportunity for investors to put as much Nike stock in their portfolios as "sneakerhead" millennials have in their closets.
To see how powerful a brand Nike is, pay attention to younger people. Walk into any gym, bar or social gathering and it is impossible to not spot at least a few millennials wearing their custom-made Nike ID sneakers or Retro Jordans. 
Nike has mastered the formula for satisfying millennials, and the company is sticking to that game plan.
Millennials like to be unique and chic, and a fresh pair of custom Nike Dunks puts them right in that sweet spot. In addition to footwear, Nike has casual and workout apparel that millennials love as well.
In a millennial-crazed consumer discretionary industry that is trying its best to figure out what young people like and how to cater to them, Nike has the secret to success. And isn't something the company has just recently figured out.
Young people and the hip-hop culture in general have had a love affair with Nike since way before rapper Kanye West got his own signature shoe line, and it doesn't look like that passion will fade away soon.
With rappers such as Juicy J and Wiz Khalifa as well as pop star Miley Cyrus making a song about their "23s," a type of Retro Jordans, Nike obviously still has a strong hold on young consumers, and these young consumers will grow old and remain loyal to the Nike brand. Just take a look at the long lines to buy the latest Jordans or LeBrons, as there are many Generation X consumers standing in line with their kids, anxious to grab a pair.
Under Armour deserves credit for signing Stephen Curry, the most popular basketball player other than LeBron James, but that company has a long way to go before it poses a serious threat to the legacy that Nike has created. Nike is more than popular endorsements; it is a lifestyle.
For investors looking for a company that can tap into the mysterious millennials' pockets and keep them coming back for more, the athletic-apparel king is just the ticket.
This article is commentary by an independent contributor. At the time of publication, the author did not hold any positions in the stocks mentioned.