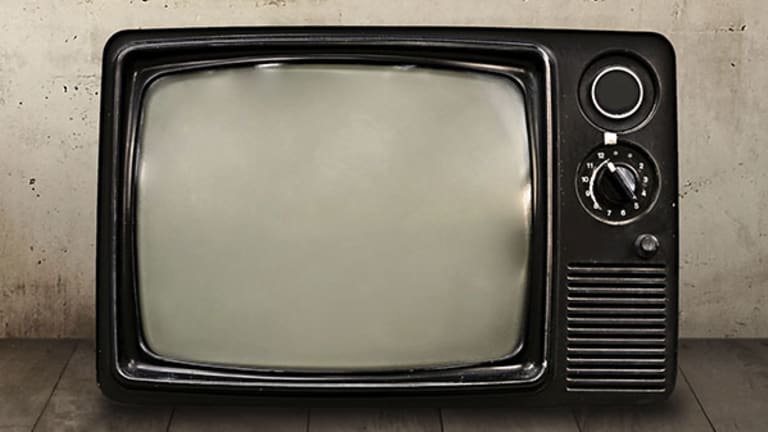 Nielsen Will Survive Media Networks' Shift to Mobile Ratings
Leading media network companies including Viacom, Time Warner and Turner are shifting from traditional Nielsen revenue models. How badly will this hurt Nielsen Holdings?
NEW YORK (TheStreet) -- Nielsen Holdings (NLSN) - Get Free Report will be just fine.
The longtime arbiter of television success, Nielsen is spending aggressively to create and augment new ways to measure mobile viewing in order to provide its television clients more accurate data about its programming. Through acquisitions and new products, Nielsen should be able to adapt to the changing demands of mobile measurement and over the next 12 months lift the company's heavily undervalued stock out of the doldrums.
One of the latest threats to emerge is the move by giant media networks, which are some of Nielsen's biggest customers, away from traditional measurement methods towards newer and more dynamic methods that yield better customer insights. To wit, Viacom (VIA) - Get Free Report, Time Warner (TWX) and Turner (which is owned by Time Warner)are on record as saying they are trying to move away from traditional Nielsen revenue models which have been hurting them due to the continued decline in structural television ratings. Viacom recently made this abundantly clear during the company's latest earnings call, where it pointed out that it's well on track to achieve the goal to have 50% of its revenue coming from non-Nielsen sources over the next three years, up from 30% currently.
The three media companies are already heavily engaged in talks with advertisers to allow sponsors to pay for video ads based on non-Nielsen ratings. If advertisers give their consent, the new metrics will involve measuring how people respond to ads and how often they interact with pitches as opposed to the traditional method that involves measuring how many people view commercials. Time Warner and Turner have gone a step further and sweetened the deal for marketers who agree take them up on their offer by establishing guarantees such as a tangible increase in purchase intent, lifts in brand recognition or awareness of specific marketing efforts. The two will become the first media networks to actually offer performance guarantees with alternative measurement methods with possible remediation coming in the form of allowing extra ad inventory by the marketers in the event that they fail to meet certain minimums.
If the deals gain traction, they can place a lot of pressure on Nielsen whose business revolves around using GRP, or Gross Rating Points (a product of percentage of target audience multiplied by frequency of exposure to ads) as well as ''C3'' that includes views of ad breaks that happen in the 3-day period after commercials are aired, and ''C7'' that extends measurements to seven days. Most marketers typically pay the highest rates for audiences aged between 18 to 49.
Enter Nielsen AIG
The moves by the media networks are perfectly understandable. According to estimates by industry publication Variety, marketers spent $8.17 billion to $8.94 billion on prime-time broadcast ad spots, or about 4% less than they spent in the prior year (overall television ad spend recorded positive growth, however). Cable television was even harder hit after it saw advance advertising commitments fall for cable fall 6% from to $9.6 billion in 2014 from $10.2 billion in 2013. Viacom saw its revenue fall 3% during the last quarter with U.S. ad revenue plunging 5% overall.
It's important to note, however, that this will not be the first time that media companies will be attempting to use alternate measurement methods. NBC signed an agreement with Toyota Motors (TM) - Get Free Report in 2006 that called for the media company to prove that viewers could remember specific pieces of television shows so that Toyota could identify which NBC programs had the highest user engagement. To accomplish this goal, NBC relied heavily on the expertise of IAG Research.
Nielsen later acquired IAG Research in 2008 for $225 million and re-branded the company Nielsen AIG. Nielsen AIG conducts interviews with advertisers to measure the effectiveness of television and Internet ads. The segment has clients such as telecom services providers, television and cable network providers as well as other content providers.
And, contrary to common perceptions, Nielsen does much more than simply measure television viewership. The company also provides data regarding consumer habits using its Nielsen Catalina unit that analyzes consumer buying behavior. AC Nielsen already provides the kind of deep viewer insights that Viacom, Time Warner, Turner, CBS Networks (CBS) - Get Free Report and Scripps Networks (SNI)  are pitching to marketers. 
While the jury is still out regarding how much longer television advertising can last in the face of onslaught from marketers shifting their ad dollars to digital platforms, investors can take some comfort that this is not likely to happen any time soon. Total television ad spend has continued to outpace total digital ad spend in the U.S. by quite a wide margin. eMarketerestimates that marketers will spend $70.59 billion on television ads in the current year, 3% year-over-year growth, and way above the $58.61 billion they will spend advertising on digital platforms.
Digital video, which many fear will eventually kill television ads, is still a fraction of it. eMarketer estimates that digital video ad spend in the U.S. in 2015 will clock in at $7.77 billion about a tenth of what advertisers will spend on television. Digital video ad spend will maintain double-digit growth through 2018 to hit $12.71 billion. But this will still be a small fraction of television ad spend which will also grow throughout the period, albeit in low single-digits, to hit $78.64 billion.
For all its woes, Nielsen remains the go-to television ad measurement platform with 40% market share. As long as television ads remain relevant, AC Nielsen is not very likely to be killed by the digital migration. The company has also continued to hedge its wide leadership in the field by developing cross-platform ad measurement tools that marketers can use to track ad effectiveness across a cross-section of devices, including desktop computers, mobile and tablets. For instance, AC Nielsen teamed up with NBCUniversal on a three-screen pilot during the 2014 Olympics that helped the companies measure ad exposure across television, mobile, and desktops. The pilot incorporated Nielsen's usual television ratings to measure GRP, incremental reach and frequency of ads as well as newer techniques for mobile, which Nielsen started using during third quarter of 2014, and Nielsen's cross-platform campaign ratings.
Marketers are demanding that ad tracking platforms provide cross-measurement tools that they can use to determine where to place their ad dollars. Though AC Nielsen did not divulge its findings from the cross-measurement pilot, expect it to become maisntream in two-to-three years.
AC Nielsen has been able to maintain top line growth in the middle of all this maelstrom. The company's revenue grew 10.26% in 2014. The company, however, recorded a 2.1% year-over-year revenue decline during the first quarter of the current fiscal year, mainly due to heavy foreign exchange headwinds. Without the currency effects, the company's top line would have expanded 4.4%. Nielsen's profitability, which has come under pressure lately due to the company's heavy investments in new measurement platforms, improved considerably. Nielsen's operating margin improved 60 basis points to 13.6% while its GAAP net profit clocked in at $0.17 per share compared to $0.15 per share during the prior year period. Nielsen appears on course to avoid last year's scenario when earnings plunged 15.35% since its capital expenditures this year is likely to be much less than what it was last year. Meanwhile, the company's new product launches have taken off well and should have a tangible impact on revenue soon.
Nielsen's shares have badly lagged those of Web analytics measurement company ComScore (SCOR) - Get Free Report. This can be attributed to the rapid shift to digital advertising, which is ComScore's forte. Nielsen shares are down 1.6% over the last 12 months, compared to 78% gain for ComScore shares.
Though both companies have been booking losses on some quarters and finished 2014 in the red, the market gives Nielsen a much lower valuation compared to ComScore. Nielsen has a price-to-book ratio of 2.7 compared to 4.75 for ComScore. But the market should stop discounting the shares so heavily once the company's new products are able to return it to good top line growth and allay fears about the qualitative health of its business. Moreover, projections are that Nielsen will grow its earnings by 13.75% each year over the next five years. While the shares have significant long-term upside, they are likely to remain a bit depressed for the rest over the year.
This article is commentary by an independent contributor. At the time of publication, the author held no positions in the stocks mentioned.