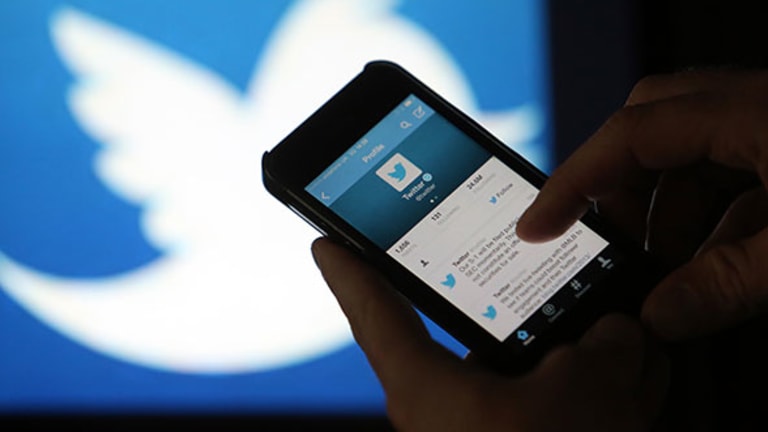 Nielsen to Expand Twitter TV Tracking in Response to TV Networks
Nielsen will start measuring Twitter conversations about TV shows around the clock as part of its latest effort to provide a fuller picture of television-viewing habits beyond just linear TV.
Nielsen will start measuring Twitter conversations about TV shows around the clock as part of its latest effort to provide a fuller picture of television-viewing habits beyond just linear TV.
NEW YORK (The Street) -- Nielsen's measurement of Twitter (TWTR) - Get Report conversations about TV shows will soon be done around the clock as part of its latest effort to provide a fuller picture of television-viewing habits beyond just linear TV.
It's no secret there's been a lot of Nielsen-bashing by TV networks in recent months, including at last week's upfronts. In response, the company continues to try and placate the networks by developing new measurement data.
One of Nielsen's latest efforts is on the social TV measurement front. It's already been tracking social TV conversation via a partnership with Twitter. Nielsen Twitter TV Ratings have been made available since late 2013, measuring the reach of Twitter TV conversations, and helping TV networks and advertisers understand and act on TV-related conversations taking place on Twitter.
But so far, just like Nielsen's traditional tracking of linear TV viewing, that measurement has been focused on Twitter activity around the live airing of TV programs, Lisa Berman, vice president of research and marketing at Nielsen Social, said in a phone interview Friday. It's now looking to go beyond that, she told us.
"In the coming months, we're going to be moving over to a 24/7 model, where we measure all activity on a 24/7 basis [for] both linear TV and also over-the-top programming," she said of Nielsen Social, a division of the company that started in 2012, after Nielsen bought social TV metrics company SocialGuide.
The shift to around-the-clock social TV tracking mirrors Nielsen's efforts in tracking TV viewership data. Despite a widespread impression that it only tracks linear TV viewing, it already started to track DVR and on-demand TV viewing also.
According to its website: "We're ready to measure viewing on computers, smartphones and tablets. We're gearing up to measure viewing on connected devices, including [subscription-based video on demand] SVOD content."
Nielsen, however, didn't provide the timing for those initiatives.
Berman stopped short of saying that the TV networks were demanding the expansion of Nielsen's social TV tracking. "We work closely with them in everything that we do at Nielsen Social and we're aware that this is a priority for everyone to measure the shift in consumer behavior," she said.
Nielsen Social has long recognized measuring over-the-top and 24/7 TV activity in general were necessary due to the shift in consumer behavior, she said. "Television viewing is taking place 24/7 and it's important that our measurement reflects what consumers are doing," she said. Also important: about 84 percent of consumers watch TV with a second-screen device in their hands, she said.
It's smart for Nielsen Social to extend its measurement beyond live viewing, Barry Lowenthal, president of New York media planning and buying agency The Media Kitchen, said by email Saturday. "If a show truly impacts culture the conversation will continue and that makes the show more sellable," he said, pointing to the recent Floyd Mayweather, Jr.-Manny Pacquiao boxing match that was made available on pay-per-view by Time Warner's (TWX) HBO andCBS's CBS Showtime.
For now, Nielsen remains focused only on Twitter in the social space, said Berman. "It's a great tool for measuring social activity around TV just because of its open nature," she said.
Nielsen Social has access to each TV show airing on 250 networks and accesses every tweet regarding the shows, she said.
TV networks are among its more than 90 clients for the social TV data, along with advertisers and ad agencies, she said, but declined to name any clients.
Nielsen tracks more than 1,800 brands, so the data can help TV ad sales teams identify whether there might be opportunities for their TV advertisers to maximize social buzz through TV placements on the networks, she said.
But social TV measurement has thus far been more significant to the TV networks than advertisers, said Lowenthal.
"I'm not buying conversations. I'm buying exposure in a show," he said, adding just because somebody is talking about a show, it doesn't mean they're also talking about ads that run during them. Unless networks can figure out a way to guarantee advertisers' brands will be part of the conversation, information provided by Nielsen Social is just nice to know, he said.
Nielsen Social recently released the findings of a recent study on what makes certain programs social.
The company found several variables played a role in the average volume of program-related tweets sent each week: the age of the viewers watching a show being broadcast on linear TV; the network (whether it was being viewed on broadcast or cable TV, the language it was in, and whether programming was ad-supported or not;) and the program itself (whether it was a drama or reality show and its length.)
Audience size alone played a large role in telling the level of Twitter activity around a program, explaining 51% of the variance in average tweets per episode, said Nielsen. Its new study looked at 457 English and Spanish prime-time TV shows and measured Twitter activity and TV audiences for new episodes that aired from September to January, it said.
There are three key ways Nielsen said TV industry players can benefit from analyzing program characteristics to anticipate levels of social activity: networks, advertisers and agencies can anticipate how social a new program will be before it premieres.
As advertisers and agencies refine media plans and networks develop ad sales strategies, they can identify whether a program is under- or over-performing socially. Network marketing teams can then gauge opportunities to increase earned media around programs.