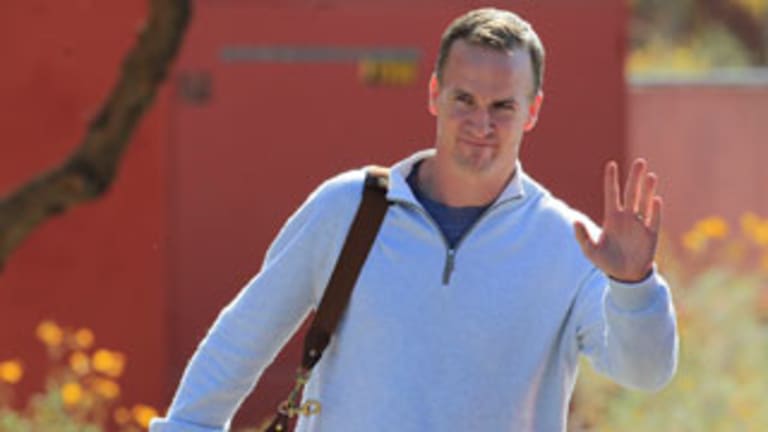 NEW YORK (TheStreet) -- Faced with bored consumers and the overwhelming marketing blitz of Berkshire Hathaway's (BRK.A) - Get BRK.A Report (BRK.B) - Get Berkshire Hathaway Inc. Class B Report Geico, U.S. insurance companies have turned to big name professional athletes like Peyton Manning and LeBron James to make their industry seem a little sexier.
Nationwide, State Farm, Progressive (PGR) - Get Progressive Corporation Report and MetLife (MET) - Get MetLife, Inc. (MET) Report are all using athletes to pitch insurance products not ordinarily associated with the excitement of a Super Bowl touchdown or a buzzer-beating jump shot.
The Denver Broncos' Manning and Cleveland Cavaliers' James, perhaps the most-used pitchmen on the planet, have each stumped for insurance -- Manning for Nationwide and James for Progressive. NBA star Chris Paul and quarterback Aaron Rodgers are advertising for State Farm, while Jerry Rice recently signed on to help MetLife.
"The reason so many athletes do insurance commercials is the companies are trying to reach a younger audience," said Brian Cristiano, the CEO and creative director for New York ad agency Bold Worldwide. "At the end of the day, insurance is boring and athletes are exciting."
And so NASCAR driver Dale Earnhardt Jr. ends up as a face of an insurance company, not a Nobel-winning economist or a best-selling author. Insurance executives acknowledge the boredom associated with their products and say athletes have helped cut through the eye-glazing tedium.
"It's a relatively low-interest category," said Nationwide's sports marketing director, Jim McCoy, who has used Earnhardt and Manning in the company's ads. "That's part of the challenge we fight in insurance."
Another challenge is overcoming Geico's billion-dollar advertising budget, which has forced other insurers to play catch-up. Geico, too, has played the sports card, bringing in retired NBA star Dikembe Mutombo in a comedic role.
Geico's spending avalanche "is a really difficult sort of thing for companies like Nationwide or Allstate (ALL) - Get Allstate Corporation Report to deal with," said Christopher Cakebread, a Boston University advertising professor. "They've done a remarkable job of separating themselves from the industry."
Unless they are involved in a scandal -- see: Lance Armstrong and Alex Rodriguez -- athletes are less divisive among consumers than actors or other public figures, Cakebread said. And add another plus to the athlete column for those who have acting chops, as Manning and Rodgers do.
But telegenic athletes sometimes confuse consumers because of their widespread use, Cakebread said.
"Peyton Manning is a terrific actor, but he endorses so many products," he said. Manning also, for example, has appeared in MasterCard (MA) - Get Mastercard Inc. (MA) Report , Hasbro's (HAS) - Get Hasbro, Inc. (HAS) Report Nerf, Sprint (S) - Get SENTINELONE, INC. Report , Pepsico's (PEP) - Get PepsiCo, Inc. Report Gatorade and DirecTV (DTV) commercials. And some products just aren't natural fits for some athletes, Cakebread added.
"Why would Michael Jordan endorse Hanes underwear?" he said. "Everyone associated him with Nike (NKE) - Get NIKE, Inc. (NKE) Report ."
That risk puts pressure on Madison Avenue to find creative ways to associate athletes with the products they're pitching.
In a Nationwide commercial, for example, Manning finds himself humming the company's jingle everywhere he goes. But Rodgers' latest State Farm commercial, in which he works out with Saturday Night Live characters Hans and Franz, is funny but has little in the way of an obvious insurance connection.
"It depends on the strength of the creative power of that commercial," said sports agent Mike Principe, CEO of the Legacy Agency. "You have to create a visceral link between the product and the athlete."
At the time of publication, the author held no positions in any of the stocks mentioned.
This article is commentary by an independent contributor, separate from TheStreet's regular news coverage.