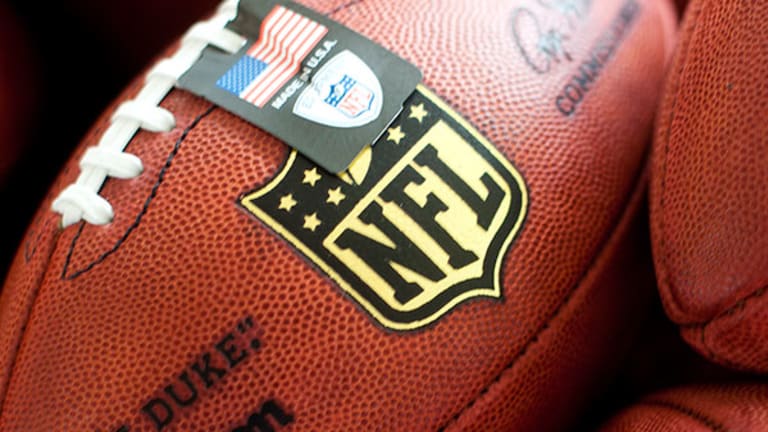 NFL Stance on Gay Rights, Slurs Is Good Business
The NFL threatened to pull the Super Bowl out of Arizona over a discrimination bill, outwardly supported openly gay prospect Michael Sam and has weighed on-field penalties for use of the N-word. It's a winning social policy.
PORTLAND, Ore. (TheStreet) -- Here at TheStreet, we try to keep an eye on the National Football League because it is a huge public investment.
It is protected by a federal antitrust exemption. It's a tax-exempt organization with $9.5 billion in revenue, it uses public money to build and refurbish stadiums. It blacks out games broadcast from those stadiums on public airwaves at whim. When it doesn't get what it wants, it threatens to move out of host cities until it's able to extort its asking price from them.
As a league afforded a considerable amount of the public trust, the NFL owes taxpaying fans some accountability for its business practices. The NFL can be a bankrupting negative space in the communities surrounding it, or it can be a positive influence.
In the last couple of weeks, the NFL has proven itself a whole lot more of the latter.
Earlier this week, Arizona Gov. Jan Brewer vetoed a religious freedom bill approved by the state legislature that would have allowed business owners to use their religious beliefs as grounds to deny service to anyone they chose. Beyond the fact that the bill was an outright violation of Title VIII on the 1964 Civil Rights Act -- which specifically prohibits discrimination based on race, color, religion or national origin -- it wasn't exactly a piece of legislation that the NFL was fond of.
The NFL is slated to hold its next Super Bowl at University of Phoenix Stadium in Glendale, Ariz., and was none too pleased to have itself or its sponsors linked to state-sponsored discrimination. Sports Illustrated reported earlier this week that the league was already considering other locations for the 2015 Super Bowl -- estimated to generate at least $500 million in local revenue -- while ESPN discovered that Arizona's Super Bowl host committee went right to Brewer's office to make her aware of the implications of her decision. The possible consequences included not only losing the Super Bowl, but forfeiting its right to host the Pro Bowl in Glendale a week before the big game.
Without voicing any clear stance on the legislation, the NFL made its intentions clear in a statement reminding Arizona of the fact that its "policies emphasize tolerance and inclusiveness, and prohibit discrimination based on age, gender, race, religion, sexual orientation, or any other improper standard.'' It was also a subtle reminder that the NFL isn't afraid to just yank its marquee event away from Arizona when it takes a step backward. The NFL moved its 1993 Super Bowl from Tempe to Pasadena, Calif., after Arizona voted against recognizing a federal holiday honoring Dr. Martin Luther King Jr. in 1990.

The NFL took it a step further by saying it would only give Arizona the 1996 Super Bowl if it changed its mind. The NCAA followed suit and outright rebuffed Arizona's offer to host its men's basketball tournament games. By the time Arizona finally got around to recognizing the holiday in 1992, it had lost roughly $200 million from the Super Bowl alone and millions more in hotel, concert and convention bookings.
It's a hard-line stance that the NFL has been trying to take publicly with a bit more consistency. After the University of Missouri's All-American defensive end Michael Sam told ESPN's Outside The Lines earlier this month that he is gay, NFL Commissioner Roger Goodell followed up mixed reaction from NFL executives and positive response from current and former NFL players with a more definitive statement from the league.
"Good for him," Goodell said, via NFL spokesman Greg Aiello's Twitter page. "He's proud of who he is and had the courage to say it. Now he wants to play football. We have a policy prohibiting discrimination based on sexual orientation. We will have further training and make sure that everyone understands our commitment. We truly believe in diversity and this is an opportunity to demonstrate it."
It isn't a flawless approach -- former NFL punter Chris Kluwe is considering legal action against the Minnesota Vikings for a string of anti-gay remarks he accused a coach of making during his time punting for the team -- but they're huge steps in the right direction. As is a new rule that the NFL is considering that would impose of 15-yard penalty on any player who uses the N-word during a game.
Though a decision won't be made until march, the rule could extend to other types of slurs -- as Chris Bosh of the National Basketball Association's Miami Heat has suggested -- but it falls on the tougher side of penalties issued for such an infraction in any sport. FIFA's fine-and-scold approach to racial slurs in soccer has been deemed so inadequate that players being repeatedly harassed by both other players and fans have taken to simply walking off the field. The National Hockey League's rulebook states in plain language that racial taunts and slurs can result in a game misconduct penalty that takes a player off the ice for the rest of the game and usually results in a fine or suspension.
The NFL is still a flawed league with lots of unresolved issues related to financing and its obligation to taxpayers who fund its operations. That said, its stance on social issues including player bounties, locker-room bullying, race relations and equal opportunity are not only good business, but good citizenship.
-- Written by Jason Notte in Portland, Ore.
>To contact the writer of this article, click here: Jason Notte.
>To follow the writer on Twitter, go to http://twitter.com/notteham.
>To submit a news tip, send an email to: tips@thestreet.com.
RELATED STORIES:
>>5 Craft Brewers Who Need A Super Bowl Ad
>>Wait, We Weren't Finished With Dark Holiday Beers Yet!
>>Some Craft Beer Resolutions for 2014
Jason Notte is a reporter for TheStreet. His writing has appeared in The New York Times, The Huffington Post, Esquire.com, Time Out New York, the Boston Herald, the Boston Phoenix, the Metro newspaper and the Colorado Springs Independent. He previously served as the political and global affairs editor for Metro U.S., layout editor for Boston Now, assistant news editor for the Herald News of West Paterson, N.J., editor of Go Out! Magazine in Hoboken, N.J., and copy editor and lifestyle editor at the Jersey Journal in Jersey City, N.J.