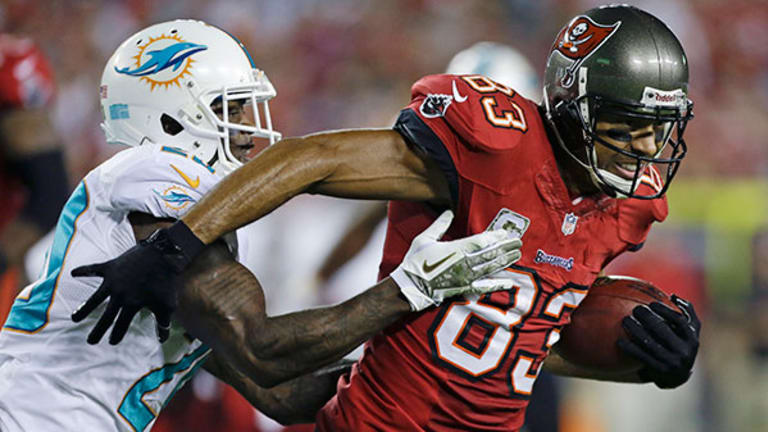 Publish date:
NFL Blackout Backlash Deserves Thanks
The National Football League's teams have aired all their games in home markets so far this season. As a result, the blackout rule itself may fade to black.
The National Football League's teams have aired all their games in home markets so far this season. As a result, the blackout rule itself may fade to black.
PORTLAND, Ore. (TheStreet) -- We are nearly 13 weeks into the National Football League season and the league has managed to air every game in its home market. One would think that would be a regular occurrence for a league with nearly $10 billion in revenue and an average ticket price of more than $80, but in the modern NFL it's a holiday miracle.
Last season, the NFL had taken 12 games off the air in their home markets by Week 13 with the help of its blackout rule. The simple rule of thumb was that if a team didn't sell out a game 72 hours before kickoff, that game had to go off the air on any station broadcasting from within a 75-mile radius of the home team's stadium. That rule's origins date back to the Sports Broadcasting Act of 1961 that helped establish the league's antitrust exemption, but the NFL hasn't had a blackout-free year since tweaking that rule in 1972 to add the "72 hours before kickoff" stipulation.
That's roughly 40 seasons in which fans of at least one NFL franchise -- but usually more -- have been unable to watch at least a portion of their home team's season despite funneling tax dollars to almost every NFL stadium built during that span. With every game televised so far this season, however, the NFL's owners are doing what fan groups and elected representatives couldn't. They're undermining the rule they've long considered vital to maintaining their stadium attendance and keeping those seats nice and full for all the TV cameras.
So why the sudden change of heart? Credit a multi-fronted assault on blackouts that NFL owners seem to realize they can't win. Earlier this year, Arizona's Republican Senator and former presidential nominee John McCain
that would prevent the NFL from blacking out home games played in stadiums built with public money. A full 30 of the NFL's 31 stadiums have had a portion of their costs paid for with tax dollars.
It cost an average of $525 million to cover each of 20 NFL stadiums built since 1997, according to
a Minnesota study
looking into the likely costs of a new stadium for the Vikings. says that 56% of those stadium costs -- or roughly $238 million per stadium were paid for with public funds. That's nearly $4.8 billion in tax dollars spent on NFL stadiums alone, but economists estimate that continued costs including maintenance, infrastructure and renovations dip into more tax money and force the public to pay upward of
.
That's somewhat troubling when the NFL earns money from images broadcast from those facilities whether or not the taxpayers who shelled out for them are blacked out.
Fox
>
(FOXA) - Get Report
,
CBS
(CBS) - Get Report
and
Comcast's
(CMCSA) - Get Report
NBC agreed to pay the NFL $28 billion for broadcast rights through 2022.
Walt Disney's
(DIS) - Get Report
ESPN has a separate $1.9 billion annual deal for Monday night football, while
DirecTV
(DTV)
has a $1 billion per season agreement for the NFL Sunday Ticket package that is set to become even more lucrative once the current contract expires in 2015.
NFL games accounted for 31 out of 32 of the most-watched TV broadcasts last fall and more than doubled the prime-time viewership of Fox, ABC, CBS and NBC. Roughly $4.5 billion of the league's $9.5 billion in revenue from 2013 came from television, and that number is only going up in 2013. This season, through mid-November, the league had 20 games top 20 million viewers. NFL games ranked as the Top 20 most-watched shows since Labor Day, up from the Top 16 at the same time last season. Its
on the NFL Network expanded to 13 games in 2012 -- not including Thanksgiving games - and is expected to help the channel bring in $1.1 billion for the league in 2013, up 56% from the season before.
That free flow of money in a sputtering economy has drawn the league even more unwanted scrutiny from Washington and from taxpayers themselves. Republican Sen. Tom Coburn of Okla. pointed out that the NFL exists as a tax-exempt organization under Section 501(c) of the Internal Revenue Code and is trying to strip that exemption and tax league revenue that nearly $10 billion in revenue. That exemption makes it possible to take a look at commissioner Roger Goodell's
, but also makes it very clear just how difficult it is to keep tabs on the cash coming into the league and how it is being disbursed to teams. Coburn estimates that the government could take in $91 million annually from all sports that are currently tax-exempt.
When you're a league that's played three "home" games in London this year, has another coming up in Toronto and is hoping to keep a cozy relationship with the lawmakers in Washington who oversee its antitrust exemption, it doesn't hurt to throw some concessions to their constituents. When you want those same constituents' tax dollars, a bevy of local television blackouts doesn't exactly help the cause, either. It was only last year, however, that blame for those blackouts
began shifting from "the league" to the owners that NFL shield represents
.
In 2012, the NFL allowed teams the option of calling games "sellouts" at 85% capacity and keeping them on local television. The Minnesota Vikings, Oakland Raiders, Miami Dolphins and Tampa Bay Buccaneers -- who blacked out 25 of 29 home games between 2010 and 2012 even under the new rule -- all opted to lower the bar. The rule change didn't prevent teams from blacking out 15 games combined in 2012, down from 16 in 2011 and 26 in 2010, but it did seem to spark a change of heart among those occupying the league's front offices.
The Glazer family of owners in Tampa, where taxes paid for 100% of the $194 million cost of building the Tampa Bay Buccaneers' Raymond James Stadium in 1998, vowed that
all remaining Buccaneers home games will be televised this season
after the team blacked out 25 of 29 home games from 2010 through 2012. The owners received help from a corporate sponsor and used a league loophole that allows them to buy back tickets for a third of their face value and distribute them to charitable organizations.
It's a strategy that's been used before by the Carolina Panthers, Miami Dolphins, Jacksonville Jaguars and their sponsors and is already gaining momentum this year. The Dolphins have been
over the last couple of years as season ticket purchases have dwindled from more than 61,000 in 2006 to little more than 40,000 last year. Ownership is looking for $350 million in stadium renovations and seems aware that keeping the Dolphins off television isn't a great way to get them.
In San Diego, where the Spanos family that owns the Chargers is openly courting other cities as the city patently refuses to build the team a new stadium on its terms, local sponsors and
ESPN
itself had to pitch in to keep the Chargers'
Monday Night Football
matchup with the Indianapolis Colts on the air earlier this year. The Chargers were on the brink of becoming the first team in more than a decade to have a Monday night game blacked out, but had four home games blacked out last year and only avoided a fifth after a similar arrangement was made to keep a game against the Kansas City Chiefs on the NFL Network.
In Buffalo, where television blackouts usually don't occur until the miserable, wintry end of the season, ownership stepped in and bought up remaining tickets to keep a home game against the Cincinnati Bengals on air. It was a favorable turn for Bills owners, who celebrated a $226 million deal made last year to upgrade Ralph Wilson Stadium by blacking out the final home game of the 2012 season.
There's been a sudden surge in accountability throughout the league's hierarchy, and it's because the pincers are closing. After seeking
public comment on NFL blackouts
early last year, the
Federal Communications Commission
issued a proposal earlier this month that would eliminate the agency's rule requiring sporting events to be blacked out on cable and satellite television under certain conditions. The rule
and only covers a small percentage of sports blackouts, but the FCC proposal to shift the onus of blacking out games onto the networks through private deals with the NFL is enough to make the league and its television partners a little jittery.
It may be part of the reason teams have been so loathe to take games off television this year, but any justification they choose just weakens the argument that blackouts are a necessary tool for NFL franchises to use when attendance flags. The average NFL ticket price has increased by nearly $20 to $81 since 2006, while the U.S. economy started slumping during that same span. By keeping games on air through various means this year, NFL make the blackout rule seem not only arbitrary, but punitive in its application.
Without blacking out a single game, the league has managed to increase its audience, increase revenue and increase the reach of its brand. Fans already openly skeptical of the league's blackout rule will be even more difficult to persuade if teams black out more games in the future. Teams, meanwhile, continue to learn that fans are far more generous when you offer them a product of value than when you limit the value of that product.
There will be football on in every town hosting a game this Thanksgiving weekend, and that's something every NFL fan and taxpayer in an NFL town should be thankful for.
-- Written by Jason Notte in Portland, Ore.
>To contact the writer of this article, click here:
Jason Notte
.
>To follow the writer on Twitter, go to
.
>To submit a news tip, send an email to:
.
RELATED STORIES:
>>Why The NFL Deserves A Thanksgiving Scolding
>>Is It Time For The NFL To End Thursday Night Football
>>What The NFL Owes Taxpaying Fans
Jason Notte is a reporter for TheStreet. His writing has appeared in The New York Times, The Huffington Post, Esquire.com, Time Out New York, the Boston Herald, the Boston Phoenix, the Metro newspaper and the Colorado Springs Independent. He previously served as the political and global affairs editor for Metro U.S., layout editor for Boston Now, assistant news editor for the Herald News of West Paterson, N.J., editor of Go Out! Magazine in Hoboken, N.J., and copy editor and lifestyle editor at the Jersey Journal in Jersey City, N.J.