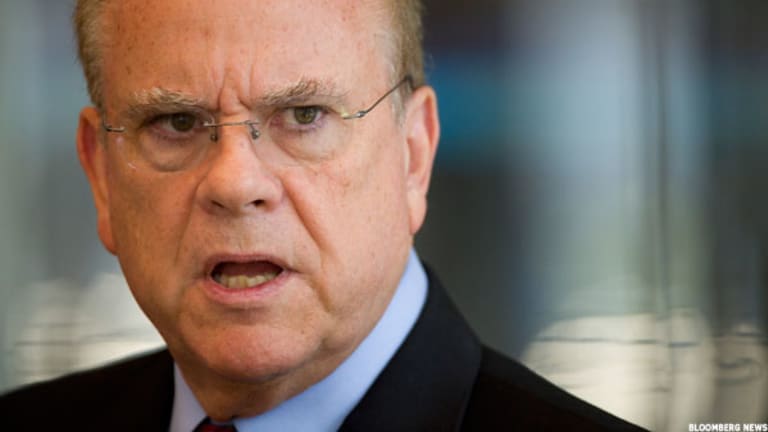 Story updated to clarify in the 10th paragraph that the New York State Comptroller is reviewing firearm-related investments and is not currently enforcing a prohibition.
NEW YORK (
) -- Wall Street can take a leading role in increasing support for stricter gun control and an assault-weapon ban, in the wake of a mass shooting at a Connecticut elementary school on Friday that
26 people, including 20 schoolchildren.
As political support grows for gun reform, signs indicate that Wall Street may already be in the process of a watershed change when it comes to the manufacture of high-powered firearms that often are at the center of rampage killings.
On Tuesday, private equity giant
Cerberus Capital Management
said
it would divest its controlling stake in the largest U.S. gun manufacturer and the maker of the
Bushmaster
assault rifle that authorities say 20-year-old Adam Lanza
used
in the Newtown, Conn., shooting.
While Cerberus said the decision to divest the holding -- a 95% stake in gun and ammunition manufacturer
Freedom Group
-- was outside of a policy debate on gun control or the Second Amendment, Wall Street investors are using the tragedy as a turning point in making investments that center on social issues such as gun control.
In the wake of the massacre, California Treasurer Bill Lockyer asked the state's pension funds -- the California Public Employees' Retirement System (CalPERS) and the California State Teachers' Retirement System (CalSTRS) -- to dispose of investments in manufacturers of guns deemed illegal in the state. The call included both pensions' investment in three Cerberus-run funds that owned stakes in Freedom Group, and caused Lockyer to publicly question whether California would continue to invest in the private equity firm.
Even if Cerberus isn't participating in a policy debate by divesting its Freedom Group holdings, California's Lockyer is.
"These guns are illegal in our state and we shouldn't be investing in those kinds of firms," Lockyer said in a late-Tuesday interview with
TheStreet
, of assault rifles such as the ones manufactured by Freedom Group and used in Friday's shooting.
Lockyer also said he expects the pension funds of other states to conduct a similar review. "I would expect that to happen in maybe half of the states," says Lockyer, pointing to New York, Connecticut, Illinois and North Carolina, among others.
With hundreds of billions in pension assets under management, CalPERS, CalSTRS and similar funds in other states are key players on Wall Street. Their investments in private equity firms was crucial to the growth of industry titans such as Cerberus and publicly traded competitors
The Carlyle Group
(CG) - Get Carlyle Group L.P. Report
,
The Blackstone Group
(BX) - Get Blackstone Group Inc. Class A Report
and
KKR
(KKR) - Get KKR & Co. Inc. Class A Report
. If a pension investor decides a type of company is outside the bounds of what it can invest in, the decision ripples across the private equity and investing world.
Such was the case on Tuesday as Lockyer of California and New York State Comptroller Thomas DiNapoli said investments in certain gun manufacturers will be "reviewed."
On Tuesday, shares of gun makers
Sturm, Ruger
(RGR) - Get Sturm, Ruger & Company, Inc. Report
and
Smith & Wesson
(SWHC)
fell sharply
in the wake of California's statements and Cerberus's decision.
Dick's Sporting Goods
(DKS) - Get Dick's Sporting Goods, Inc. Report
halted the sale of rifles and
Wal-Mart
(WMT) - Get Walmart Inc. Report
removed the Bushmaster Patrolman's Carbine M4A3 Rifle that Lanza is alleged to have used from its online retail website.
Tuesday's stand may be just the beginning in a purging of gun-related investments by Wall Street's largest investors, which could move faster than any prospective federal ban on assault weapons or prohibition on cartridge sizes. Already a precedent exists.
CalPERS and CalSTRS were early movers in banning limited partner and stock investments in corporations that did business in South Africa during the apartheid era, and more recently, in tobacco related businesses, according to Bruce G. Willison, a Professor of Management and former Dean of the UCLA Anderson School of Management.
CalSTRS spokesperson Ricardo Duran said in a late Tuesday interview that the fund has weighed social-action based investments since the late 1970's. Economic pressures exerted by U.S. investors and corporations were one of the factors that precipitated the end of apartheid, noted former South African president F.W. de Klerk.
In the 2000s, CalSTRS and CalPERS decided to divest of assets in the tobacco industry, according to revised investment principles. Moves such as a divestiture of tobacco stocks or the prospective disposal of firearm assets -- CalSTRS board will meet in early January to vote on Treasurer Lockyer's recommendation -- don't come lightly, according to Duran.
"There was a great deal of discussion if this was the fiduciary thing to do," Duran said of the decision to divest tobacco assets. As part of that decision, both California pension funds coined a "double bottom line" investing style at the behest of Treasurer Phil Angelides, which weighed investment returns along with social policy.
In 2008, CalSTRS developed a set of 21 risk factors to consider in investments that included corruption, a country's adherence to human rights policies and human well being. It's now a "triple bottom line," which includes the human well-being check that Duran says would be the key to any firearm divestitures.
"We have been able to maintain that balancing act of fiduciary responsibility to our members to what is socially responsible," says Duran. "I think it is a point of pride."
Still, any prospective retreat from investments in manufacturers of assault rifles won't come lightly. Treasurer Lockyer says he expects dissent among some board members of CalPERS and CalSTRS. As California attorney general, Lockyer reinstituted an assault-weapons ban, enforced NRA-supported gun confiscations from felons and fined Wal-Mart for violating the state's gun laws. Still, Lockyer says he'd likely support overall Second Amendment rights and any related investment policy.
Lockyer wasn't able to say how far the state may eventually go, when pressed on whether it could dispose of all firearm assets or national retailers of firearms -- such as
Cabela's
(CAB)
-- that don't just abide by California state law.
CalPERS and CalSTRS are both small investors in Smith & Wesson, Sturm, Ruger, Cabela's, Dick's Sporting Goods and they are large holders of Wal-Mart shares, according to
Securities and Exchange Commission
filings compiled by
Bloomberg
, as of Sept. 30.
Both Lockyer and Duran of CalSTRS highlighted the challenge of locating investments in companies or industries prohibited by California investment policies, pointing to private equity assets such as the Freedom Group position taken by Cerberus as particularly hard to locate.
Maintaining compliance with existing bans also appears to be a challenge. According to
Bloomberg
data, CalPERS is currently an investor in the nation's four largest tobacco companies,
Philip Morris
(PM) - Get Philip Morris International Inc. Report
,
Altria
(MO) - Get Altria Group Inc Report
,
Lorillard
(LO)
and
Reynolds American
(RAI)
. While the fund's combined stake is a negligible $5.65 million compared with $54 billion in common stock holdings as of Sept. 30, the fund's total tobacco stake was nearly fourfold as of its March 31 filing.
Pension investors may be just one set of Wall Street-tied movers in the firearm debate spawned by Friday's shooting. Decisions by Wal-Mart and Dick's Sporting Goods signal that corporations may follow suit, and it's to be seen how far support extends for a strengthened gun policy.
On Tuesday, the
National Rifle Association
said it would make "meaningful contributions to help make sure this never happens again," in reference to unspecified policy change in the wake of the shooting.
Sen. Dianne Feinstein (D-Calif.) said on Tuesday she would work to revive an assault-weapons ban in the 2013 congressional session.
After his widely praised memorial speech on Sunday, President Barack Obama has appointed Vice President Joseph Biden to lead policy efforts to curb gun violence.
Follow @agara2004
-- Written by Antoine Gara in New York