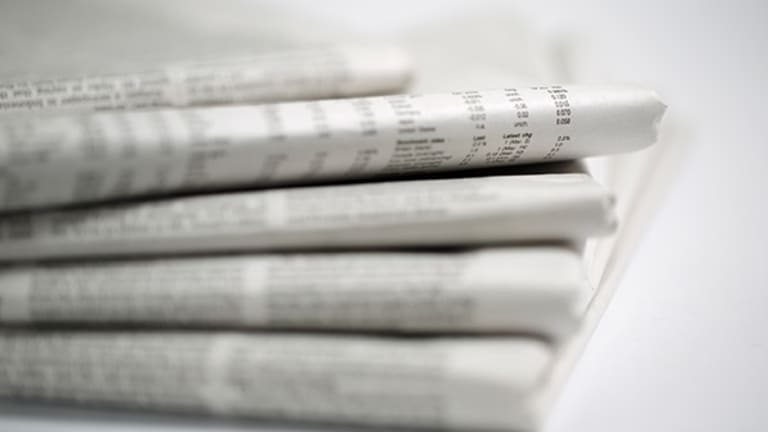 Newspapers to LexisNexis: Time to Pay Up
Big news publishers say the burgeoning business of 'media monitoring' generates billions off their content -- and they want a cut.
Six major U.S. newspaper companies have demanded that LexisNexis, a major aggregator and distributor of news content, stop business practices that the publishers have deemed inconsistent with contractual agreements and that allegedly infringe on their copyrights and damage the companies.
"We demand that you cease these practices immediately," wrote Advance Publications Inc., BH Media Group, Cox Media Group Inc., McClatchy Co. (MNI) - Get McClatchy Company Class A Report and Tronc Inc. (TRNC) in the demand letter to LexisNexis Group on July 17. (Philadelphia Media Network LLC, publisher of the Philadelphia Inquirer and Philadelphia Daily News, joined in the complaint after the initial letter was sent.)
At issue is LexisNexis' provision of news content to media monitoring organizations, a sector of the business intelligence industry that may be as large as a $3 billion annual industry.
"When LexisNexis distributes our content to customers, such as for-profit, media intelligence firms, that would otherwise license that content directly from us, LexisNexis deprives our companies of essential licensing revenue that cannot be recaptured," the newspaper companies wrote. "In appropriating our licensing operations for itself, LexisNexis unjustly enriches itself by monetizing content from publishers for which it has not paid. These actions may also constitute other violations of federal and state law."
LexisNexis declined comment on the letter, but sources said the publishers can expect an initial reply within the week addressing the claims.  
Though the publishers themselves did not want to address the letter publicly, it's clear, according to several industry sources, that the News Media Alliance, a newspaper industry trade group, coordinated the action. This move follows closely on NMA's push to get Congress to give it "safe harbor" so it can collectively negotiate with digital industry behemoths Alphabet Inc. (GOOGL) - Get Alphabet Inc. Class A Report and Facebook Inc. (FB) - Get Meta Platforms Inc. Class A Report . As such, it represents an industrywide effort to legally assert intellectual property and copyright concerns about the wider use of newspaper company-originated content in the digital age.
LexisNexis is a big player in the industry, a major division of global giant RELX Group plc, long known as Reed-Elsevier, which encompasses legal, scientific-medical, risk and business analytics and events businesses. LexisNexis is the only company to so far receive the demand letter. More than 50 companies, though, have recently received an NMA-supported letter expressing similar legal and business concerns. It was such a query to LexisNexis -- one that returned insufficient response, news company sources said -- that preceded the July demand letter.
While the effort isn't a new one -- having been worked episodically for more than a decade, without much success -- it marks the industry's latest effort to find new revenue as print advertising revenue continue a deep decline and job eliminations, though little announced, continue to pervade the industry.
The demands themselves may seem arcane to those not versed in the sometimes darker arts of "scraping" news content and in the burgeoning business of "current awareness."
Media monitoring is as old as print. Until early this century, highly experienced copy clippers (and yes, wearing green eyeshades, as I witnessed in 2001) painstakingly took their scissors to physical (!) newspapers and magazines. They clipped brand and company mentions, assembled the clips into packets. The packets were then snail-mailed to public relations operations, internal and external to companies.
The internet, of course, changed that practice. Digital made keyword searching, electronic clipping and speed-of-light delivery of mentions to customers all possible. Further, media monitors now up their value propositions by offering product upgrades that build on data mining and business analytics lines.
Alphabet and Facebook are holdings in Jim Cramer's Action Alerts PLUS Charitable Trust Portfolio. Want to be alerted before Cramer and the AAP team buy or sell GOOGL or FB? Learn more now.
More of What's Trending on TheStreet:
The print-to-digital revolution also meant that media monitors no longer needed to purchase actual print -- which they had long done. They could "scan" digital news, assembling in minutes what had taken months. And they could charge more for the service and find lots more customers.
Within the demand letter, the publishers once again confronted that practice, focusing on two issues:
The publishers asserted LexisNexis "downloading of our content from our sites for commercial purposes without our authorization" both constitutes "a breach of this contract" and violates the Copyright Act.
The companies said LexisNexis redistributes their "content on a wholesale basis to media monitoring organizations and [authorizes] those MMOs to sublicense our content to scores of their own corporate and government clients for commercial purposes." Such redistribution -- without adequate compensation, the publishers said -- violates their own contracts with LexisNexis.
It is those long-standing publisher/LexisNexis agreements that surface the wrinkle here.
Daily publishers have taken in tens of millions of dollars in "royalties" from LexisNexis over the past four decades.
Since the '70s, companies such as LexisNexis and Thomson Reuters Corp. (TRI) - Get Thomson Reuters Corporation Report , among another half-dozen significant players, have licensed the "full-text" news content published daily.
Those companies built early digital databases and in their offerings of aggregated content from hundreds of titles could extract significant fees from corporations, public and academic libraries and schools, from K-12 through top research universities.
In turn, LexisNexis and the other aggregators then have paid publishers a portion of that income flow in royalties.
While that old business is still a good one, it's a mature one for the aggregators. Google Search, and the open web in general, have -- slowly -- eaten into their business. (Just this week, similar pressures heightened in the STEM world, as scientific paper aggregator Sci-Hub has assumed significant penetration into the market. LexisNexis parent RELX has invested in the sciences, too, buying journal monitor Newsflo two years ago).
As the old business has matured, it's become clearer that the current awareness market continues to grow, at what analysts say is about a 5% annual rate.
Call it "media monitoring" or "media measurement," it's the business of staying on top of the news. Companies of every kind, big nonprofit organizations, government bureaus and politicians now believe they must know -- and better understand -- what's being said about themselves and their products and services. And they want to know instantaneously and are willing to pay for that ability.
That's one reason LexisNexis acquired media monitor Moreover Technologies in 2014 and built its Metabase media monitoring and analytics product atop it. Metabase is part of RELX's risk and business analytics business sector that led its four divisions in revenue growth for the first half of the year. In results released last week, that group showed both 8% revenue and profit growth year over year.
That Metabase business figures prominently in the newspapers' demand letter.
And that's where the meeting of the old archival database business and the new media monitoring business gets fuzzy. Publishers, privately, said they're not sure where one ends and the other begins. How much do media monitors just scan the open web and how much do they use those full-text feeds that publishers provide to aggregators? Publishers said they don't know and that efforts to understand that question have been inadequately answered. Clarifying that fuzziness, one highly experienced news aggregator agreed, is "the million-dollar question."
Watch More with TheStreet:
What publishers do believe: They're getting shortchanged, and reporting on the use of their content is at best partial.
As with the News Media Alliance effort to gain a safe harbor, it's easy to be jaundiced about this new effort to claim a share of newer digitally driven revenue. That's because that while this demand is new, this is a war that has long been fought.
In 2008, the Associated Press settled a suit against media monitoring company Meltwater. Since then, publishers have skirmished with players in that field. Copyright Clearance Center Inc. has made several forays to move beyond its older if-you-want-to-photocopy-an-article, you-need-a-license legacy business line.
In 2012, dailies themselves established NewsRight LLC as a further effort to gain monetarily from wider content distribution, including media monitoring. Amid muddled strategy and technology woes, NewsRight never found its footing and closed up shop in 2013. Then an industry-supported Copyright Compliance Group made new efforts, but those fizzled. More recently, news publishers concluded negotiations with LexisNexis over these issues as 2016 ended -- without resolution -- which led to the current letter.
Clearly, the letter displays a hardening of positions, intended to push toward better-negotiated revenue shares, first through LexisNexis and then more widely in the growing industry. It could, however, lead to lawsuits as well. Such suits would once again raise the question of fair use in the digital age, a concept perfect for the print age that's never been well sorted out in modern times.
In fact, language here drives -- or doesn't -- millions of dollars.
"A lot of legacy agreements are all based on viewing the content," Dan Schaible said. Schaible, a longtime newspaper executive who's been in and around the media monitoring space for a decade, is chief operating officer of License League Inc., which represents 103 publishers (which, in turn, own 2,800 titles).
Schaible made the point that viewing -- or reading -- of individual articles is not the way of the way of the world today.
"The world we operate in [uses] artificial intelligence and self-learning algorithms," he said. "People want curated information. They don't want to read through articles. They want somebody to tell them the information that they need to know to do their job.
"What ends up happening is you have all of this content [that is] turned into a database. ... Really, really clever significant algorithms ... go into the content, do entity extraction [pulling out names and places] and do sentiment analysis. [The media monitors] look at the audience for that content, and they come up with reports. ... The content is never looked at, but the content is critical to the use."
As they legally parse wording, publishers, and their agents, work the marketplace. They make the case to media monitors like Cision Ltd. (CLAC) that licensing their content directly is the fairest -- and most legal -- way to proceed.
Cision, which leads the media monitoring industry with about 20% market share, just completed a $2.4 billion IPO. It is among the companies that contracts with LexisNexis.
The news industry's pitch to the Cisions: "This is a fee you need to pay to be compliant, and we suggest you tack it on to your pricing [to your clients]," Schaible said.
License League -- the would-be licensing superhero to the industry -- is finding it slow going so far.
"I've spent the last six or seven years trying to organize publishers, particularly in the U.S., to stand up for their intellectual property rights," Schaible said. "Lately, I have been going to a lot of media monitoring companies and media measurement companies, you know, the Ketchums and the Booz Allen Hamiltons and the Edelmans and the Burson-Marstellers. They're all playing in the same marketplace. They're the media measurement folks that use content."
So, for now, consider that the newspaper industry has opened up a new two-front war to recapture news value.
Look at it as an inside/outside game, stretching from Google to Reed Elsevier, from the halls of Congress to the offices of aggregator executives.
As Schaible said, "You have what's going on inside the beltway, which sets up the legal framework, and then you have the practical application of what goes on outside the beltway."
Out of it all, this ironic question hangs in the air: As the number of daily newspaper journalists has been more than halved in 20 years, and continues to dwindle, how much news content will the media monitoring industry have to monitor in the years to come?
More of What's Trending on TheStreet: