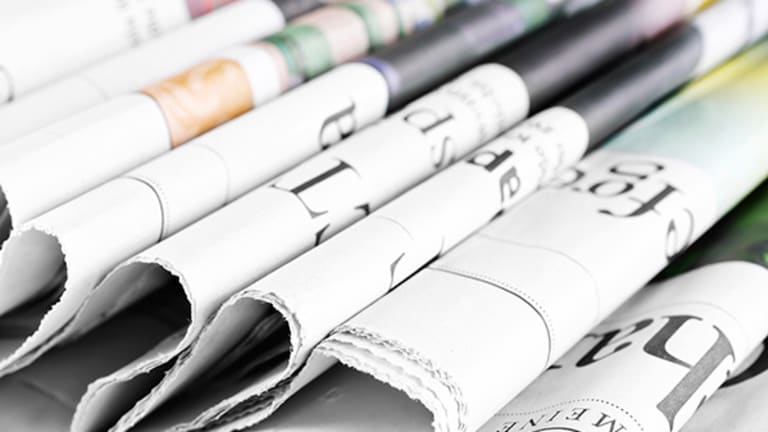 Newspapers May Have Turned a Corner but Ad Growth Still Slow
Newspaper companies may have bottomed out, according to a media business analyst.
The newspaper business is not all doom and gloom.
At first glance, this earnings season appeared predictably tough for big name papers. Disappointing earnings from Gannett  (GCI) - Get Report and New York Times (NYT) - Get Report  fit a familiar narrative: print advertising revenue is declining quickly and digital advertising, including native and programmatic efforts, has not yet taken a strong enough footing to make up for those losses. 
Despite making a series of acquisitions this year, Gannett was pummeled on Wednesday after reporting that advertising revenue was down roughly 10% year-to-year on a same-property basis and circulation revenue was off around 4% with print circulation volume was off roughly 9% daily. The parent company of USA today and over 100 other national newspapers 9.5% for the day.
Reprieve for newspaper shareholders did not come on Thursday, The Times reported that digital ad revenue, which accounts for about a third of total ad revenue, dropped 6.8 % in the April to June period, down for the second straight quarter. Print advertising revenue dropped 14.1%, the eighth straight quarterly decline.
However, there is reason to believe that newspapers' worst days are behind them, according to Rick Edmonds, media business analyst at the Poynter Institute.
"There were times with the stocks when the price reflected the fear that they were in such bad case that they were going to go bankrupt," he said. "I don't think that's the case anymore."
For the New York Times, that time came in February of 2009, when the stock bottomed out at a low of $3.99. The New York Times company has since climbed up 212%, currently trading at $12.66.
"These stocks are marked way, way down," Edmonds said. "The basically negative trend in the industry has been discounted."
Digital subscriptions are also on the rise at both The Times and Gannett. The Times added 51,000 digital customers in the second quarter, beating its own target and keeping it on track to reach its goal of having 1.5 million subscribers at years end. At Gannett, digital-only subscriptions rose 40%.
For years, media companies like the Times and Gannett have been building up digital advertising platforms to drive revenue as print revenue wanes. Gannett most recently acquired digital marketing company, ReachLocal, in June, a company that provides online marketing solutions for small and medium-sized businesses. ReachLocal currently has more than 16,000 customers across the globe and will increase Gannett's digital revenue by $320 million, or about 50%.
For Gannett, the name of the growth-game is acquisitions. In the past year, Gannett has acquired Journal Media Group and North Jersey Media Group. Gannett and The Times have been able to monetize their expansion. Circulation is fairly healthy even as papers have raised their prices substantially, a remarkable combination, Edmonds noted. The Times said circulation revenue increased about 3% to $219 million. Circulation revenue at Gannett rose 8.2% to $287.6 million.
The increase comes as prices of newspapers have never been higher: The Times Sunday paper costs $6 across the country, double what it cost 15 years ago. The LA Times and Gannett have also increased prices in the past two years.
However, those who have read the papers daily 20 years ago still continue to do so today at least at the Times. In 1995, the Times' daily circulation was about 1.5 million. In 2015, it had 625,000 daily print readers paying for the paper and an additional 1 million digital payers, totaling 1.6 million.
"The core really committed readers left are willing to pay more than what has been traditionally asked," Edmonds said.
The last thing that newspapers have gotten very good at is cutting operating expenses, Edmonds said. The Times was the latest one to make the transition, shuttering its Paris office in the spring and laying off 70 journalists. The company was also recently offering buyouts to its reporters and told its investors that severance in part accounted for its recent quarterly loss.
Despite experimentation with native advertising and programmatic advertising, the newspaper companies bottom line will be affected by their ability to drive advertising revenue to remain attractive to investors.
"The digital transition is well underway," Edmonds said. " But I don't think the industry has any particular illusions that the good old days are coming back."