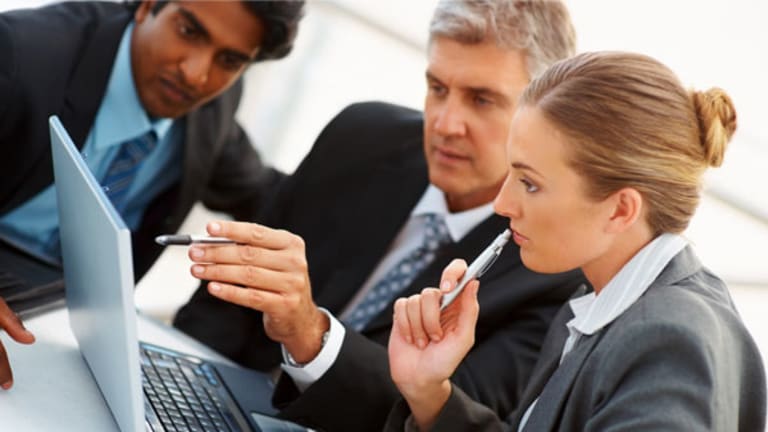 New York Times Snagged in Digital Divide
New York Times digital ad sales fell in the first quarter, a sign traditional media continues to struggle against Google, Yahoo, et al.
NEW YORK (
) -- The rich are getting richer, and that extends to digital advertising.
Among the many losers are print newspapers, magazines and even television broadcasters, desperate to get more of their revenue from digital ad sales. The winners are well known:
Google
(GOOG)
,
Yahoo!
(YHOO)
,
Microsoft
(MSFT)
,
Facebook
(FB)
and
AOL
(AOL)
account for 65% of all digital advertising, says Ken Doctor, a media analyst at Outsell and Newsonomics who crunched that number using data from the Interactive Advertising Bureau and eMarketer.
Considering the slew of competing online entertainment and news sites, that's a huge number indeed.
First three months of 2013, digital advertising sales at the
New York Times Co.
(NYT)
fell 4%. Total advertising at the news company dropped 11% to $191.2 million. That's an ominous sign for a company that's been among the most innovative in convincing readers to pay for content. It's especially concerning given that the Times made great progress in 2012 by posting a 1.9% revenue growth, the company's first sales uptick since 2006.
Also see: Gentry: Microsoft's Leadership Problem >>
Newspaper companies are keen to replace declining advertising sales with circulation growth, i.e., online subscriber sales. Last year, the Times did just that: subscriber sales surged 10% helping to offset a 6% drop in advertising sales. For the first quarter, circulation sales rose 6.5% but not enough to offset declines in advertising.
"Even though the circulation push has been a big success, this was a major setback," Doctor said. "This widespread advertising decline is making that strategy insufficient to find growth."
The New York Times along with magazines and TV broadcasters, are caught in two painful trends. One is that advertising money continues to go to digital from print, and an increasingly larger percentage of that digital ad money is still going to Google, Yahoo, Microsoft, Facebook and AOL.
Doctor calculates that the Big Five are capturing an additional 1% to 2% more of the digital advertising pie each year. (Google accounts for about 41% of all digital advertising alone.) That's a disturbing trend even as digital ad sales nationally are growing at about 15% per year.
"The Times last quarter lost market share of digital advertising," Doctor said in a phone interview yesterday from Santa Cruz, Calif. pointing to the company's 4% decline in digital ad sales. "Newspapers and all traditional media, are getting a smaller segment of digital, which is the one area experiencing the fastest growth."
Also see: Cramer: Wouldn't Bet on These Nincompoops >>
The Times isn't alone in struggling to corral more digital advertising. Yet for newspapers that trend is especially concerning given that its former cash cow, classifieds, have long since scattered to Internet sites far and wide.
Everyone wants a piece of digital ad sales, and that's because that's where the eyeballs are going, or at least those in the 18- to 49-year-old set.
Sam Decker, who runs Mass Relevance, an Austin, Texas-based digital advertising agency that focuses on the benefits of social media, says traditional newspaper, magazine and TV broadcasters are in the midst of an historic transition that is sure to have its fits and starts as well as winners and losers. The Big Five retain the bulk of the share, Decker said, largely because they were the first to do it.
"There's this migration from print to digital and TV to digital in which these companies are learning how to present themselves to be considered by digital ad buyers," Decker said. "But ads presented by Google or Facebook often use a very standard execution. Publishers have a great opportunity to present their news and content in ways that offer very unique experiences."
Also see: Google Predicts the Next Stock Market Crash--And Bull Market >>
The Times' report isn't all doom and gloom. The newspaper company continues to gain more online subscribers, and plans to offer lower-priced Web site packages to readers who don't want access beyond the core daily news.
Additionally, the Times aims to increase its global reach by re-branding the
International Herald Tribune
as the
International New York Times
, and to further emphasize its videos. Indeed, video advertising has been a success, and for that reason, the newspaper has taken down its paywall for video.
"This was just one quarter, so nothing is definitive," doctor said. "But the trend is clear, and it's one-way, though the depth of that trend is unclear."
New York Times shares fell 5.6% on Friday to close at $8.92.
-- Written by Leon Lazaroff in New York