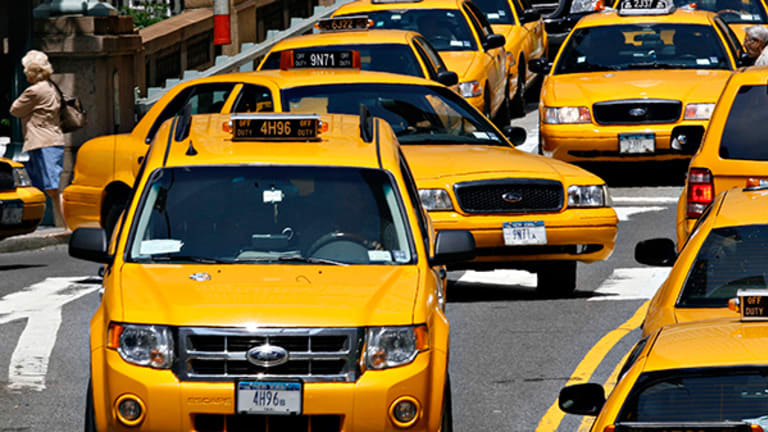 New York City Taxi Revenue Declines Accelerate in Last Four Months
The latest data reveals NYC taxi medallion revenues declining at the fastest rate since Uber arrived, significantly reducing owner income.
The picture is getting bleaker for taxi medallion owners in New York City, according to new data from the New York Taxi and Limousine Commission. 
After a three-month delay in the release of New York City taxi trip and revenue information (owing to implementation of a new data collection system), data has finally been obtained from the TLC for the July-to-October period, via a freedom of information law (FOIL) request. Things have gotten much worse in recent months. If the percentage change in revenue versus the prior year of every month since 2009 were ranked from best to worst, the last four months (July through October) would rank as the four worst in the entire series.
The average month in 2014 showed a minus 4.9% decline. The average got worse in the first half of 2015 at minus 5.6%, but has significantly accelerated in the second half through October, averaging minus 11.1%. Trips averaged a decline rate of minus 13.4% for the four months ending in October.
Calculating the five-month moving average for trips and farebox smooths the high seasonal volatility observed month-to-month in NYC, but also understates the magnitude of decline at the end of the period when the trend is steadily downward during the observation period, as it has been since mid-2013. On the basis of the five-month moving averages, trips and meter revenue (farebox including credit card and TLC-estimate cash tips) are down by 24.9% and 18.4% from the post-2012-fare-increase peak, respectively (see charts below).
NYC Yellowcab Five-Month Moving Average Trips Oer Day -- Peak to Present

Source: TLC.
NYC Yellowcab Five-Month Moving Average Farebox (Meter Revenue) Per Day -- Peak to Present

Source: TLC (includes credit card and TLC-estimated cash tips).
The 18.4% gross revenue decline observed for New York City for independent taxi medallion owner-operators since June 2013 translates into a roughly 20% drop in annualized, pre-tax, un-levered cash earnings (see table below). Accounting for debt service using average medallion prices from 2013 to 2015 and typical lending terms suggests a 33% cash earnings decline, and if a full-time second driver has been lost, the cash earnings decline approaches 70%.
It should be noted that lenders are working hard to provide relief to taxi medallion borrowers, including reduction in interest rates and monthly payments. The stress on New York City taxi medallion owners is rising faster than at any time during the Uber era.
Owner/Operator (Independent Medallion Owner) Earnings Erosion
This article is commentary by an independent contributor. At the time of publication, the author held no positions in the stocks mentioned but is short TAXI, a taxi medallion lending company.