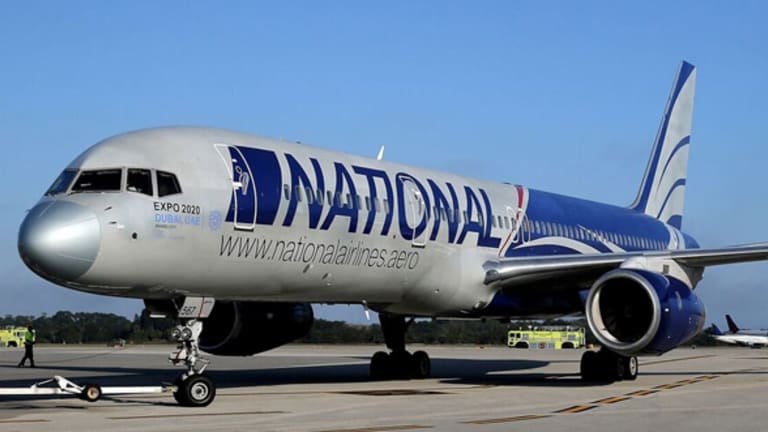 New National Airlines Eyes Used Boeing 777s, U.K. Route, More Cities
For the fourth time in aviation history, a carrier called National Airlines is flying scheduled passenger service. No. 4 is based in Orlando and has two Boeing 757s.
For the fourth time in aviation history, a carrier called National Airlines is flying scheduled passenger service. No. 4 is based in Orlando and has two Boeing 757s.
National Airlines began flying its Boeing 757-200s from Sanford/Orlando International Airport to Puerto Rico on Wednesday and to Windsor, Canada, on Thursday,. That makes it sound at first a little bit like an Allegiant (ALGT) - Get Report clone focused on flying old aircraft on unserved routes a couple of days a week. But oh, the dreams this little airline has.
To name a few: Get some used Boeing (BA) - Get Report 777s -- Why not? They lease for a pittance -- and fly to the U.K. Get some Bombardier CS-100s, sign a partnership deal with one of the Gulf carriers and then deliver passengers to an international gateway airport.
And do what Allegiant does, flying point-to-point and serving airports, such as Sanford, that the big four airlines left behind. But don't do everything on the cheap. Pay your pilots well and put 184 seats in the 757s instead of the 215 seats Allegiant has in the same aircraft.
Even if none of this works, Orlando-based National would still be in business, because it is an established charter and cargo carrier with a $500 million, two-year military contract. The privately held company is owned by Boca Raton resident Christopher Alf. It does not disclose revenue.
National carries cargo with two Boeing 747 freighters and passengers with two 757s. It wants to diversify, said Ed Davidson, president and chief operating officer. He is a former Northwest pilot and executive who left in 2003 as director of flight safety and subsequently worked as an executive for carriers including Emirates, Mesaba and Porter Air.
"The government aviation side has been kind of spotty," Davidson said. In 2013, Congress cut spending due to sequestration and National suffered "considerable losses," he said. "We had to live on our bank account."
Besides, he said, "Now is the best time to get into the business" of commercial aviation, given low fuel costs, a long list of airports with little service and low costs for used aircraft.
Davidson has been following reports concerning the glut of used Boeing 777s and the low price for the aircraft. "I think you will see it fall farther," he said. "There are a number coming into the market from Singapore, Malaysia and now Emirates will park eight in the next four or five months. We are looking to lease in the second or third quarter of 2016."
He expects to lease a 777 for around $400,000 a month and to fly between unspecified airports in the Northeast U.S. and the United Kingdom.
On Thursday, at Delta (DAL) - Get Report investor day, CEO Richard Anderson "joked that he was wrong last month when he said that the market rate for used Boeing 777s is as low as $10 million," according to Delta's blog. 'It's $7.7 million," Anderson said. "We just signed a letter of intent (LOI) for one."

The name National Airlines has now been used four times in the airline industry.
The original National, based in Miami, was acquired by Pan Am in 1980. A second version, a subsidiary of Private Jet based in Atlanta, flew for just four months in 1996. A third version, based in Las Vegas, operated from 1999 to 2002: it too operated Boeing 757s.
The current National has a controversial history. In 2008, affiliate National Air Cargo was accused of falsely billing the U.S. Air Force for millions of dollars: Alf and the company were temporarily barred from doing business with the military. In a plea deal, National paid fines and restitutions of $28 million.
In 2014, the Federal Aviation Administration fined National Air Cargo $77,000 for failing to properly load heavy military equipment into a 747 freighter that crashed after takeoff from Bagram Airfield in Afghanistan. The company has appealed the fine. "We fully expect [it] will be withdrawn," Davidson said.
Also in 2014, National Air Cargo filed for bankruptcy in response to a court filing that claimed the carrier had breached a contract by failing to finance aircraft leases with the plaintiff.
Looking ahead, Davidson sees multiple opportunities on the passenger side, including operating the Bombardier C-100, partnering with a Middle East airline and seeking out underserved airports. But the most important opportunity may be the chance to take advantage of low fuel prices.
"We're betting on low fuel for the next five years," he said. "We have a cost structure 30% lower than legacy cost structure .. We're flying into markets where there is good passenger demand, [but] we're not trying to cut fares."
One place where National does not seek the lowest cost is in pilot pay. "Our pilot pay rates are competitive with the average of our peer group including Atlas Air, Kalitta Air, Air Transport International and Northern Air Cargo," Davidson said. As a result, despite a pilot shortage, only four of National's 63 pilots have left in the past year.
Twice-weekly service between Sanford and St. John's, Canada, is slated to begin Jan. 16, and Davidson said the carrier is also planning to fly between Sanford and Vancouver.
This article is commentary by an independent contributor. At the time of publication, the author held no positions in the stocks mentioned.