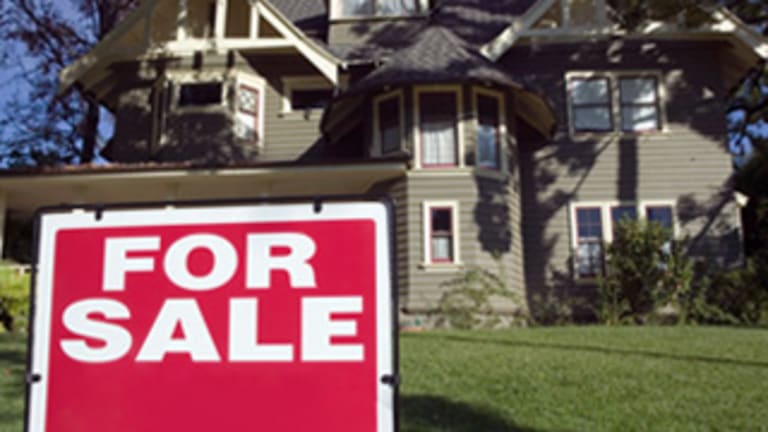 New Home Sales Number Is a Start -- but Not a Solution
April new home sales beat forecasts -- which is good enough to calm the market's worries, if not fix them.
April new home sales beat forecasts -- which is good enough to calm the market's worries, if not fix them.
NEW YORK (TheStreet) -- April's new home sales were better than the winter's, but probably not good enough to quickly calm the worries about the housing recovery -- expressed by everyone from bond market buyers to Federal Reserve Chair Janet Yellen.
The Census Bureau said single-family homes sold at an annual rate of 433,000 in April -- up 6.4% from the revised March pace of 407,000 and down 4.2% from last April, shortly before mortgage rates jumped after the Fed began hinting about ending its policy of pumping money into the economy through bond purchases. New-home sales beat forecasts of 420,000.
The real issue in the numbers is the pace of sales in the South and the West -- two regions where construction slowed this winter, but for very different reasons. The problem in the South this winter was weather, with environs as far south as Atlanta getting sucked into the polar vortex. The problem out west, though, was a little more scary -- a quick rebound in prices has cut home affordability for many consumers, especially in California and parts of Arizona.
The weather problem has fixed itself, but the regional affordability issues haven't. And it will take a few months to see whether local housing markets can adjust to the new prices and keep homes selling fast enough to sustain long-sought growth in construction jobs.
In the South, sales were up 3.1% in April to an estimated annual rate 235,000, after dropping in both February and March. Sales in the West were unchanged at 92,000 (also annualized). Between them, the two regions are more than three-fourths of the market, overwhelming the Midwest and Northeast.
The South should rise further as the spring goes on. Builders are keeping their highest inventories of new homes thus far in the recovery, though they have been little changed recently. That means builders are reasonably confident, but not aggressive. Home prices are well matched to local incomes in nearly all major Southern markets, and the $275,800 average new-home price nationally is little changed since December.
The bigger puzzle is the West. If the price gains builders have reported -- in some cases, as much as 30% -- in some California markets are scaring off consumers, then that part of the slowdown could last for a while as builders and buyers wait each other out.
One oddity in the numbers is that construction employment has grown smartly through the winter home sales and new permits hiccup -- adding 124,000 jobs since December. Whether that can last -- or even accelerate -- will depend on whether the next few months bring a new recovery like in the South or more worries and stagnation like we see out West.
Tim Mullaney writes on economics, health care and technology. Follow him on Twitter @timmullaney or contact him at timothy.mullaney@thestreet.com.
At the time of publication, the author held no positions in any of the stocks mentioned.
This article represents the opinion of a contributor and not necessarily that of TheStreet or its editorial staff.
>>Read More: Why HP Needs to Cut More Jobs
>>Read More: Small Biz Battles Popular Ice Cream Brands With Unusual Flavors
>>Read More: PTC Therapeutics Gets Warm Hug From Europe for DMD Drug; Prosensa Rises in Sympathy
>>Read More: 10 Family Cars You'll Still Look Cool In