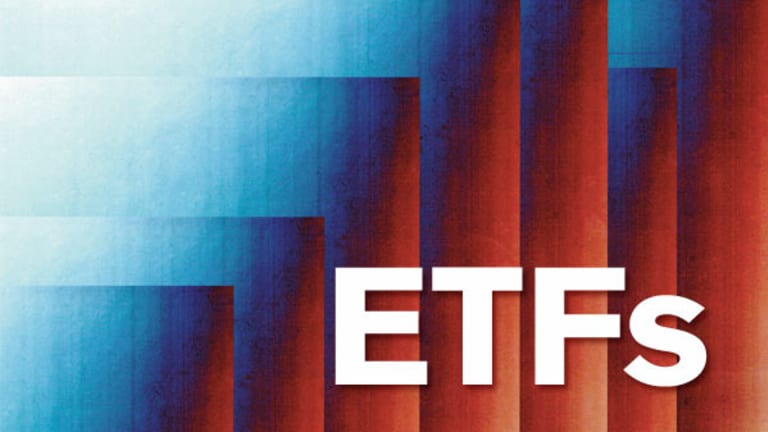 New First Trust ETF Combines Two Successful Methodologies
The new fund is a combination of quantitative screening and relative strength in a fund of funds.
NEW YORK (TheStreet) -- Earlier this week First Trust launched the First Trust Dorsey Wright Focus 5 ETF (FV) - Get Free Report which is a fund of funds that combines First Trust's suite of industry and AlphaDEX sector funds with a momentum strategy overlay built on relative strength managed by Dorsey Wright & Associates.
The term AlphaDEX in the name of the sector funds refers to the quantitative screening process that considers fundamentals such as book value, cash flow and price to sales. All nine AlphaDEX sector funds have outperformed their corresponding Select Sector SPDR ETFs for one and five year periods.
First Trust also offers a wide range of narrow industry and niche funds from all of the broad sectors.
Dorsey Wright manages several funds for PowerShares that apply the DWA relative strength model to individual stocks. Three of the longer tenured PowerShares funds include the PowerShares DWA Developed Markets Momentum Portfolio (PIZ) - Get Free Report, PowerShares DWA Emerging Markets Momentum Portfolio (PIE) - Get Free Report and PowerShares DWA Momentum Portfolio (PDP) - Get Free Report and all three have outperformed their corresponding market cap weighted benchmark fund for five years and two of the three have outperformed for one year.
The process for FV is very straightforward. DWA will screen First Trust's universe of sector and industry funds and rank them for relative strength and the top five will populate the fund. The screening will occur weekly and the fund will be reconstituted as required based on and changes in the rankings.
The current makeup of the fund allocates 22% to First Trust NYSE Arca Biotechnology Index Fund (FBT) - Get Free Report, 21% to First Trust Dow Jones Internet Index Fund (FDN) - Get Free Report, 20% in First Trust Health Care AlphaDEX Fund (FXH) - Get Free Report and 18% each in First Trust Consumer Discretionary AlphaDEX Fund (FXD) - Get Free Report and First Trust Consumer Staples AlphaDEX Fund (FXG) - Get Free Report.
The respective performances of the AlphaDEX funds and Dorsey Wright & Associates PowerShares funds makes the combination of the two under the hood of FV an interesting idea but the potential drawbacks need to be understood.
The fund is not well diversified in terms of sector and industry allocation. The current mix has 40% in health care, 40% in consumer and 20% in what is arguably the consumer part of technology. Even if the five holdings came from five different sectors it would still not capture the broad market. Obviously the argument behind the fund is that investors should not own sectors with poor relative strength.
Another potential risk is relatively large exposure to an individual stock. Google (GOOG) - Get Free Report has an almost 10% weighting in FDN which means Google has about a 2% weighting in FVA's current allocation. The answer to how much it too much is up to the individual but should be monitored for anyone who believes 2 to 3% in one stock is a lot.
FVA's expense ratio is 0.95% which accounts for a 0.30% management fee along with a 0.65% acquired fund fees which is the expense ratio of the ETFs that FV will use.
For as well as the AlphaDEX funds have done over what is a reasonably long period of time do investors need to pay the extra 30 basis points for the best of the best?
There can be no assurances that combining two market beating track records will result in even greater outperformance but the new fund makes a good first impression.
At the time of publication the author held no positions in any of the stocks mentioned.
This article represents the opinion of a contributor and not necessarily that of TheStreet or its editorial staff.