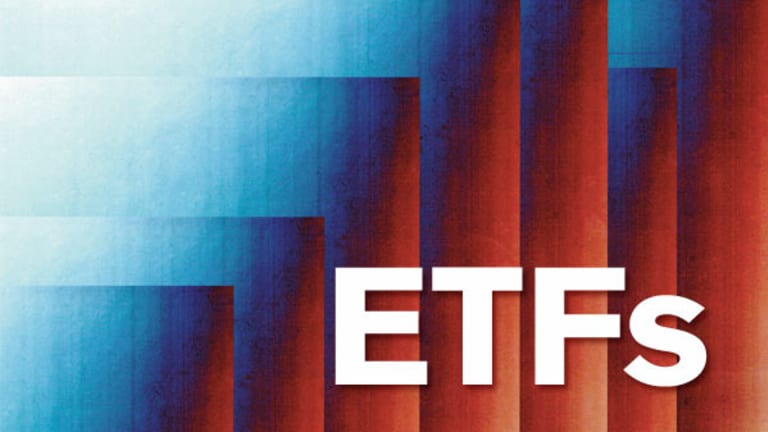 New ETFs Tap $15B Two-Year Floating-Rate Notes
WisdomTree Bloomberg and iShares funds offer access to the two-year floaters.
NEW YORK (TheStreet) -- One of the most successful niches in the sector of fixed-income exchange-traded funds has been anything with floating-rate debt.
As historically low interest rates rise to more normal levels, bond prices, especially for longer-dated debt, will get punished, and thus the leanings toward floating rates and shorter terms. 
Coming into 2014, there were nine floating rate ETFs tracking various parts of the corporate bond market, and according to ETF.com, the combined assets in this niche is almost $12 billion, led by the PowerShares Senior Loan ETF (BKLN) - Get Invesco Senior Loan ETF Report with $6 billion in assets and the iShares Floating Rate Bond ETF (FLOT) - Get iShares Floating Rate Bond ETF Report with $3 billion in assets.
Perhaps sensing the growing demand for floating-rate debt and maybe sensing that demand for plain-vanilla debt might decrease when rates go up, the Treasury began to offer its own floating-rate debt last week when it auctioned $15 billion of two-year floating-rate notes.
For now, there will be just two-year notes, auctioned monthly, and according to the Treasury Direct website, they will pay an interest rate based on a spread above the most recent 13-week Treasury bill auction. The interest will accrue daily and the rate will be reset quarterly.
Although the interest rate for the two-year floaters will be very low, these stand to be very popular because they remove the most visible current risk faced by bond investors -- interest rate risk.
Not surprisingly, there are now two new ETFs offering access: WisdomTree Bloomberg Floating Rate Treasury Fund (USFR) - Get WisdomTree Floating Rate Treasury Fund Report and the iShares Treasury Floating Rate Bond ETF (TFLO) - Get iShares Treasury Floating Rate Bond ETF Report, and interestingly both funds have the same 0.15% expense ratio.
Although it is too early for any definitive yield information for either fund, it will be close to zero for the time being until rates do start to actually rise which could still be a couple of years away, if not longer.
For now USFR and TFLO will essentially be identical funds because the niche they provide access to just came into existence last week, but that is nothing new in the ETF industry; there are, of course, multiple funds tracking the S&P 500.
The above-mentioned success of floating-rate corporate bond floating-rate funds sets a reasonable expectation that USFR and TFLO will quickly gain traction and attract assets. There is no reasonable risk that the funds will dominate the note's supply. The first auction was $15 billion, and there will be an auction every month. The two ETFs are starting out with combined seed funding of less than $5 million.
The issuance of these two funds so soon after the first auction underscores a point I've been making here for many years which is the extent to which the ETF industry has shown time and again the willingness and ability to evolve based on changes in the capital markets and on investor need.
At the time of publication the author held no positions in any of the stocks mentioned.
This article represents the opinion of a contributor and not necessarily that of TheStreet or its editorial staff.