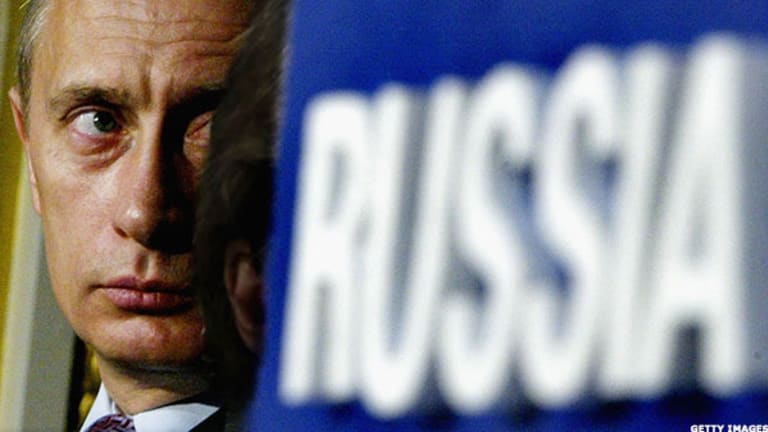 New Cold War With China, Russia Could Boost the Defense Industry
Tensions between the world's superpowers are escalating, which may benefit this sector. What are the best bets for investors?
Tensions between the world's superpowers are escalating.
For instance, in April, Russian combat aircraft flew just 30 feet above the USS Donald Cook in the Black Sea, which was viewed as a highly provocative maneuver.
That same month, China deployed anti-aircraft missiles on Woody Island, which is claimed by both Taiwan and Vietnam.
And Russian President Vladimir Putin during a visit to Greece recently warned Poland and Romania about allowing NATO defense systems within their borders.
It is unclear whether these geopolitical tensions will result in real armed conflict. However, what is clear is that the global arms race is about to accelerate, and defense companies are poised to benefit.
If there is anything we learned from the Cold War, it was that the Soviet Union and the United States would do anything they could without actually fighting each other. That meant that each superpower not only boosted its own defense spending but armed its allies.
So, what is the difference between then and now?
First, now, the U.S. side of the equation is much bigger.
Second, aside from traditional allies such as NATO, Israel and Japan, there is another layer of allies that, heretofore, were either not involved or on the other side. Those new allies include Australia, India, the Philippines, Saudi Arabia and Thailand.
And that means that as the arms race escalates, demand for American weapons will increase much more than it did during the old Cold War, simply because there are so many more potential clients.
Demand will rise either as a result of increased U.S. military aid or through direct purchases via U.S. defense contractors such as
General Dynamics
and 
Lockheed Martin.
 And that benefits both the U.S. economy, particularly jobs.
Lockheed Martin is a holding in Jim Cramer's Action Alerts PLUS Charitable Trust Portfolio. See how Cramer rates the stock here. Want to be alerted before Cramer buys or sells LMT? Learn more now.
Looking at defense stocks shows a price-earnings multiple of about 18. Although this valuation isn't incredibly pricey, neither is is cheap.
But that valuation doesn't take into account the fact that everything is about to change for the defense sector.
U.S. foreign military aid fell as the Cold War wound down, and that, in turn, affected the growth of defense contractors.
But now, with the Israel, Japan, NATO and the United States playing war games with China, Russia and their allies, defense spending will get another significant boost and rise to Cold War levels. And that means that defense stocks are definitely cheap if we think that defense spending is rising.
Although it is true that especially in some sectors of the economy, it is worth being a stock picker, that isn't the case in the defense sector. As military aid and defense spending are likely to be spread around various companies, a stock picker might buy the right bargain but miss the growth opportunity, because it is impossible to know which companies will win more contracts.
An exchange-traded fund for the entire sector, however, provides good value because it is well positioned to capture the much of the growth potential.
One ETF worth owning is iShares U.S. Aerospace & Defense (ITA) - Get Free Report , which has about $500 million in assets, distributed across 40 different defense contractors, including Boeing and General Dynamics. The ETF provides a great combination of diversification and exposure to defense contractors.
PowerShares Aerospace & Defense Portfolio (PPA) - Get Free Report is another great way to get exposure to the sector, and it has about $250 million in assets. This ETF has a slightly higher expense ratio than ITA and only slightly lagged that fund in terms of performance, but in exchange investors get less volatility.
This article is commentary by an independent contributor. At the time of publication, the author held no positions in the stocks mentioned.