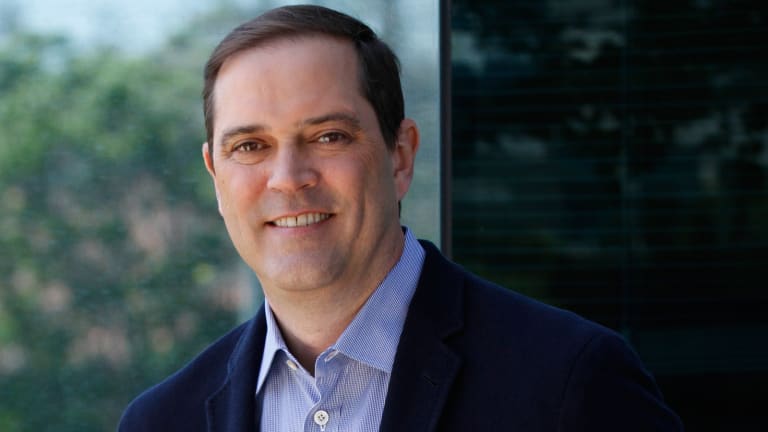 New Cisco CEO Robbins Faces Challenge in Networking Industry Transition, Watchful Eye of Predecessor
Chuck Robbins takes over as CEO at Cisco on July 26 and his predecessor John Chambers moves to the executive chairman role.
NEW YORK (TheStreet) -- When new Cisco CEO Chuck Robbins takes over on July 26, he will face the formidable task of steering the networking giant through disruptive industry changes as well as transitions within his own company -- and all under the watchful eye of his predecessor, outgoing CEO John Chambers.
Rumors had been swirling that Chambers would eventually retire and be replaced as early as the end of 2015, which was consistent with the tail end of the current cycle for Cisco. In addition to Robbins becoming CEO, Chambers will assume the role of executive chairman, effective on the same date Robbins starts his tenure. While the next few weeks will shed more light on Chambers' future intentions, there is a good chance that in the short run, he will keep a close eye in the day-to-day operations at the company.
Robbins has been a long-time Cisco executive, more recently serving as the senior vice president of global operations. The company's CEO search committee, led by board director Roderick McGeary, had started its CEO succession process about 16 months ago and Robbins had distinguished himself during that time as an effective sales leader.
To be successful, he will have to steer Cisco as it transitions into emerging areas such as Internet of Things (or "Internet of Everything," a term coined by Chambers), new private Cloud deployments (an opportunity estimated at over $50 billion), next-generation online security, and new architectural plays such as software defined networking (SDN) and network function virtualization (NFV). As Cisco changes its product portfolio to address these opportunities, a sales leader like Robbins can be a strong advocate for new offerings, and expand his company's total addressable market by addressing new growth opportunities from the intersection of the above technologies.
While Chambers may maintain some level of control as executive chairman, his departure from the CEO role symbolically represents the end of an era in which he became one of the world's most successful executives. During Chambers' term, Cisco grew from being a company with $1.2 billion in revenue from selling network equipment like routers and switches to becoming an IT mammoth with $47 billion in sales, which works out to be roughly a 20% compound annual growth rate. This is a fantastic result, considering he had to navigate through two bad economic downturns (the dot-com bust of 2000 and the Great Recession caused by the real-estate meltdown of 2008).
During his tenure, Chambers became an industry icon, evangelizing the internet, elevating the Cisco brand and being repeatedly invited to major global events where he shared the stage with other dignitaries from around the world. He was the key ambassador of the intellectual property revolution, which revolutionized the telecom industry and was instrumental in making a better connected world. It will be very hard to match his élan, charisma, likability and accessibility -- he always made himself available to the analyst community, encouraging an open dialogue.
The task of steering Cisco as the networking industry undergoes major disruptive changes will be quite a formidable one. Cisco has a few key "software defined" assets already, such as its ACI/APIC software and the Nexus 9k. It will be up to Robbins to expand the company's total addressable market and establish its mind-share in new arenas.
Moreover, Robbins will also need to break down some of the existing silos within Cisco, mainly arising from the flurry of recent acquisitions. Migration plans from homegrown and acquired technologies will be fundamental in helping achieve that goal. Finally, he will also need to reinvigorate the relationship with Cisco's partners, by right-sizing the product portfolio and simplifying some of the existing programs, which can sometimes be quite complex and overwhelm some of the partners.
Competition will also increase, not just with the older traditional players (such as Juniper (JNPR) - Get Juniper Networks, Inc. Report, Hewlett-Packard (HPQ) - Get HP Inc. Report, Alcatel-Lucent-Nokia (ALU) , Huawei) but also with the advent of newer competitors such as Arista (ANET) - Get Arista Networks, Inc. Report, Cumulus Networks (CMLS) - Get Cumulus Media, Inc. Class A Report, Midokura, Pica8, Plexxi, PLUMgrid and others.
And one key question remains: whether Chambers has in fact handed the baton or will still keep control in his executive chairman role. In the next few weeks, the answer will become clearer.
This article is commentary by an independent contributor. At the time of publication, the author held no positions in the stocks mentioned.